Taoiseach Leo Varadkar has condemned the "cowardly" and "brutal" attack on businessman Kevin Lunney and said he hopes arrests and convictions will follow.
Speaking at the National Ploughing Championships in Carlow, Mr Varadkar said he was "horrified" by the incident.
Mr Lunney, a director at Quinn Industrial Holdings, was abducted while on his way home from work, beaten and dumped on the side of the road, suffering "life-changing injuries", according to the police.
"I condemn it absolutely, it was a very cowardly act and a brutal act to happen," the Taoiseach said.
"The Quinn group operates on both sides of the border and is a really important part of the economy in the border region.
"I spoke to [DUP leader] Arlene Foster about it last night, she's really concerned about it too, given that's her constituency, and had a briefing from the Minister for Justice as well.
"We're going to make sure that garda resources are put behind this, that there's co-operation between the gardaí and the PSNI. What we really need here are arrests and convictions."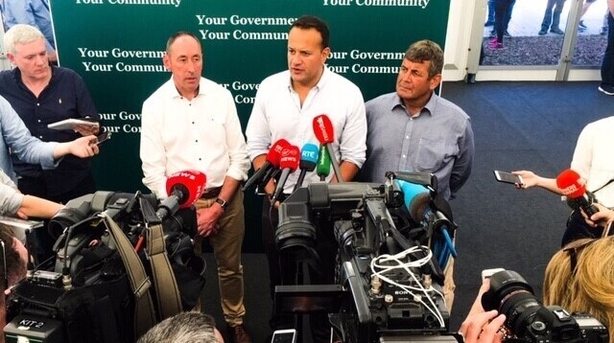 Earlier, Tánaiste and Minister for Foreign Affairs Simon Coveney has said the attack on businessman Kevin Lunney is a reminder of the "gangland paramilitary-style punishment beatings of the past" as a way of intimidating people.
Mr Coveney condemned "in the strongest possible terms" the attack on the Quinn Industrial Holdings Chief Operating Officer on Tuesday evening as he made his way home from work.
Speaking during Leaders' Questions in the Dáil, he said it was an "act of cowards" who have no regard for the rule of law.
He described the attack as "shocking" and said the response from gardaí and the PSNI would be robust.
---
Read more
---
Mr Coveney said a completely innocent person coming home from work had been brutally pulled from his car by a gang of masked men and beaten and then left in the ditch.
Mr Coveney said no stone would be left unturned in the investigation and he appealed to anyone with information to come forward.
He was responding to Fianna Fáil's Dara Calleary, who said the attack on Mr Lunney had stopped people in their tracks.
He said there had been a pattern of attacks building over a number of years which resulted in this incident.
Mr Calleary said there had been a complacency about dealing with the issue and pursuing those responsible and asked what the Government had done since the time since the attack in terms of making sure there was a strong policing response.
He said that unless someone is brought before the courts the perception that people will get away with these attacks will go on.
Sinn Féin deputy leader Pearse Doherty said he wanted to repeat their condemnation of "the vicious and abhorrent attack" on Mr Lunney, who he said was just doing his job.
Mr Doherty said there was no justification for anybody to shield or cover those who were behind this attack and many other attacks in relation to individuals and property in relation to QIH.
Meanwhile, the Chief Executive of the Northern Ireland Business Group, Manufacturing Northern Ireland, said it is seeking a meeting with the Chief Constable of the PSNI over the attack on Mr Lunney.
Stephen Kelly said his organisation had written to new PSNI Chief Constable Simon Byrne today to express its concerns about the incidents and the police response.
Speaking on RTÉ's News At One, Mr Kelly said that the business community in Northern Ireland were extremely shocked by what happened to Mr Lunney.
He said members of the business community had warned of a campaign against individuals at QIH.
"People shouldn't have to live with the intimidation that the directors of Quinn Industrial Holdings have had to endure over the last seven years," Mr Kelly said.
"There are people in that community who know what's going on. There's people in that community who have influence on the people who are creating this havoc and dishing out this violence.
"And we really need them to step up and use that influence in a positive way to ensure that that stops."