The Chairman of the National Paediatric Hospital Development Board has warned that construction inflation could add to the cost of the new children's hospital.
Fred Barry is appearing before the Oireachtas Committee on Health.
He told the committee that there had been no overrun or overspend on the hospital budget since the Government approved the final project bill late last year, based on the revised costs of €1.4bn.
We need your consent to load this rte-player contentWe use rte-player to manage extra content that can set cookies on your device and collect data about your activity. Please review their details and accept them to load the content.Manage Preferences
However, he warned that there is a real risk of construction inflation adding to the costs, which is outside the board's control.
Mr Barry said construction inflation is running at higher levels than are included in the contract.
Mr Barry said the building frame for the new hospital is under construction and, as it rises, it will give a real sense of the scale of the works.
He also said that open competition is under way for a new chief officer to the board.
An interim chief officer and project director have been appointed.
He said that since his appointment, two board members have resigned and appointments are to be made by the Minister for Health.
Project Director John Pollock and former NPHD chairperson Tom Costello stepped down following news about the project cost overruns.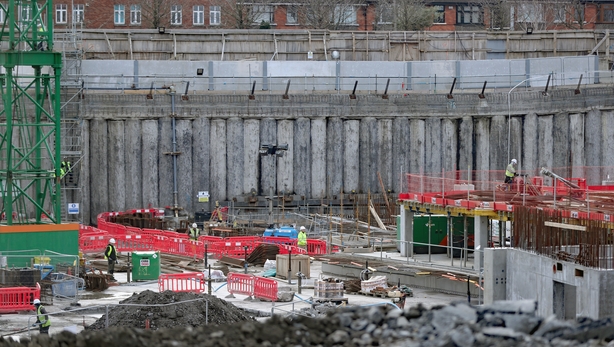 Mr Barry also said it had been decided to go for employer-supplied health technology equipment through traditional means rather than another route.
The committee has been told that the most advanced element of the overall project is the Urgent Care Paediatric Centre at Connolly Hospital, which will support the new national hospital, along with another support centre at Tallaght Hospital to open next year.
Chief Executive of Children's Health Ireland Eilish Hardiman said that the Urgent Care Centre for children at Connolly Hospital is due to start treating patients from 31 July on a phased basis.
She said that most of the recruitment for the Connolly Hospital Urgent Care Centre is well-advanced, with most doctors, nurses, heath and social care professionals and administrative staff recruited.
Ms Hardiman said that the new hospital will have 473 in-patient beds, an extra 31 compared to the number of beds available currently in the three children's hospitals, which will be amalgamate in the move to the new facility.
There will also be 24 short-term non-admission beds for children.
She said the new hospital will have 3,388 staff, an increase of 10% on the current staffing.