Fianna Fáil has said it would be "national sabotage" if the party supported a no-confidence motion in Health Minister Simon Harris.
Speaking at Leinster House, the party's finance spokesman Michael McGrath said supporting the no-confidence motion would "thrust our people into a general election in the middle of March".
He said: "It is a critical time, we have to hold our nerve. 
"We have to ensure that we have a stable political background in this country, and that is why, as a party, we gave the commitment last December that we would see this process through. 
"That is why we are determined to to ensure that that stability remains in pace through the Brexit process."
WATCH: @FiannaFáil finance spokesperson says it would be "national sabotage to thrust our people into a general election in the middle of March"by supporting no confidence motion in @SimonHarrisTD tomorrow pic.twitter.com/GiLoqZG2r8

— Conor McMorrow (@ConorMcMorrow) February 19, 2019
Meanwhile, the Labour Party has said it will support the Sinn Féin motion in the Minister for Health when it is tabled tomorrow.
Labour leader Brendan Howlin said Fianna Fáil was pretending to be in opposition but was unable to hold the Government to account.
"It's a very worrying situation for all of us who depend on parliament to be the watchdog of the people," Mr Howlin said.
The Wexford TD added that: "We can't keep going on like this. We can see a degree of dysfunction in parliament across the water but that dysfunction is migrating here."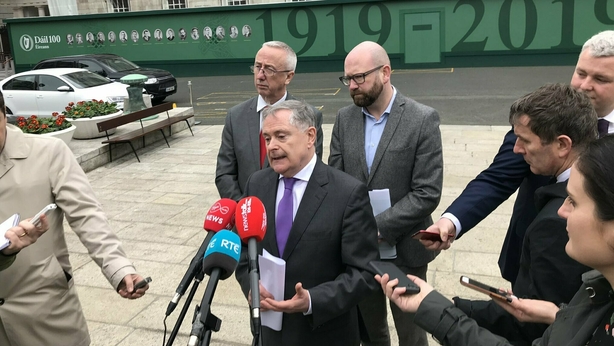 ---
Read more:
Hospital overspend must not be 'tip of the iceberg' - Fleming
Harris indicates Govt will not re-tender for hospital project
Firm building children's hospital says board can 'opt out of contract'
---
Independent TD and Chairman of the Oireachtas Health Committee Michael Harty has also announced that he will vote no-confidence in Minister Harris.
The Clare TD made the decision following what he described as "shocking news" that a 60-bed modular unit at University Hospital Limerick has been delayed until 2020.
Mr Harty and Labour TD Alan Kelly received assurances from Mr Harris on a number of occasions that the unit was a priority.
Clare TD @mhartytd will support SF no confidence motion in Health Minister Simon Harris @rtenews @AilbheConneely pic.twitter.com/qu0xVhhd7J

— Cathy Halloran (@HalloranCathy) February 19, 2019
In a statement last night, Mr Harty said: "I had indicated that I would abstain on the vote of no-confidence in Minister Harris as proposed by Sinn Féin, on the basis of ensuring the government did not fall at such a critical time of Brexit uncertainty.
"However, I have lost trust in this minister and this Government as a result of the lack of commitment to delivering on this project as promised."
He noted that a statement from the UL Hospitals group on a new timeline for the modular unit is predicated on the uncertainty of capital funding being allocated in the "re-profiled" Health Service Executive Capital Plan 2019, which is yet to be announced.
While he acknowledged that the National Children's Hospital was "very badly needed", he said its "uncontrolled runaway costs" could not be allowed to delay the 60-bed modular unit designed to alleviate some of the trolley misery in Limerick.
Meanwhile, the Minister for Finance has reiterated that continuing with the National Children's Hospital project at the St James's Hospital site is the right decision to make.
Speaking on RTÉ's News at One, Paschal Donohoe said: "In my view we are building the hospital in the right location."
Mr Donohoe said that the increasing number of projects going ahead in the Irish economy, particularly through the private sector, and the continued increase in wage rates would impact any re-tendering of the project.
Additional reporting: Ailbhe Conneely, Mary Regan