The Taoiseach has said that both he and Tánaiste Simon Coveney have reiterated to British Prime Minister Theresa May that the Government does not want direct rule in Northern Ireland.
Leo Varadkar spoke with Mrs May by phone following a meeting with Sinn Féin President Mary Lou McDonald and Vice-President Michelle O'Neill.
In a statement this evening, Mr Varadkar said he emphasised the Government's "full commitment to the Good Friday Agreement, and its determination to secure the effective operation of all its institutions".
He said: "As co-guarantor to the agreement, the Government will continue to engage with the parties in Northern Ireland and the British Government to support the urgent formation of a new executive by the mandated political parties.
"The Government's firm position is that the Good Friday Agreement and subsequent Agreements must be implemented in full and ... the Government does not want to see the introduction of direct rule in Northern Ireland."
Downing Street also released a statement following the phonecall, saying that "both leaders recognised the progress and serious engagement made by the parties".
It added that Mrs May "believed there was scope for agreement" and reiterated that the UK government's priority was still "to get devolution up and running again in Northern Ireland".
Earlier, Ms McDonald warned that a political vacuum in Northern Ireland had to be avoided.
She was speaking on her way into Government Buildings where she and Ms O'Neill met the Taoiseach and the Tánaiste.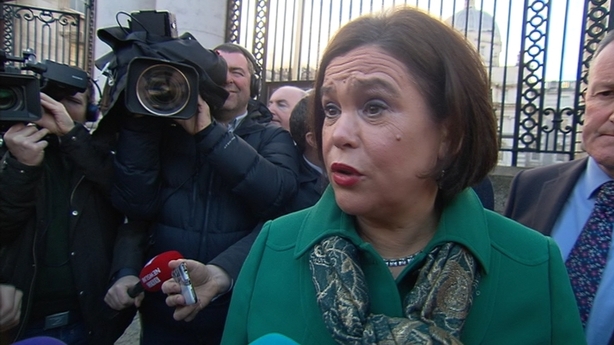 She said her party was rejecting any calls for a cooling off period in talks to restore power-sharing at Stormont.
Ms McDonald added that the outstanding issues around legacy matters, equality issues and an Irish Language Act still had to be resolved and she called on both governments to be decisive and to take action.
Direct rule was not an option, she said, calling for the inter-governmental conference to be convened as a matter of urgency.
This morning, Mr Coveney said all parties in Northern Ireland want devolved government and not a return to direct rule from London.
Mr Coveney said the challenge now for the two governments is to get the parties back around the negotiating table.
He accepted that the breakdown was a setback.
Asked if direct rule from London would be acceptable to the Government here, Mr Coveney said it would not be acceptable to anyone in Northern Ireland because people wanted their own government and their own decision-making.
---
Read more:
---
Northern Ireland Secretary Karen Bradley is due to update parliament on the Stormont impasse tomorrow.
DUP leader Arlene Foster has called on Ms Bradley to set a budget for Northern Ireland and "take key decisions impacting on our schools, infrastructure and hospitals".
She added: "Frontline staff have been living hand to mouth for too long. The Northern Ireland people deserve better.
"School principals, hospital managers and infrastructure planners have been in limbo for months unsure of budgets and unable to get ministerial direction.
"I am not prepared to allow this to continue. Decisions need to be taken."
Meanwhile, former taoiseach Bertie Ahern has urged Fianna Fáil not to citicise the Government when it comes to their handling of negotiations in Northern Ireland.
Last week following the collapse of the talks, Fianna Fáil leader Micheál Martin said the British-Irish Parliamentary Conference should be convened immediately and urgent steps should be taken to give the electorate in Northern Ireland a say as Brexit negotiations continue.
He also said that people of Northern Ireland were voiceless at the most critical time in its history.
When asked if Mr Martin should not have said what he did, Mr Ahern said he thought it would be better to "not get involved".
Speaking on RTÉ's Claire Byrne Live, he said: "It's a very sensitive time, difficult negotiations. I think it's far better that people leave the negotiators at it."
Bertie Ahern: Micheal Martin was wrong to criticise Leo Varadkar pic.twitter.com/yX77YAl8SD

— RTÉ ClaireByrneLive (@ClaireByrneLive) February 19, 2018