Minister for Foreign Affairs Simon Coveney has said that everybody was taken by surprise by the Democratic Unionist Party's statement yesterday that there was no immediate likelihood of a deal being struck at Stormont.
DUP leader Arlene Foster said there was no "current prospect" of Stormont discussions leading to a ministerial Executive being formed.
Speaking on RTÉ's Morning Ireland, Mr Coveney said there is "no appetite to move towards direct rule".
Although Sinn Féin and the DUP had not struck a deal, Mr Coveney said "there was a clear understanding of where we were going".
Mr Coveney said it was "hard to know" what went wrong at the talks, but the focus has to be on getting the talks back on track.
"We knew there issues that needed to be resolved, but the parties really were very close to accommodating each other last Friday," he said.
"That is one of the reasons the British Prime Minister came to Northern Ireland, why she said there was a basis for an agreement and she hoped and expected that there would be a devolved Executive up and running soon.
"We believed that too because of the conversations we've been having with the parties."
He said there was a basis of understanding between the two parties on difficult issues, such as the Irish language, but there was not an agreement on how to present it.
Speaking this afternoon in the Dáil, Mr Coveney said any alternative to a deal "is bad news for everybody - unionism, nationalism and both governments and so we will work hard to avoid. that happening".
He also joined Sinn Féin in criticising Fianna Fáil leader Micheál Martin, whose commentary he said was "unhelpful".
Mr Martin has said the people of Northern Ireland are now voiceless - at the most critical time in its history because of the collapse of the talks process.
Mr Martin said the British-Irish Parliamentary Conference must be convened immediately and urgent steps have to be taken to give the electorate in Northern Ireland a say as Brexit negotiations continue.
Mrs Foster has urged the British government to set a budget and make policy decisions in the absence of a devolved executive at Stormont.
The talks collapsed after the parties failed to clinch agreement on touchstone issues, such as treatment of the Irish language.
---
Talks over restoration of power at Stormont collapse
Taoiseach 'very much regrets' DUP statement on NI talks
---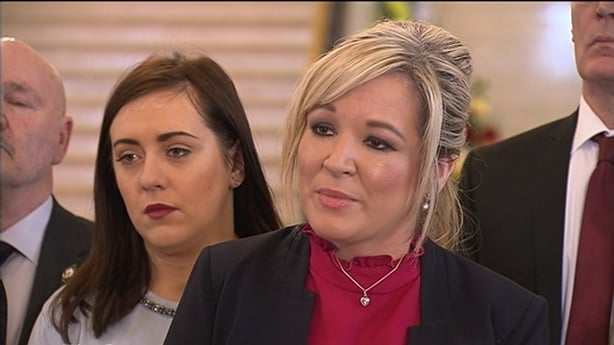 Northern Ireland Secretary Karen Bradley said "substantive progress" had been made but conceded "this phase of talks has reached a conclusion".
Mrs Bradley said "substantive progress" had been made but conceded "this phase of talks has reached a conclusion".
---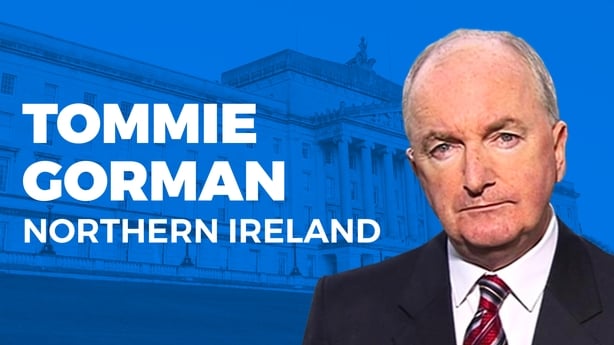 Simon Coveney is applying very basic wisdom - An important principle in a crisis is don't panic.
By suggesting he is not giving up on a deal being struck to restore power-sharing, he is attempting to halt the slide into direct rule of Northern Ireland from Westminster.
That switch would bring all sorts of complications. But there were patterns in developments since the weekend that are so obvious, there are difficult to ignore.
Arlene Foster could not get the support of key factions within her party for the kind of deal that had been negotiated with Sinn Féin over the past four weeks.
With the likes of Edwin Poots and Simon Hamilton, she had involved herself in detailed discussions with Sinn Féin. But the agreement that was taking shape didn't get approval and some Westminster MPs were significant dissenters.
Sinn Féin is currently discussing how it will respond to this new setback and details of those deliberations should emerge later today.
Arlene Foster last night made it clear her party won't support what's on offer with Sinn Féin.
It was 11 years ago when Ian Paisley had opposition from some within the DUP to entering power-sharing with Sinn Féin.
At the time, the British prime minister Tony Blair made it clear that if direct rule had to be introduced from London, the Government in Dublin would have influence. The warning helped Ian Paisley overcame the doubters.
But now circumstances have changed. Theresa May's government needs the votes of ten DUP Westminster MPs to stay in power.
They will be pushing her to confine Dublin's role if some form of direct rule is introduced.
---