Talks on the restoration of power sharing in Northern Ireland have broken down after the leader of the DUP said that there was currently no prospect of a return to devolved government.
In a statement released this afternoon, Arlene Foster said that the restoration of power sharing at Stormont is "not possible at this time".
It comes after nearly four weeks of negotiations with Sinn Féin on setting up an executive in Northern Ireland, which has been without a government for 13 months.
Earlier this week, British Prime Minister Theresa May said that there was the "basis for an agreement" at Stormont and that an Executive could be "up and running very soon".
However Ms Foster said that despite the latest round of negotiations, "serious and significant gaps remain between ourselves and Sinn Féin, especially on the issue of the Irish language."
---
Arlene Foster's statement in full
Reaction to collapse of NI power-sharing talks
---
She said: "In our view, there is no current prospect of these discussions leading to an Executive being formed.
"It is now incumbent upon Her Majesty's Government to set a budget and start making policy decisions about our schools, hospitals and infrastructure."
"Important decisions impacting on everyone in Northern Ireland have been sitting in limbo for too long. I had dearly hoped that we could have restored an Executive and local ministers could have taken those decisions. That is not possible at this time.
"Northern Ireland is best governed by local ministers who are accountable to local people."
Sinn Féin's leader in Northern Ireland said that the party had worked, over the past 13 months, to restore the institutions in Northern Ireland on the basis of respect, integrity and equality for all sections of society.
Michelle O'Neill said an accommodation had been reached with the DUP, but the DUP has failed to close the deal and has collapsed the process.
Ms O'Neill said the issues are "not going away" and they have to be resolved to restore power-sharing at Stormont.
She said that Sinn Féin is in contact with the Irish and British governments and will set out its considered position tomorrow.
Ms O'Neill also said that the DUP "should reflect on their position."
"We had an accommodation with the DUP ... The DUP failed to close on that deal." pic.twitter.com/3Nb2cxhHYx

— RTÉ News (@rtenews) February 14, 2018
Northern Ireland Secretary of State Karen Bradley said she believes that the basis for accommodation between the parties still exists. 
She says this phase of political talks has reached its conclusion and there is now a need to consider practical steps to take in the continued absence of an Executive at Stormont.
Ms Bradley said devolved government is still the best scenario for Northern Ireland.
"I would urge everyone to reflect on the circumstances which have led to this and their positions both now and in the future."
"The position of the UK government remains the same - devolved government is in the best interests of everyone in Northern Ireland and is best for the union.
"I believe the basis for accommodation still exists. As the PM said during her visit on Monday, we are ready to bring forward legislation to enable an executive to be formed.
"We will continue to work with everyone to make sure we do deliver this. We now need to consider practical steps.
"In the continued absence of an executive, other challenging decisions will have to be taken by the UK government and I will update Parliament when the House returns from recess next week."
"It appears this phase of talks has reached a conclusion": NI Secretary Karen Bradley pic.twitter.com/JuRoRVAQhJ

— RTÉ News (@rtenews) February 14, 2018
We need your consent to load this rte-player contentWe use rte-player to manage extra content that can set cookies on your device and collect data about your activity. Please review their details and accept them to load the content.Manage Preferences
Meanwhile, DUP negotiator Simon Hamilton has said that Mrs May's visit to Belfast earlier this week was unhelpful and a "distraction" from the talks.
He told reporters: "I think the visit of the Prime Minister and the Taoiseach acted as a bit of a distraction at the beginning of the week, I don't think it was entirely helpful in getting us to reach a successful conclusion but regardless of the intervention, unsuccessful as it was of both prime ministers, significant and serious gaps remain between ourselves and Sinn Féin."
DUP's Simon Hamilton said the visit of May and Varadkar this week was unhelpful and a 'distraction' pic.twitter.com/sgYwHIYHM5

— RTÉ News (@rtenews) February 14, 2018
The Stormont government collapsed last year in a row over a botched renewable energy scheme.
Since then divisions over issues including Irish language rights, same sex marriage and how to deal with the legacy of Northern Ireland's troubled past have proved insurmountable.
Sinn Féin wants a standalone piece of legislation to protect speakers - an Irish Language Act - but the DUP has long insisted it would only countenance new laws if they also incorporate other cultures, such as Ulster Scots.
Mrs Foster added: "Restoring a sustainable and fully functioning devolved government will remain our goal but we will not accept a one-sided deal.
"Any agreement to restore the Executive must be on a sensible basis. We cannot and will not be held to ransom by those who have refused to form an Executive for over thirteen months."
On Monday Taoiseach Leo Varadakar and Mrs May travelled to Stormont to encourage the region's parties to finally end the deadlock that has left Northern Ireland without a functioning government since last January.
---
Further reporting by RTÉ's Northern Editor, Tommie Gorman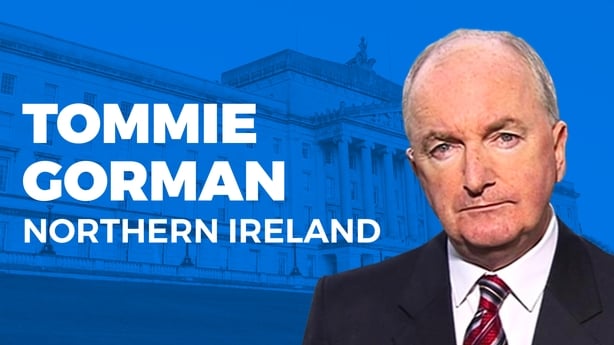 Arlene Foster, in her statement, effectively says the latest attempt to reach agreement is over. She is calling a halt to discussions that have gone on for four weeks without a deal.
She says Sinn Féin's insistence on a stand-alone Irish Language Act is unacceptable to unionists and this is the reason for the impasse. 
But there is no mention in her statement of the internal debate and tensions within her own party. The current strong force in the DUP are the ten Westminster MPs, with full time jobs and a new strategic importance for the British government, due to Brexit.
Arlene Foster has been unable to get the backing of all ten for the proposals that had emerged from four weeks of negotiations with Sinn Féin.
That situation, influenced by Brexit, leaves devolved government closed down in Stormont tonight, and a weakened DUP leader with no day job.
The crisis in power-sharing has significant challenges for the British and Irish governments in their role as co-guarantors of the Good Friday Agreement. Direct rule, against the backdrop of Brexit, will not be an easy option.
---
We need your consent to load this rte-player contentWe use rte-player to manage extra content that can set cookies on your device and collect data about your activity. Please review their details and accept them to load the content.Manage Preferences