The Taoiseach has said he will not be seeking the resignation of the Tánaiste Frances Fitzgerald but he said there is still "an opportunity over the next couple of days to resolve" the deadlock with Fianna Fáil.
Speaking on RTÉ's Six One news this evening, Leo Varadkar said he will not be rushed over the weekend to "dissolve the Dáil" and that if the country were to go to the polls, "it would be better to have it done before Christmas".
Mr Varadkar and Fianna Fáil leader Micheál Martin met at Government Buildings this afternoon, following the submission by Fianna Fáil of a no confidence motion in Tánaiste Frances Fitzgerald.
The motion could collapse the party's confidence and supply agreement with the minority Fine Gael-led Government and lead to a general election.
Mr Varadkar said the Fianna Fáil motion is, at present, going ahead on Tuesday but there is still "an opportunity over the next couple of days to resolve it".
He said Mr Martin and himself had "cleared the air somewhat" when they met today.
However, Mr Varadkar said he would not be seeking Ms Fitzgerald's resignation and if the situation is not resolved by Tuesday, there will be an election.
"I don't believe that the decapitation of the Tánaiste, based on trumped-up charges, is fair," he said, "especially when [in] only a few weeks' time, the tribunal that the Oireachtas set up to look into these matters is going to do exactly that.
"So let's all calm down a bit, let's pause for reflection, let's perhaps withdraw these motions and allow the Charleton Tribunal, starting on the 8 January, to do the work that we set it up to do," said Mr Varadkar.
Earlier sources described the talks as a lengthy, frank and open meeting, in a bid to resolve the prospect of a general election.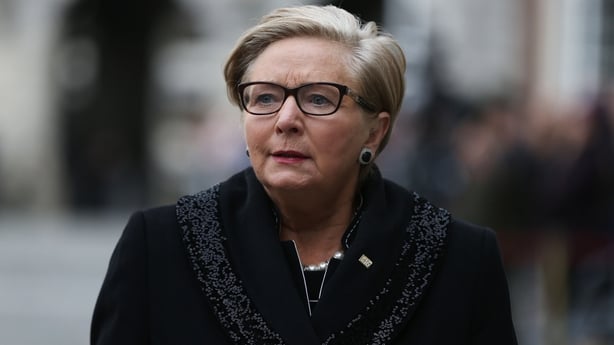 A senior Fianna Fáil source said both leaders agreed an election is not wanted so more engagement over the weekend is likely.
Fianna Fáil put down its motion, which will be debated on Tuesday, over concerns about the way Ms Fitzgerald handled the whistleblower controversy as Minister for Justice.
The Independent Alliance reiterated today it has confidence in the Tánaiste and said the country did not want an election.
Independent Alliance have asked Fine Gael and Fine Fáil "to step back from the brink to prevent a needless and costly election" pic.twitter.com/v3tRZ4LkYN

— RTÉ News (@rtenews) November 24, 2017
The controversy revolves around an email sent to Ms Fitzgerald when she was Minister for Justice in May 2015.
The correspondence set out the legal strategy that was initially about to be pursued against Sgt McCabe at the O'Higgins Commission.
The opposition said the Tánaiste should have acted on it when the email was initially sent to her.
Ms Fitzgerald said she did not remember reading the correspondence and she said it made clear that she could not legally intervene.
There is also controversy about when ministers were made aware of the email and how it was handled by the Department of Justice.
The department confirmed this week that the email was found on 9 November as part of a search of records in response to a parliamentary question from Labour TD Alan Kelly.
Current Minister for Justice Charlie Flanagan was made aware of the email on Monday 13 November, three days before Ms Fitzgerald was notified and a week before the Taoiseach was told about its existence.
Sinn Féin's Pearse Doherty said that deputy leader Mary Lou McDonald will lead the party if an election occurs as she was re-elected at the Ard Fheis last weekend as vice president.
Party president Gerry Adams announced at the Ard Fheis he was stepping down from his role next year.
Fianna Fáil leader Mr Martin told his front bench that the party does not want an election and the issue could be resolved if the Tánaiste resigned.
However, the meeting was also told that while they do not want the election, they have to be ready for one and they should step up their preparations.
Speaking on RTÉ's Today with Seán O'Rourke, Mr Martin said that he had "no difficulty meeting the Taoiseach," but added "he knows our position".
Micheál Martin FF - The Tánaiste should step down and that would avoid a General election pic.twitter.com/ZTs549KQAB

— RTÉ News (@rtenews) November 24, 2017
Fine Gael last night passed a motion in support of the Tánaiste, with the Taoiseach saying he would not sacrifice Ms Fitzgerald on what he called a trumped-up charge.
Minister for Employment Affairs and Social Protection Regina Doherty appealed to all parties to "come back from the brink" and avoid an election.
She said the obvious resolution is to support the confidence and supply agreement, which is working in the best interests by providing a stable Government.
---
Read more
Fine Gael TDs and Senators back Tánaiste
Mícheál Lehane: Government confidence in short supply
Key pages missing in O'Higgins Commission transcripts
In quotes: A political crisis
---
Minister for Finance Paschal Donohoe mounted a stern defence of the Tánaiste.
"Frances Fitzgerald is a politician whose career has been marked and defined by a commitment to support and protect those who need support and protection."
He added: "For Fianna Fáil to make the charge today that Frances Fitzgerald or this Government has been complicit in trying to undermine or challenge the work of brave people like Maurice McCabe shows the level to which they are now sinking to advance their own political agenda."
Sinn Féin has also tabled a motion of no confidence in Ms Fitzgerald, saying her position was no longer tenable.
Its justice spokesperson Donnchadh Ó Laoghaire defended the motion, saying it was its role to hold the Government to account.
Speaking on RTÉ's Morning Ireland, he said he wanted to dismiss the "notion that this is all about the email".
"It is only exhibit A of how the Government has handled this episode in a dysfunctional way."
He said he did not believe there would be an election before Christmas, but said Sinn Féin would be ready for it.