The prospect of an early general election is a real possibility as a standoff between Fianna Fáil and the Government over the garda whistleblower controversy continues.
The Taoiseach last night told his parliamentary party that he does not want an election but said he will stand by Tánaiste Frances Fitzgerald following calls for her resignation from Fianna Fáil and Sinn Féin.
Fianna Fáil this morning lodged a motion of no confidence in the Tánaiste for debate on Tuesday.
---
Fianna Fáil leader Micheál Martin
"The Tánaiste should step aside, in our view, and that would avoid a general election.
"I've no difficulty meeting with the Taoiseach in relation to this. But he knows our position...
"There was a big failure here to stand by the character of Maurice McCabe."
---
Minister for Employment Affairs Regina Doherty
"I will beg Fianna Fáil ... do not bring us to the polls on this completely trumped up non-issue just because Sinn Féin are quite happy to have no government in Northern Ireland and won't be content until we have no government in the south of Ireland either."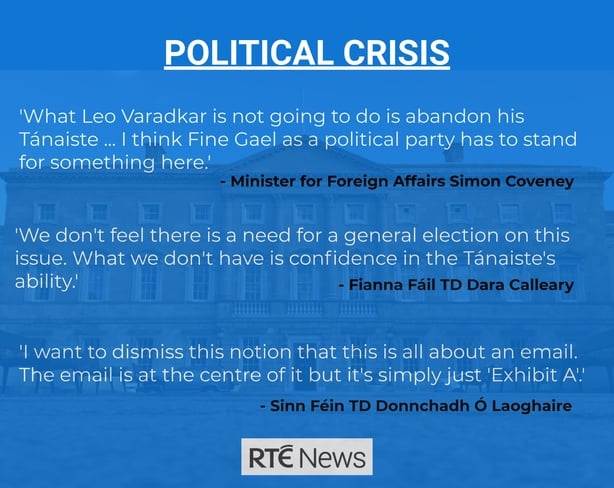 Willie O'Dea, Fianna Fáil TD
"The last thing I want to do is be going around to the doors in Limerick during Christmas competing with carol singers ... I hope a general election can be avoided, but if it can't be avoided, so be it."
---
Maureen O'Sullivan, Independent TD
"It's just a game of gamesmanship at its worst and I'm really appalled at the behaviour that I've seen over the past two days."
---
Richard Boyd Barrett, People Before Profit TD
"I don't believe the explanation that the minister has given of what happened around the email; it's not satisfactory.
"On the other hand, I'm not sure the public will thank us if there's an election before Christmas. So it's a thorny dilemma really."