There is a febrile atmosphere in Leinster House this evening.
Politicians are nervously joking about the dawning prospect of a Christmas election.
"We'd get slaughtered at the doorsteps. How would you explain it?" asked one TD with a sense of genuine incredulity and fear.
But today's events mean things are heading in that direction unless the Tánaiste swiftly departs office.
Fianna Fáil has lost confidence in Frances Fitzgerald and will vote that way in the Dáil next week, most likely in a motion they will put down themselves.
Sinn Féin has also tabled a no-confidence motion in her.
The root of all this giddy unease is an email sent to the Frances Fitzgerald late on the evening of 15 May 2015.
It set out the legal strategy that was set to be deployed against garda whistleblower Maurice McCabe at a commission examining allegations he made about garda malpractice.
It has been described in the Dáil as a malicious strategy aimed at smearing his character.
The Tánaiste was then Justice Minister and says she cannot remember reading the email.
She insists that it made clear that she was legally precluded from intervening at any rate.
But that decision looks set to ultimately cost her job within days.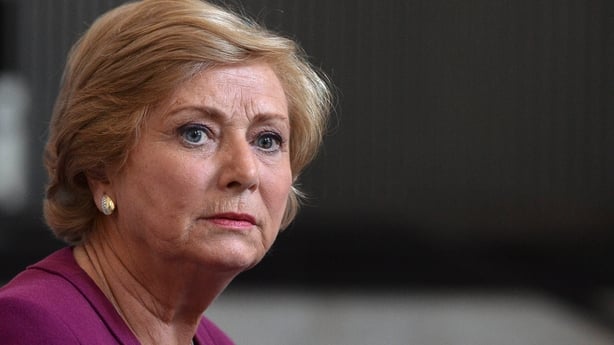 And it gets more complicated because the email was unearthed by the Department of Justice on 9 November last.
This was in response to a Dáil question from Labour TD Alan Kelly, the man who started this political avalanche.
But the contents of the email were not made known to Taoiseach Leo Varadkar until after they were reported by RTÉ's Katie Hannon last Monday night.
Along the way, Minister for Justice Charlie Flanagan and Ms Fitzgerald had found out about the email resurfacing, but did not mention it to Mr Varadkar until that point.
This evening, Ms Fitzgerald was seen in conclave with the wiliest of all political strategists, former minister for finance Michael Noonan.
So far, she has given no hint of exiting stage left and this afternoon the Minister for Health Simon Harris said she had the full support of the Government.
That view has been reiterated by senior Government sources.
The Tánaiste is adamant she has done nothing wrong and believes that the Government should call Fianna Fáil's bluff and test their appetite for an election.
That defiance may well melt away though as the pressure builds on her to resign.
In the end, this can all be distilled down to a simple political reality, it is either the Tánaiste or a General Election.
Right now, confidence in the agreement underpinning the Government has never been in such short supply.