An Irish choir made up of women affected by cancer has performed at the launch of the EU's Beating Cancer Plan.
The choir could not go to Brussels due to the pandemic, but that did not stop them from putting together a virtual performance, which was played at the event at the European Commission.
Last year, the same choir performed in the European Parliament.
"We are in strange times, but we felt that we wanted to share this with you," said Health Commissioner Stella Kyriakides, introducing the choir.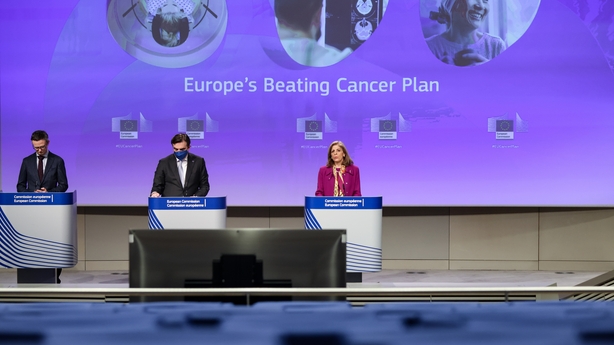 "Last year we were in the European Parliament, and for any of you who were there, you may have remembered a very inspiring group of women, the Sea of Change choir from Ireland.
"We had then discussed with them the possibility that one year later, if we were presenting the cancer plan, that they would join us again. They have been unable of course to be here because of Covid-19.
"But these women - truly, they inspire me and they move me - put forward a video with all the messages that they felt the plan represents to them. It's a video of hope and inspiration that they managed to do despite being in lockdown, which shows their determination," said Ms Kyriakides.
"Their message in this video is that we can make things better... This is what these women teach us - that no matter how hard, no matter how tough days are, and days are so tough for each and every one of us in Covid-19, we need to continue fighting, we need to continue to look forward, and we need to continue to try and make things better."
We need your consent to load this YouTube contentWe use YouTube to manage extra content that can set cookies on your device and collect data about your activity. Please review their details and accept them to load the content.Manage Preferences
The European Commission was unveiling a €4 billion plan to prevent, treat and research cancer in the EU as part of a bigger project for an integrated health policy.
Commissioner Kyriakides, launching the 'Beating Cancer Plan' on the eve of World Cancer Day, said the goal was to ensure EU citizens have the same chances of survival no matter which member state they live in.
She said it is "unacceptable that today we have different access to prevention programmes across the EU, different rates for early diagnosis, early detection, treatment and of course survival".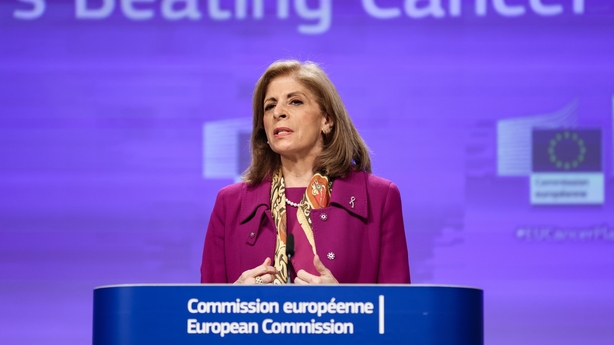 The plan aims to reduce smoking, alcohol consumption and pollution over the coming years and to promote a healthy lifestyle to reduce the 40 percent of cancer cases that are preventable.
It also sets a goal of vaccinating 90% of girls in the European Union against the human papillomaviruses that can cause cervical cancer.
And it will support increased screening of breast, cervical and colorectal cancers and look at extending those to prostate, lung and gastric cancers.
The European Commission said there are 2.7 million people diagnosed with cancer in the EU annually, and 1.3 million deaths.
Across Europe, there are 12 million cancer survivors.