Visitors to the Phoenix Park have been asked to practice social distancing and remain at least 50 metres from the wild deer population there, after rangers noticed an increase in stress levels and malnourishment among the herd.
Officials from the Office of Public Works have asked that people do not feed the deer this year or encroach upon them for selfies.
Research by OPW has shown that the increasingly large numbers of visitors and recreation users in the Phoenix Park during Covid-19 is causing undue stress on the wild deer.
The park in Dublin 8 has a herd of around 600 wild fallow deer which graze on its 707 hectares of grass.
A ranger and deer keeper told RTÉ News that feeding the deer can cause competition among the herd for the food, which could lead to their injuries.
Food like carrots and bread, which are commonly fed to the deer by visitors, are harmful to the deer, and can actually cause malnourishment.
"They've been here for 350 years and they don't require any additional food or supplement."
The park rangers have also noticed people getting too close to the wild animals looking to take pictures with them.
The close contact can spread disease between people and the deer, and the deer can become skittish, which given their size and speed could lead to injuries to them or to people.
Terry Moore, Park Ranger and Deer Keeper, said that interacting with the deer can be dangerous to both them and people.
"It has become very alarming because it is becoming more and more persistent that people are feeding the deer and I don't think people are aware of the dangers that are involved," he said.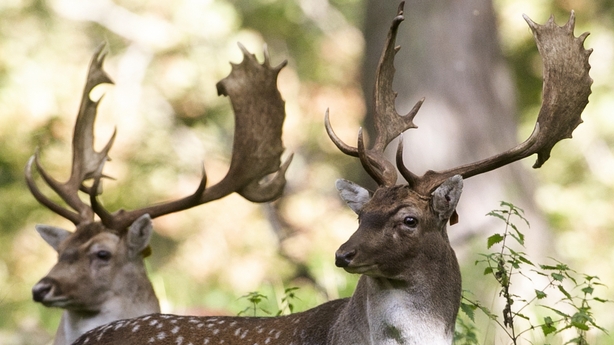 "They are a big strong animal - very powerful - they can get quite stressed when people get too close and it can cause competition within the herd for food and they'll fight with each other and cause injuries, but also, it's the injuries that could be caused to young children and people, which has happened in the past. Our fear is that someone will get seriously injured.
"Our message is for people to stay at least 50m away from the deer so everyone can enjoy them. There's enough grass in the park to sustain a healthy herd," he said.
"They've been here for 350 years and they don't require any additional food or supplement.
"I've seen a lot of injuries because of the competition when people feed them. One buck will fight with another for that food. Also, it causes a sugar rush and upsets their natural digestive pattern."
"If your distance from the deer is making them move, you're too close."
Fallow deer are ruminators, which mean they chew the cud of their food after regurgitating previously consumed grass and digesting it further.
Paul McDonnell, Park Superintendent, said that because their diet should be solely comprised of tough, fibrous grass, when people feed them other foods, it completely upsets their natural cycle.
"Over the last number of years, particularly this time of year, we have noticed people are getting very close to the deer to get selfies and to feed the deer," he said.
"The deer here are grazers so their natural diet would be grass, and there's plenty of that here. The deer have a natural cycle throughout the day where they eat and then digest that grass, ruminate and then socialise and sleep but when people come close, they are interrupting this cycle for the deer.
"If your distance from the deer is making them move, you're too close. Please don't feed the deer, they eat grass and we have plenty of that."
A big Christmas Eve tradition for a lot of people is feeding the deer in Phoenix Park, but this can really put their health at risk as @moscannail found out when he headed out there this morning. pic.twitter.com/0EEI603nLY

— RTÉ news2day (@news2dayRTE) December 2, 2020
As an alternative to feeding the deer, the staff of the Phoenix Park have set up a number of post boxes for children to drop off their letters to Rudolf.
Patrick O'Donovan, Minister of State with responsibility for the Office of Public Works, said the OPW hopes that this can become a Christmas tradition instead of people feeding the deer.
"We want people to come to the Phoenix Park," he said, "but we want people to bear in mind that this is the natural habitat of the deer so we want them to enjoy them but stay at least 50m back and not to feed them because it does make them sick.
"We've put post boxes across the park so that the children can write to Rudolf and he'll pass it on to Santa."
The post-boxes will be located at the Papal Cross Car Park, Phoenix Park Visitors Centre Car Park and the Camogie Grounds Car Park off Chesterfield Avenue in the run up to Christmas.