Former RTÉ broadcaster Charlie Bird has said he cried tears of joy as his granddaughters' school walk helped Climb with Charlie near €2.5 million fundraised.
The former chief news correspondent, who was diagnosed with motor neurone disease last year, was present at Mount Anville Montessori Junior School, as his granddaughters led their classmates on a 'Walk with Charlie'.
Mr Bird said that his efforts have not been for him, but for anyone in a "dark place".
"What happened last weekend was not just about raising money but also awareness for everyone who had their own struggles," Mr Bird said.
"Anyone who might be in a dark place. I decided to raise funds for two charities, the Irish Motor Neurone Disease Association, the only voluntary association in Ireland that looks after this dreadful disease and Pieta, who help people with thoughts of self-harm and suicide."
After being diagnosed, Mr Bird set himself the goal of hiking to the top of Croagh Patrick in Co Mayo.
His granddaughters said that they were inspired by their granddad's climb and wanted to do something to show him how proud they are.
"I think he's an amazing man because he has motor neurone disease and he's handling it very well," said his seven-year-old granddaughter Harriet O'Dowd.
"I'm very proud of him."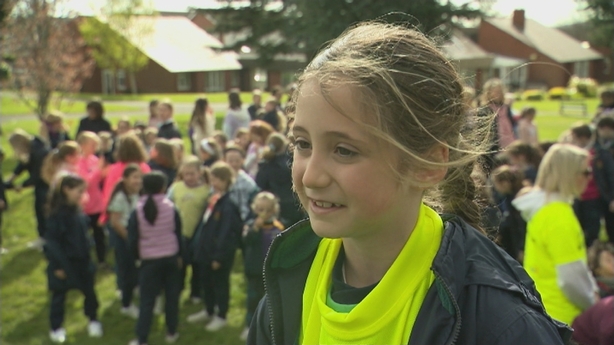 "I went to the top of Croagh Patrick as the smallest person and I climbed with my mum, the best mum in the world.
"He's just the best granddad because she's so kind and supportive," Harriet added.
We told you about Climb with Charlie, @climb_charlie, where former broadcaster Charlie Bird was climbing Croagh Patrick, well Charlie's granddaughters were so inspired by what he achieved that their school decided to Walk With Charlie. @moscannail caught up with them. pic.twitter.com/ik5qQmC8i1

— RTÉ news2day (@news2dayRTE) April 29, 2022
"I would do anything for my granddad because I love him and I think he's getting through a hard time really well," added Abigail Redmond, ten, his other granddaughter.
"I'm definitely proud because he's pushing through a hard time.
"Most people, if they got diagnosed, would go away into a dark corner and not want to come out, but I think he's putting himself out there."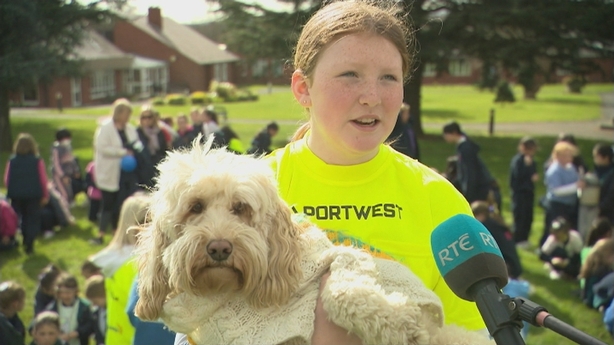 As well as the Climb with Charlie fundraiser, the walk also raised money for Cystic Fibrosis Ireland, a charity close to hearts of pupils in Mount Anville.
Katherine Kelly, aged 12, a pupil in the school, has the condition, but said she will never let it hold her back. She said she was inspired by Mr Bird and all he achieved in spite of his own condition.
"Cystic Fibrosis is a condition which affects your lungs," Katherine said.
"The way I'm affected with it is that I have to do lots of sports and stuff to keep up my fitness. I'm very inspired by Charlie climbing and it's very good," she added.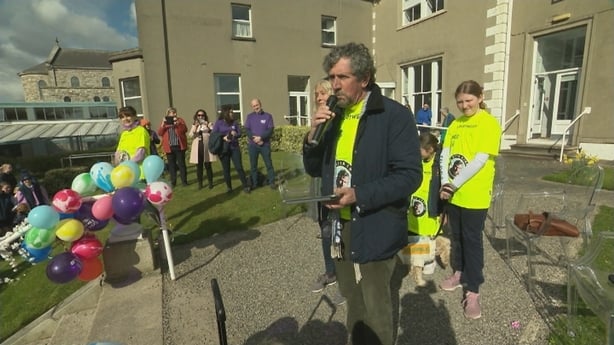 "It shows you that nothing can hold you back and people can do anything if they think about it. It definitely won't hold me back," she added.
The current figure raised by the Climb with Charlie fundraiser is €2,463,101.
His challenge caught the imagination of the public, with thousands of people completed their own 'Climb with Charlie' events all over Ireland and further afield. Climbs were organised as far away as the US, Australia, South Africa and Spain.
Atop Croagh Patrick, Mr Bird lit five candles. One for his close friend Vicky Phelan, who he said "will always be in my thoughts and the thoughts of the nation".
The second candle was for anyone who has a terminal illness, the third for anyone in a dark place, another for everyone who "helped to get us through the pandemic" and the final candle was for the people of Ukraine.
"The love, kindness and support was something really special," Mr Bird said.
"Yes, I was seen crying, but they were tears of joy."