Most generations have a life-changing issue to deal with in their childhood, which they recount to generations that come after them.
In Ireland, Millennials, Gen X and Baby Boomers were lucky if their childhood didn't encompass some period of economic bust or all-out financial depression.
The latest generation though, Gen Z, as they are known, can in many ways relate best to the silent generations, the children who grew up with war.
Children here have been at the centre of debate throughout the Covid-19 pandemic, maybe no more so than before the Christmas holidays, and the issue of schools remaining open.
Easily forgotten though is the sacrifice that children make every day, shouldering a great burden of responsibility during the pandemic. They've been asked to restrict their movements, be careful where they go, who they are in contact with and how they live their lives.
Of course, there are innumerable luxuries that many children now possess and that make this easier than generations before them, but beyond tablets, Netflix and other modern comforts, every child just wants to be a child.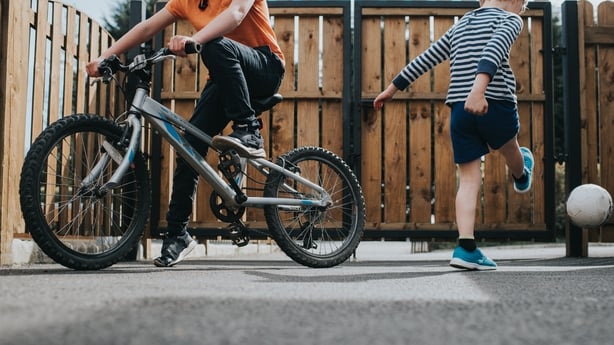 Before March 2020, it would be unthinkable that Ireland's children could be kept from school for an extended period. But just months after a mysterious pneumonia outbreak in the Chinese city of Wuhan was reported, and only weeks after our first case of the then named Covid-19 was identified, that's exactly what happened.
2021 has exhibited the mental strength and perseverance of our youngest citizens. It began amid, full "Level 5 Restrictions", a phrase that pre-Covid could only conceivably be uttered in a war movie.
Schools were to remain closed after the Christmas holidays until 11 January. They reopened at the beginning of March 2021. In this time, children had to adopt a new way of learning. They are undoubtedly more tech savvy than any that have come before, so this was no issue to them - a new adventure.
Socialising though - arguably as important as school work for young brains - is much more difficult to emulate over Zoom. Not only was physical play often absent, but also the lack of a peer to discuss stresses and worries in person, exacerbated by the situation.
In the Frontline Family series on RTÉ News2day, some children discussed how they dealt with all of this, while also having a member of their family protecting the country, working on the frontline.
We need your consent to load this rte-player contentWe use rte-player to manage extra content that can set cookies on your device and collect data about your activity. Please review their details and accept them to load the content.Manage Preferences
All around the world, Irish children grappled with the pandemic and for our disapora, thoughts of family in Ireland was at the forefront of their concern.
Still, while bearing the burden of a century-worst global health crisis, Irish children, as they always do, showed the spirit of empathy and kindness.
Countless fundraisers took place across the country, finding inventive ways to make distanced communities unite.
Eight-year-old Hannah Finnegan from the Dublin Road in Dundalk, put her artistic talents to good use when she sold her artwork raising over €600 for Temple Street Children's Hospital.
With strict social distancing restrictions in place, Hannah invited her family, friends, and neighbours within 5km to a drive-by craft fair at her house.
Even though lockdown has been tough for many, lots of people have been taking the time to learn or do new things. And one girl from Co Louth has been using her spare time to do something for others. @moscannail visited her to find out more. pic.twitter.com/3NMaMtW6VJ

— RTÉ news2day (@news2dayRTE) April 13, 2021
Children too, used the extra time they had to inspire others, and attempt to improve the national mood.
Six-year-old Luke Dobbs from Oylegate inspired the world when his online fitness classes went viral. Three of Luke's siblings are wheelchair users and require care and Luke himself lives with cerebral palsy.
He motivates himself to live his life full of happiness though, as he motivates thousands of viewers to improve their fitness.
Some sports reopened today for children, but gyms remain closed. @moscannail met one very inspirational boy from Co Wexford though who was doing online fitness classes and proving with a bit of motivation, any obstacle can be overcome. pic.twitter.com/4I5vnjVF9P

— RTÉ news2day (@news2dayRTE) April 26, 2021
Meanwhile, a ten-year-old boy with Down syndrome spread his tips and advice on how to stay positive with his weekly motivational "paudcast".
Pádraig O'Callaghan, from Knockainey in Co Limerick, recently interviewed Taoiseach Mícheál Martin and Tánaiste Leo Varadkar after his podcast spread positivity during trying times.
It's not often that children get to interview the leaders of a country. Well Paudie O'Callaghan, who has his own motivational @Paudcast_ie, interviewed the Taoiseach @MichealMartinTD and the Tánaiste @LeoVaradkar. Beforehand, he asked @moscannail for some advice.

Part 1/2. pic.twitter.com/GoGNBsNdTC

— RTÉ news2day (@news2dayRTE) December 1, 2021
Schools did eventually reopen, but restrictions in place meant that children in Ireland had to endure the pandemic, largely without visiting their grandparents or cousins.
In May, restrictions were eased enough for families throughout Ireland to be reunited. The effect of being apart for so long though, will never be understood, but for many children with the summer came relief and a reinvigoration.
For the summer months, with transmission of cases down, it was easier for children to be children. But, as the days shortened and temperatures on a graph went in the opposite direction to cases, again the burden of Covid-19 landed firmly on the shoulders of our children.
For some children Covid-19 has meant not being able to go to hurling matches with their granddad, being deprived of that unexplainable euphoria of reaching new heights on the bouncy castle at a friend's birthday party or just not being able to sing and laugh with their friends.
But others have been worse affected by the pandemic. Many children have had to not only grapple with the concept of death, but to try understand how something they only learned about recently could have taken a loved one from them.
Others dealt with this inconceivable strain, while having to also deal with unrelated issues in their lives.
Homeowners in the Northwest say they will take a campaign to the European Parliament next month, as they ask the Irish Government to fund repairs and replacements for their homes, built with defective blocks. @moscannail was there to chat to some of the children affected. pic.twitter.com/FNMrNy5yPF

— RTÉ news2day (@news2dayRTE) November 15, 2021
As Ireland's children remember another Covid Christmas, it was their excitement and festive spirit that made it feel more normal for the rest of us.
There is no surprise that this is the generation who stood up and said "climate change is real and we're prepared to help".
It's the same generation who, despite being among the worst affected by the pandemic, have remained optimistic and made the landscape a more positive one for everyone.