The second largest species on earth was caught on camera off the Cork coast last weekend, under clear skies and calm waters.
The fin whale is second only in size to the blue whale - and is the largest whale that can be seen in inshore Irish waters.
The footage was captured on Sunday by Emer Keaveney, a marine mammal ecologist with Ocean Research & Conservation Ireland (ORC Ireland), and this is only the second time the group has filmed a fin whale in Irish waters using a drone.
ORC Ireland's Fluke Follow Project uses drones to monitor the whale populations, to "gain insight into the health and behaviour of some of the most elusive species in the world".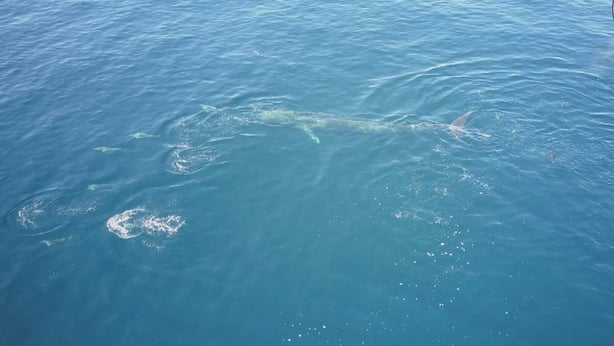 "Drones are becoming more widely used now in science… You have to get a licence from the National Parks and Wildlife Service and you can only fly it from a certain altitude, so as you're not disturbing them," said sightings officer for ORC Ireland, Caoimhe Tweedy.
Despite its great stature - often as long as 65 feet - sightings of the fin whale are not uncommon. The colossal creatures come in numbers to the south coast every year to feed.
"They are quite common in our waters," she said, but as they usually stay quite offshore it is difficult to get a good look at one without going out on a boat.
"Seeing stuff from shore is quite difficult, you need binoculars and you need time. It's possible to see them from land, but you need a very clear day, binoculars, a good spot and mainly the weather has to cooperate," she said.
Although whales have always been visiting Irish waters, there appears to be an increased interest since people started holidaying in Ireland this year due to Covid-19.
"I think people are paying more attention, because we're not going anywhere foreign, so people are looking at alternative things to do. West Cork is becoming massive for staycations," she said.
"It's exciting to see people realise that they don't have to go abroad to see these things, they're actually on our doorstep."
The footage captured over the weekend was a stroke of good luck, as surveying whales using drones can be a difficult endeavour.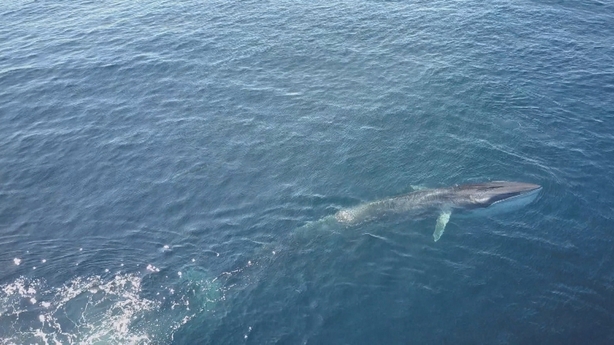 "It was just one of those instances where everything went in favour - the weather, the whale. Studying these animals is extremely difficult. You need them to be present, you need the weather to be correct, conditions need to be optimum, and then the drone only has a battery of maybe 20 minutes, so you have such a short window of opportunity to get it right," said Ms Tweedy.
"Seeing a fin whale is a very cool thing because they're the second largest animal on earth after the blue whale, so to see something that large is really, really cool.
"The one thing I've definitely noticed is this virus is having such an effect on our human lives, but the animal kingdom is just booming."
ORC Ireland is calling on the public to log any sightings of whales on its app.