President Michael D Higgins has described the 56 young recipients of the Presidential Gaisce Awards as "inspirational".
Flanked by hundreds of family members and other supporters, they gathered at Dublin Castle this afternoon to meet the Head of State.
All the recipients have completed five challenges over a year or more - among them, working voluntarily with a charity or community group.
Olivia Sneyd devoted one evening a week to the Rainbow Arch Club, where she has formed a strong friendship with Dale Blout, who has Down syndrome.
They are both northsiders in their early 20s.
Together they draw, dance, bowl and go on trips. A day in the seaside village of Carlingford, Co Louth was the most memorable of last summer's outings, they agree. Most importantly, perhaps, they also share useful advice on life.
RTÉ News met them this week at Coolock's Leisureplex. It's a regular venue for club outings, normally involving several people but, away from the madding crowd, they agreed to provide us with an insight in the Gaisce programme.
It quickly emerges that Leisureplex is one of Dale and Olivia's favourite places.
It's definitely Dale's because he regularly defeats his rival here on the lanes of the bowling alley. As he completes his first strike of the afternoon, Olivia puts a brave face on things, saying she's confident she'll "take him" the next time they compete.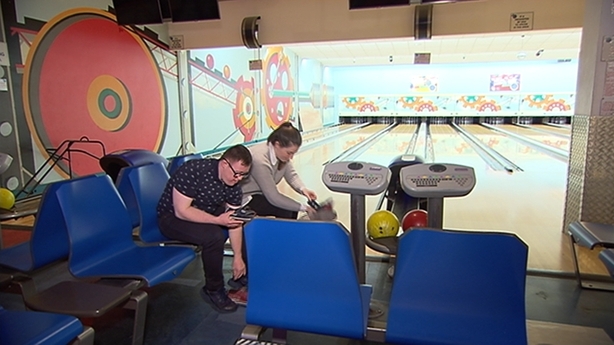 She's a mature first year student at DCU's Saint Patrick's Campus, where she's training to be an adult educator.
That's handy for Dale, who is two years younger, because he has been invited to an Open Day in Trinity College where he has applied to study at its Centre for People with Intellectual Disabilities.
He tells Olivia that he has arranged to attend the event in a fortnight's time. She advises him to do his research beforehand in order to extract maximum value from the experience.
"I thought that," he interjects, nodding in agreement with her suggestion that he prepare a list of questions for course organisers.
But by no means all the coffee-table talk is serious. Dale describes Olivia as "funny", but she confesses to telling bad jokes that he insists on laughing at. She says he's a fine dancer, rapper and swimmer.
Olivia explains that one of the five Gaisce challenges involved walking part of the Camino de Santiago in Spain with her younger sister, Ciara, who also received the Presidential honour today.
For the Sneyd sisters, the second of the five Gaisce challenges was to attend the weekly club gatherings throughout the year.
The club's base is the rented bar of a sports facility in Drumcondra. Olivia had already given some four years of service there, during which both women have met Dale and many other members.
Dale says that over that period he has been focussing on staying physically fit and socially active as he completed his schooling at St Michael's House Special School in Ballymun.
He recalls that one of his classmates was the daughter of the Minister of State with responsibility for Disability Services, Finian McGrath.
Gesturing towards Olivia, he says she's great at doing everything. "She's a great volunteer!" (Ciara cannot be with us today, so she'll have to wait for the accolades at next week's club session.)
Research carried out for the Presidential Award shows that participating in Gaisce provides young people with enhanced positive relationships, increased empathy, greater mental fortitude, increased positive emotions, self-efficacy, personal growth and positive thought.
And why wouldn't it? "Gaisce" is the Irish for a great achievement!