It was the first day back after mid-term at Gaelscoil Uí Drisceoil in Glanmire, Co Cork, today.
More importantly, for principal Siobhán Ní Chatháin, it was first day back under relaxed restrictions.
Over the past two years, she and her 26 teachers, 440 pupils and their support staff have seen a lot that they had not experienced before.
"Obviously, we had those two lockdowns – children were learning remotely, which was extremely challenging for their parents," Ms Ní Chatháin said.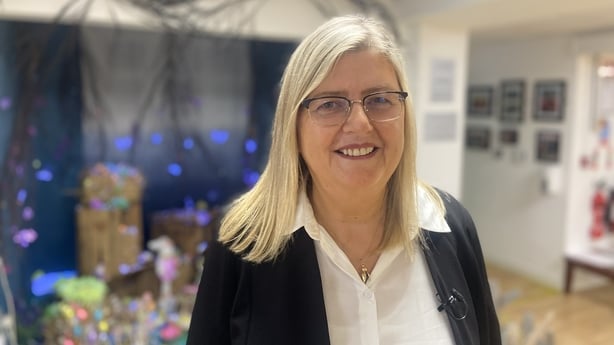 "The hands-on approach had to be set aside – pods, bubbles, outbreaks – we had it all."
Today, though, was different.
In schools throughout the country, public health measures such as the wearing of face masks, pods and staggered arrival and break times have come to an end.
"It's a great day today to move forward positively, hopeful for the future, to see the children smiling as they walked in to see their teachers' faces, some of them for the first time," Ms Ní Chatháin said.
"We are delighted."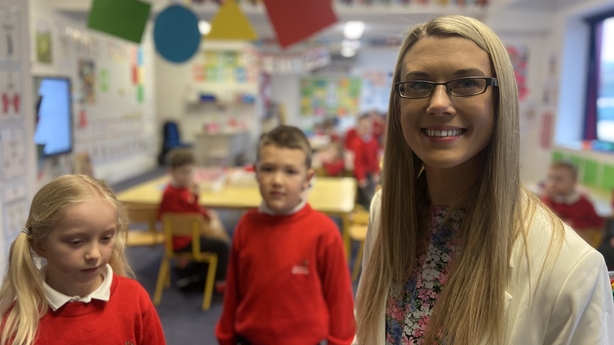 Naíonáin Bheaga teacher Jennifer Ní Chathaláin can now use facial expressions as well as her voice to teach her class of five and six-year-olds as, for the first time in a long, long time, she no longer has to wear a face mask in class.
"It's the sense of normality that we have missed," she told RTÉ News.
"I'm looking forward to being able to sit down and do circle time, with the kids sitting next to them on the carpet and reading a book to them, where they can sit wherever they want. It's the structure and rigidity of the restrictions that have really been felt.
"Now it feels like it's just back to normal, the way it should be in a junior infants class, where kids can mix and socialise and they can develop new friendships and they can expand their social networks.
"It's a really positive day today."
Five-year old Seb MacCarthaigh agrees.
"I am really happy because I can hear Múinteor Jennifer's voice and I can see her face," he said.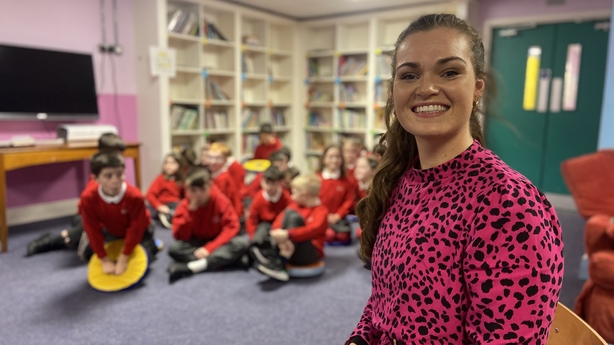 Upstairs in the library, third-class teacher Courtney Ní Gharbhí is hosting a reading class – the first one in many months where she and her pupils do not have to wear a mask.
"It has been absolutely fantastic and we are only in one hour this morning," she said.
"It's just wonderful to see their smiley faces coming in this morning without their masks, and they were able to move their desks around and to have them sitting close together and with their friends.
"Even to be here in the library this morning, reading a book with them and having them sitting down together next to me – it was just absolutely wonderful."
Mask wearing was made mandatory for third class pupils and older from 1 December last. This morning, third class pupils at Gaelscoil Uí Drisceoil welcomed the relaxation of those rules.
"I feel much happier," said nine-year-old Luke Martin.
"There's no social distancing and the masks were irritating. I'm just happy we don't have to wear them."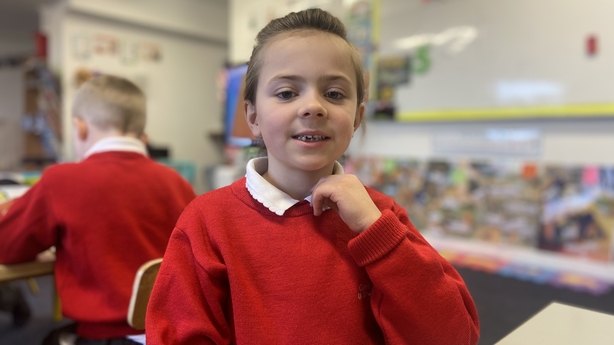 Ten-year-old Aisling Ni Mhathuna agreed.
"I feel so much happier," she said. "I actually forgot that we didn't have to wear a mask and then when I figured out we didn't have to I was so happy."
Perhaps most welcome was the return of singing to the classrooms. Megan Breathnach's class of Naíonáin Bheaga will be learning a new song today.
For the first time in two years, the corridors of Gaelscoil Uí Drisceoil was filled with the sounds of their voices rather than with talk of Covid-19.