Newly elected Taoiseach Micheál Martin was greeted by dozens of supporters and neighbours on his arrival home to Ballinlough in Cork city this afternoon.
Waiting for him at the gates of their home as he walked through a guard of honour singing 'The Banks of My Own Lovely Lee' were his wife Mary, and children Micheál Aodh, Aoibhhe and Cillian.
The Taoiseach said that he thought he would be making a low-key return home to Cork but the phone calls kept coming.
This homecoming, he said, was very special, particularly seeing all of those gathered there who have worked long and hard for him down through the years, sharing in the ups and downs.
@rtenews https://t.co/DhU5SnZr6c

— JennïeØSullivân (@OSullivanJennie) June 28, 2020
His wife Mary and family were unable to travel to Dublin for yesterday's election due to Covid-19 travel restrictions.
Asked if that was hard for his family, Mr Martin said it was not.
"This is Covid, the new reality for quite some time, there was no issue about it. Mary and Aoibhe were quite adamant that was the way it was going to be. They wouldn't have been comfortable in their skin being there either," he said.
He added: "There are many people who can't visit their loved ones in hospital. They were able to watch it on very good media coverage, so we were in touch by phone and that is the way it is, isn't it."
We need your consent to load this rte-player contentWe use rte-player to manage extra content that can set cookies on your device and collect data about your activity. Please review their details and accept them to load the content.Manage Preferences
He thanked his neighbours who had put up bunting and gathered on the road for his homecoming.
He said the park at Silver Grove in Ballinlough has over the past 30 years been a "great oasis for him in the midst of wonderful people".
An emotional Mary Martin recalled both of their late parents and others now dead who canvassed for her husband when he first started.
An emotional homecoming - newly elected Taoiseach ?@MichealMartinTD? and his wife Mary speaking on his return home to #Cork in past few minutes ?@rtenews? pic.twitter.com/uJykYoCiuh

— JennïeØSullivân (@OSullivanJennie) June 28, 2020
"Both of our parents, lots of other people, we see friends here that their loved ones - husbands, wives, fathers, mothers who canvassed when Micheál started. They told us they watched it on television - and they cried from the beginning to the end and they were thinking of their parents.
"I think on a human level, one side of me was glad that I able to do it all in the privacy of my own home because it was quite emotional and we are just thrilled. We wish Micheál well in it and we will do what we can to help."
Asked how his father Paddy would be today if he was here, Mr Martin said he thought that he would be "quietly proud".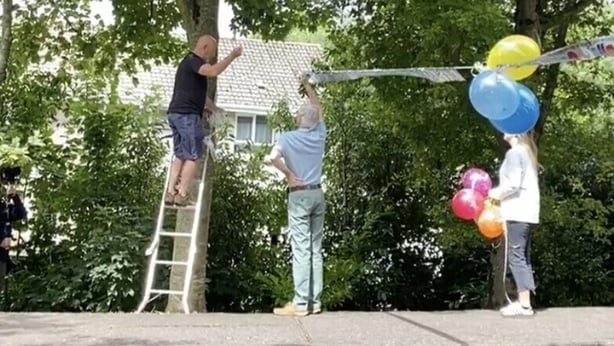 "We were brought up not to ever use the word 'proud', the mother didn't like it - but he would be a happy man. Y'know like he was a kind of a proud Irish man and he loved his country. Throughout my career he was always there, y'know. A very sound, wise kind of fella, good judgement, could read things well."
Asked about how the new partners in government would handle Civil War commemorations, the Taoiseach said it would be very interesting.
He said Tánaiste Leo Varadkar had told him during the week that he had taken Michael Collins' portrait down in the Taoiseach's office and told him "actually you might put it back up as I am going to put De Valera next to it in the office just to symbolize what has happened in terms of the formation of this Government".
"I have a wonderful portrait of De Valera in my own office - the Opposition office - and I am going to bring that over, Lemass is there already, and we will find a place for a bust of Jack Lynch too," he said.
"I think it will be interesting in terms of the Civil War and I have had some discussions with people in relation to that and I think we've got to do it - and I spoke to the President yesterday about that in the Áras.
"It will have to be sensitive, it will have to be honest but it will have to be done with a maturity that can educate and provide insights to the younger generations in terms of formation and evolution of the State.
He continued: "I think it was Seán Lemass who said that it was often the generations who followed the protagonists in the Civil War that became the most bitter, that many of the protagonists themselves weren't as bitter, they regretted it.
"Lemass' tribute to WT Cosgrave in the Dáil when he retired was an extraordinary tribute of generosity and Lemass suffered a lot with his brother and so on.
"I think that is where we have to go. History to me is about revelation, about insights, we can't look back judgmentally, we can't import the values of today back 100 years ago, we have to learn from it, and understand it, and not try and cover it up or camouflage it - it belongs to no party."
Since early morning, two gardaí were on duty patrolling the park and nearby Ballinlough Road.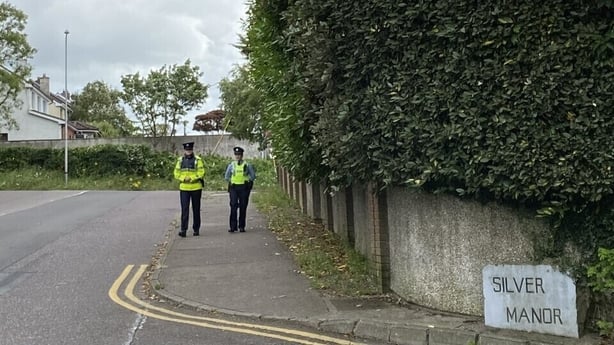 A contractor also cut the grass on the green ahead of the Taoiseach's arrival home to his family.
Mary Martin said the couple celebrated their 30th wedding anniversary last week and described their children as "the treasures of their life".
Asked if he would like to see any of his children in politics, Mr Martin replied that he was encouraging them to continue with their work and education.
"It's a very difficult life politics and in the modern era it is becoming ever more challenging so look, that's a matter for them, to make up their own minds, but enjoy life is the best advice I can give them in the next decade or so, and enjoy it."
---
Read: Latest politics stories
---