A famous walking route in the Glenmalure valley in Co Wicklow has been closed following an alleged assault on the landowner Pat Dunne, who had voluntarily allowed walkers traverse his land for the last 15 years.
Gardaí are investigating the incident.
The alleged assault followed a confrontation with a man accompanied by three dogs.
Dogs are not allowed on the popular route, which is located entirely on Mr Dunne's land, with livestock present.
Known as the Zig-Zags, it is an 'Agreed Access Route', facilitated through a formal agreement with the landowner and County Wicklow Partnership.
Mr Dunne, a sheep and cattle farmer, and his family have now decided to close the route entirely.
Speaking to RTÉ News, Mr Dunne said he never thought they would have to close the pathway, but he feels he and his wife have no choice after the alleged confrontation.
Mr Dunne said there is clear signage stating that dogs are not allowed because of the presence of his livestock on the land, but now the route has been closed.
"It has worked pretty well until this happened," he said.
"It was a decision we hoped we'd never have to take because we know a huge amount of walkers, all decent, honourable people.
"But I have been abused and shouted at before for telling people they cannot bring their dogs. but at the same time we never thought it would come to the stage we'd have to close it."
IFA President Tim Cullinan said this was a disgraceful attack on a landowner who was one of the first in the country to allow an agreed access route across his land.
He added that it is a serious setback for the relationship between landowners and recreational users.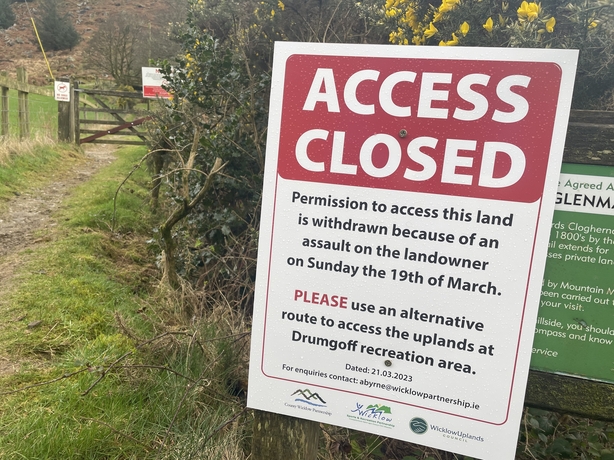 "Nobody can blame the farmer in question for closing off access when he's subject to this kind of behaviour," Mr Cullinan said.
The IFA President said the family had asked walkers not to bring dogs with them, because of incidents involving attacks on sheep.
"Unfortunately, this appeal was not respected in this case and the situation escalated to the point where the farmer was assaulted.
"While it was an isolated incident, it does nothing to further co-operation between landowners and recreational users," he said.
Aaron Byrne, rural recreation officer with County Wicklow Partnership, works with landowners and said that walkers must respect rules when venturing onto trails.
"I think people need to be mindful of the rules that they see on signage at the beginning of trails and they need to be respectful of the land owner," he said.
Access to private land in areas of natural beauty has long been a contentious issue between landowners and walkers.
Helen Lawless, the Access and Conservation Officer with Mountaineering Ireland, an organisation that represents hillwalkers and climbers in Ireland, said they were well aware of the potential impact the alleged incident will have on other landowners.
"It is really important that Mountaineering Ireland and its constituent groups recognise the impact that this may have on other landowners and seek to assure them that the vast majority of people respect the fact that we are dependent on the goodwill of private landowner," she said.