The chamber of the Neolithic passage tomb Newgrange in Co Meath, was partially illuminated during this morning's sunrise for the winter solstice.
The astronomical phenomenon marks the shortest day and the longest night of the year.
The sky was clear as the sun began to rise over the Boyne Valley, but at 8.58am the sun became obstructed by cloud.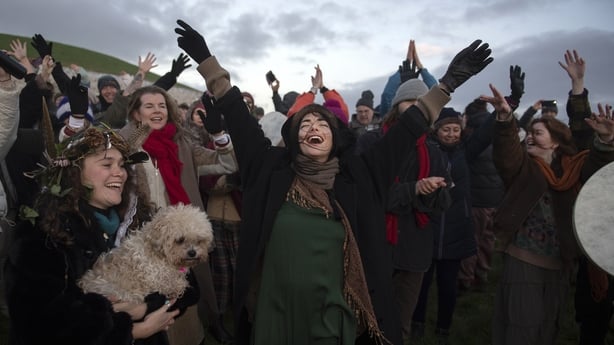 However, OPW guides confirmed that the sun's rays did penetrate the roof passage and a sliver of its rays lit up part of the passageway and chamber.
The solar alignment of the passage tomb to face the rising sun on the winter solstice is a significant astronomical finding of global importance.
Members of the public were allowed into the monument for the first time since 2019.
Inside Newgrange before the sun rises on the winter solstice @rtenews pic.twitter.com/cOYTCfMlGG

— Samantha Libreri (@SamanthaLibreri) December 21, 2022
In the past, around 20 members of the public were admitted inside after winning a lottery for access, which had around 30,000 applications.
This year, the number permitted inside the tomb was just 12 and they were selected from around 6,000 applications.
It is 55 years since the illumination was discovered by archaeologists working on the site and 22 years since the Office of Public Works began facilitating visitors for sunrise on the winter solstice.
The chamber in Newgrange was partially illuminated during winter solstice sunrise. The sky was clear as the sun began to rise over Boyne Valley but at 8:58 it became obstructed by cloud. However the sun did penetrate the roof passage & a sliver of its rays lit up inside @rtenews pic.twitter.com/zyg65TuFWR

— Samantha Libreri (@SamanthaLibreri) December 21, 2022