Pages from the 'Book of Leinster', which was written in the 12th century, are to be restored and digitised.
The pages have been held at Trinity College Dublin for many years but were far too delicate to be put on public display or used by researchers.
However following funding from the Bank of America, the conservation project will get under way.
The book was written in the 12th century by Áed Úa Crimthainn who was the Abott of Terryglass, Co Tipperary, although the book itself was written in Co Laois.
It is written in Middle Irish and contains a wealth of stories, poems, medical knowledge and folklore and has been described by Caoimhe Ni Ghormain, manuscripts curator at TCD, as a "snapshot of the middle ages".
There are 400 pages in total in the book, and although they have since been separated, it is envisaged that the conservation project will allow them to be bound once again as a complete volume.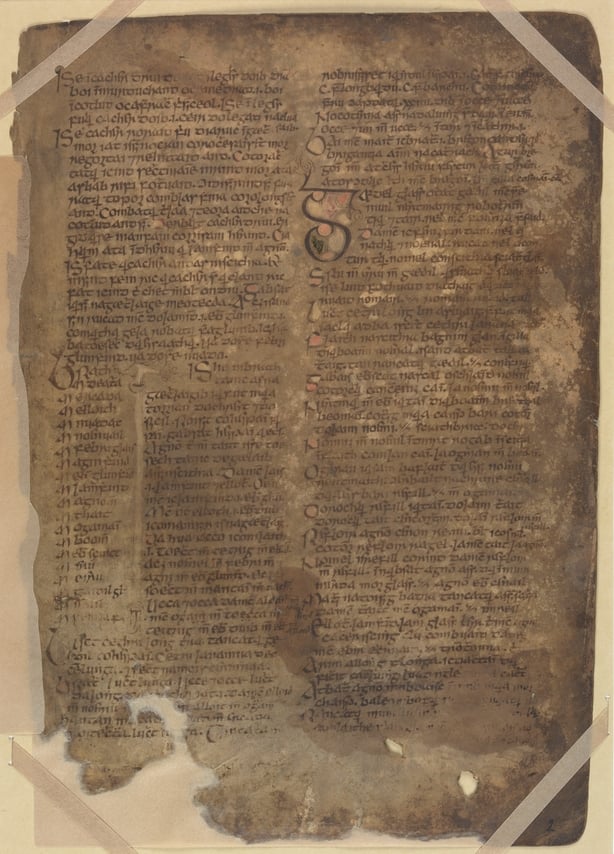 The book was originally printed on vellum and written in organic ink made by the monks themselves.
Keeper of Preservation and Conservation at the university, Susie Bioletti, has said that the book will be worked on by an experienced team who will stabilise the parchment and repair extensive losses and tears, allowing it to be resewn and rebound.
Work will also have to be done to repair previous efforts at restoration which actually resulted in more damage to the pages.
However once the project is completed, in around a year and half, it will be digitised, allowing researchers to see it and, in some cases to physically engage with it.
Speaking on RTÉ's News At One, Ms Bioletti said that the book captures different texts, decoration and imagery but is in extremely poor condition having suffered from a variety of adverse environments prior to coming to the college.
She said that restoration would take 18 months as it's in a fractured state with pieces missing and pages placed incorrectly, so conservation is "highly skilled" work that will be painstaking to restore the integrity of the manuscript.
"It brings this earlier language back to life and is a really important part of the tradition and our valuing of the past," she said.
Trinity Librarian and College Archivist, Helen Shenton, has said that once conserved, the Book of Leinster will form part of the library's major digitisation project, the Virtual Trinity Library and will be made globally accessible online.