A volunteer group providing aid for Ukrainians arriving at Rosslare Europort is calling for centralised leadership from the Government in coordinating an emergency response.
The latest figures from ports and airports show that 10,414 people have arrived here from Ukraine since 25 February. The Department of Justice says Rosslare Port currently accounts for approximately 8% of all arrivals.
The ferry company Stena Line is offering free transport and a free meal for Ukrainians travelling to Ireland.
27-year-old Anna-Elizabet Chubrikova and some of her family members took this ferry journey to Rosslare on 12 March.
"We heard the explosions on the first day of the war," she said. "It was 4am when we woke up and heard the sound of our old world being destroyed."
They left Odesa in Ukraine and travelled across Europe on trains and buses before arriving at Rosslare. Ms Chubrikova said they have no connections in Ireland, but chose to come here as she speaks English well and Ireland "felt like a safe place".
She and her family are now living in Hotel Rosslare. Until recently the hotel was not in use and is currently undergoing repairs. Ukrainians are being given rooms and meals there and are receiving clothing donations from volunteers.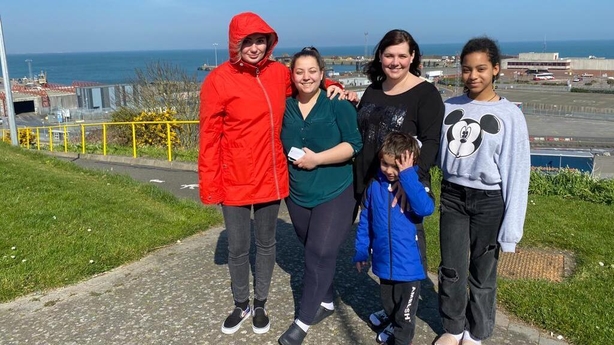 Ms Chubrikova said they hope the war will end soon and those with a home left in Ukraine will be able to return. "A lot of elderly people cry in the afternoon. I'd see them in the common room and try to comfort them, as well as kids because they really miss their fathers."
While they are in Ireland, Ms Chubrikova thinks the best way they can be supported is through offers of employment. She has a PPS number and has experience working in logistics. "Everyone wants to be active and not just using what is given to us," she said.
23-year-old Roksolana Klapko-Osman is also looking for work. She, her husband and their three-year-old twins left their home in Ukraine on the first day of the war. After driving across Europe for three weeks, she heard Stena Line was offering free passage, so they got a ferry from Cherbourg to Rosslare.
Ms Klapko-Osman is a medical student and is seeking information about how she can continue her studies in Ireland. In the meantime, she wakes up at 5am to complete online classes with her Ukrainian university, which has continued teaching after a two week pause when the war started.
She is also looking for a part-time job and would most like to work as a healthcare assistant, or a hospital cleaner. She feels it is important to be close to a medical environment as she works towards her goal of becoming a doctor.
Ms Klapko-Osman says she will have to juggle studies and work with childcare. Her twins are beginning to settle into their new lives but she said the events of the past month have been traumatic for them. "In the car it was hard, a very long trip," she said. "I think they understand something's wrong and every time they say they want to go home, I tell them we cannot now. I think they're too small to understand what a war is. They cry and miss their grandmother and grandfather."
Ms Klapko-Osman and Ms Chubrikova say they have been told they can stay in Hotel Rosslare as long as needed, but have no further information about accommodation in the longer term.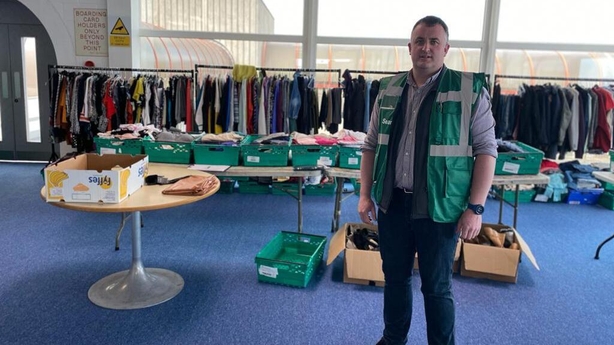 Authorities and volunteers are anticipating hundreds more Ukrainians will arrive at Rosslare in the coming weeks. A large reception centre will be established close to the Europort, similar to the one already operating at Dublin Airport. The Department of the Taoiseach has also established a group tasked with improving supports available to those arriving at Rosslare.
Sean Boyce, from the Rosslare Harbour Friends of Rosslare volunteer group, said up until now the coordination of supports has been ad hoc. Mr Boyce said the group of 150 volunteers established an impromptu committee a few weeks ago to help welcome Ukrainians arriving at the port.
Mr Boyce said it is understandable that the Government has not yet established better structures in this evolving situation, but they need to know who is leading the effort and coordinating voluntary groups and donations.
"At the moment, I would describe it as firefighting," he said. "We're plugging holes as they appear with donations, with the Red Cross, civil defence and the local county council. But we need someone to take charge so we have a bit more direction."
While so much about the longer-term future of Ukrainians in Ireland remains uncertain, Anna-Elizabet Chubrikova reflected on how much has changed in just a month.
"I don't know how many years have to pass for us to overcome this, or if that's even possible," she said. "But the people here, and the warm welcome that we've received, it's definitely helping."