The main union representing primary school teachers has called for Covid-19 testing and tracing measures in primary schools to be reinstated.
It comes after a primary school in Co Wexford has closed until after mid-term break after more than 30 cases of Covid-19 were detected at the school.
The General Secretary of the Irish National Teachers Organisation has called for measures that were removed from primary schools last month – including testing, public health risk assessments and contact tracing – to be reinstated.
The rules mean primary school children who are close contacts of confirmed Covid-19 cases are no longer required to self-isolate if they are symptom free.
Speaking on RTÉ's Drivetime, John Boyle said these changes were premature, and that for the last number of weeks there have been more than 1,350 positive cases of Covid-19 among 5 to 12 year olds – and that figure is without testing in schools, he added.
Mr Boyle called for the immediate start of antigen pilot testing in schools, and for HIQA to carry out of a review of its decision on facemasks.
The principal of the CBS Primary School in Wexford Town said the outbreak there shows that there are "serious flaws" in HSE guidance for schools.
In a message to parents yesterday evening, Vicky Barron said the decision was taken by the board of management due to the volume of cases at the school and that students would be taught remotely this week.
Ms Barron said the school was notified of a positive case of Covid-19 in one of its classes on 8 October and that a number of other cases were notified over the following three days.
On Tuesday 12 October, all children in the class were designated by the HSE as close contacts and sent for testing, but their siblings were advised to continue to attend school.
Ms Barron said that as the week progressed, there were 19 positive cases in the class and a number of siblings of those class members subsequently tested positive.
She said there are now more than 30 cases among the school community and that she was expecting further cases to be confirmed among the school population.
Last Friday 35% of children in the school were absent due to illness, the message to parents said.
"We are taking this emergency measure as a vital health and safety precaution for all," Ms Barron said.
"It is very clear that that are serious flaws in the HSE Guidance regarding protecting children in schools and the board of management has decided, in the interest for the health and safety of all our pupils and their families to implement these emergency measures."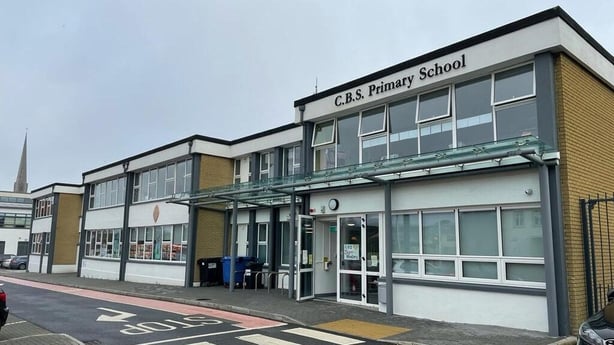 Under Department of Education rules, schools are only permitted to close on the advice of public health authorities.
Speaking on RTÉ's News at One, Ms Barron said the school's board of management "made the right call to keep everyone safe" and is sorry it did not close sooner.
She said it was a "very difficult decision" and all teachers are onsite delivering remote teaching and resources to children.
Ms Barron expressed concern that children are not deemed close contacts, and that siblings of positive cases can also continue to attend school as they are deemed 'casual contacts'.
She said the school has problems with ventilation and has been "screaming to high heavens" that CO2 monitors are not enough.
"Opening windows does not deal with this and that is really obvious," she said.
In a statement, the Health Service Executive said the Public Health Department, HSE/South East area has been providing public health advice to schools in response to cases of Covid-19 but has not advised the closure of any schools in recent weeks.
In a statement to RTÉ News, the Department of Education said it could not comment on individual cases.
A spokesperson added: "If there are particular outbreaks of concern in educational facilities, Public Health teams will continue to provide support to schools should it be required and testing will remain available more broadly to children should it be required on public health or clinical grounds or following a Public Health Risk Assessment (PHRA).
"Any pupil/student who has symptoms which could be consistent with Covid-19 should not attend school. This will help to keep covid-19 out of schools in the first instance.
"The Department will continue to work with the HSE Public Health to support schools dealing with Covid-19."
The HSE Public Health Dept South East said it has not advised the closure of any schools in recent weeks.
In a statement, it said it has been providing public health advice to schools in response to cases of Covid-19.
It said the HSE does not comment on individual situations, but public health advice is appropriate to the current level of infection in a school and in the community, and in line with national policy regarding contact tracing of children under 13.