Garda Commissioner Drew Harris has promised the people of Drogheda that the effort being made to tackle the ongoing feud in the Co Louth town is not a "flash in the pan" for a couple of nights.
Speaking in the town, Commissioner Harris said gardaí are committed to ending the violence and bringing those "intent on mayhem and murder" to justice.
Acknowledging people are afraid to come forward with information about the feud, Commissioner Harris said it was only a small number of people involved in this violence.
"We are the many, they are the few, if we band together, we can bring them to justice and end this," he said.
Commissioner Harris and Minister for Justice Charlie Flanagan held a meeting with senior gardaí at Drogheda Garda Station this evening.
Mr Flanagan said he was in Drogheda to offer reassurance to the community and to tell them that the "conduct of behalf of a small number of thugs will not be tolerated".
He pledged that the small number of people involved will be taken out of circulation.
Mr Flanagan said "a sustained and strenuous effort" is being made by gardaí to stamp out what he called "unacceptable criminality".
Gardaí say 319 searches have taken place as part of Operation Stratus. There have been 870 checkpoints.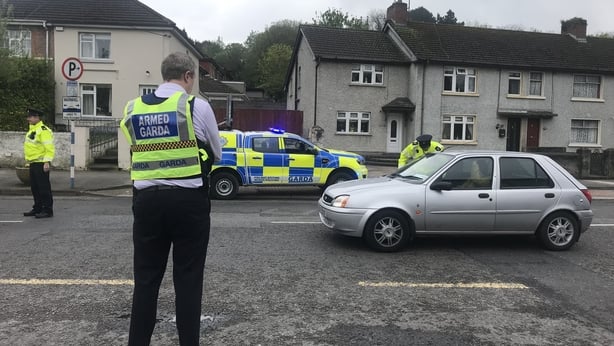 Four people are before the courts in relation of kidnapping in November last year. Another four were arrested were in relation of an attempted murder last February at the M1 Retail Park.
They have recovered a number of firearms, three of which were loaded and four pipe bombs.
Nine firearms, in various stages of completion, were recovered.
The meeting comes two days after Commissioner Harris has said the Emergency Response Unit had been sent to Drogheda as part of the policing plan to tackle the feud.
Minister Flanagan said gardaí would have an extra 300 new vehicles by the end of the year, as well as improved IT capabilities.