The completion of roadworks on one of Ireland's busiest motorways has been delayed until the summer.
Motorists face continued disruption on the M7 through Co Kildare as upgrade works will not be completed this month, as scheduled.
Kildare County Council said contractors had advised of a "short extension" to the completion date.
Work began on the 13km stretch of motorway in January 2018 and was expected to be finished earlier this year.
The project will see the M7, which is the main connection to Waterford, Limerick and Cork, widened from Naas to the junction with the M9.
The road is one of the country's busiest carrying almost 61,000 vehicles every day.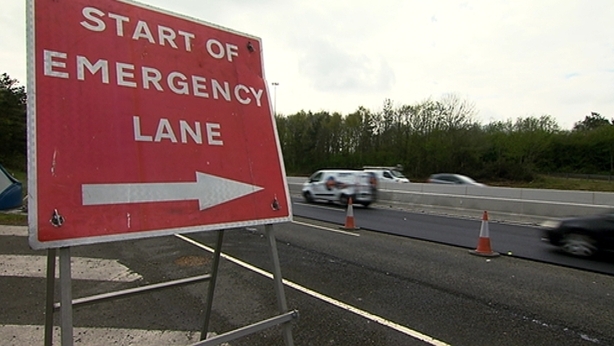 Evelyn Wright, Senior Executive Officer at Kildare County Council told RTÉ News the works would not be fully completed until July, but parts of the road would be widened on a phased basis.
"The third lane between Johnstown (Junction 8) and Naas South (Junction 10) will open in the coming weeks."
The council said night works are being carried out to speed up the construction process, however contractors are bound by working time directives and safety considerations.
The roadworks require motorists to slow down from the maximum speed of 120km/ph to 60km/ph and almost 14,000 drivers have received speeding fines.
The Courts Service said it is aware of a potentially large number of prosecutions arising from increased monitoring of road traffic, and that contingencies may be put in place to address any increase in prosecutions.
Additional court sittings may be held along with increasing the number of summonses to be listed for each court date.
A spokesperson said: "It is no secret that there is an increase in work coming as there are billboards on road works stating the number of people caught.
"It is likely that a proportion of people will not pay, leading to prosecutions," he added.