The Garda Commissioner has said he is willing to enter intensive negotiations with the garda representative associations to resolve a dispute over rosters.
In a statement, Drew Harris insisted that he has not imposed any preconditions on talks and that he was willing to compromise to reach agreement.
Commissioner Harris said the so-called Westmanstown Roster was the only agreed roster and he had given three months' notice that it would be reintroduced in November.
He said that he had met the associations four times over the past week and was due to meet them individually again next week.
Commissioner Harris said 60 meetings over three years failed to resolve the issue, but he said that An Garda Síochána management is available for intensive talks.
The statement came after the Garda Representative Association (GRA) voted to withdraw voluntary overtime on five Tuesdays in October and withdraw all labour on 10 November if the dispute is not resolved.
The vote came at a special delegate conference in Kilkenny, two weeks after 99% of GRA members voted no confidence in Commissioner Harris.
The GRA met Mr Harris this morning, but said that no progress was made on the issue.
Minister for Justice Helen McEntee said it is "regrettable" that GRA members will not sign up for voluntary overtime from Tuesday, and called on the association to negotiate with garda management on rosters.
Ms McEntee said that she wants a new roster to be agreed, but added that "the only way that that can be found is through negotiations".
GRA President Brendan O'Connor called on the Government to intervene in the row.
Rank-and-file gardaí want to maintain the system introduced at the start of the pandemic, which sees gardaí working four 12-hour shifts on consecutive days, followed by having four days off.
Management wants to revert to the previous regime which involved six ten-hour shifts, followed by four days off.
The new garda roster is due to be implemented from 6 November, however the GRA has asked the commissioner not to go ahead with it.
The association also said that it will only engage with the Workplace Relations Committee if management agrees to put the date back while talks take place, which it said has not happened.
Speaking on RTÉ's Morning Ireland, Ms McEntee said that "it's absolutely imperative" that all groups, including the GRA, engage in talks.
"I think the facts are very clear here, there's nobody and that means the Garda Commissioner nor the garda associations who believe that either the current roster or the previous and incumbent roster is the right roster moving forward," she said.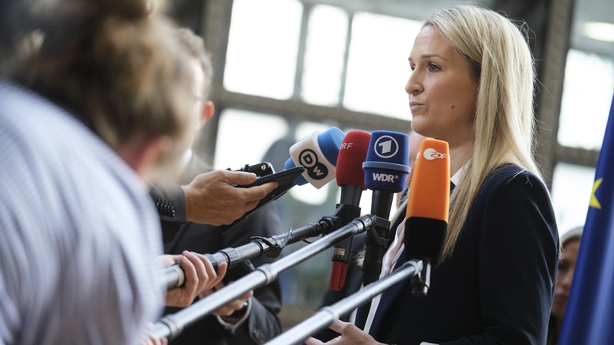 "We all want to negotiate a roster that is suitable for the public needs of today and that of course works for members of An Garda Síochána.
At a meeting with the Policing Authority, Commissioner Harris said the Covid roster was to meet the "extraordinary demands" of that period.
"There are areas of real concern in terms of the ongoing use of the Covid roster. One is in respect of visibility, because in effect we are deploying people against a flatline demand curve, and that is not the situation that we are in now."
He said a new roster was recommended through the policing service for the future project and the commission of future policing but that negotiations were not successful.
"We attempted through negotiation to achieve a new roster and have been so far unsuccessful, so that in effect is why we are returning to the 2012 Westmanstown Roster."
He said there were operational issues with the existing shift.
"If you are seeking contact with a victim, or seeking a witness, a long time can disappear really into that night shift and four rest days before you can realistically get back to an individual," the commissioner said.
He admitted the normal ten-hour day roster had its disadvantages and that they needed to get back into negotiations.
'Disaffection and discontent' among members - GRA
Meanwhile, Mr O'Connor explained that GRA members currently sign up for overtime to cover gaps that exist because of recruitment and retention problems.
This means that the Garda Commissioner and his team will have to work with gardaí who are rostered for ordinary duty and not rely on other members to volunteer to cover policing requirements, he said.
Mr O'Connor said there would be a higher reliance on this overtime in Dublin and large urban areas.
Speaking on Morning Ireland, he said that the GRA is very disappointed to find itself in this position.
There are so many other issues that members feel are not being listened to, he added, and the roster issue has brought it all to a head.
"Unfortunately, we find ourselves in the situation where the disaffection and discontent among our members is so great that you start to see members who are very much committed to the organisation but are so despondent that they feel there's no other course of action."
Garda issue raised in Dáil
Sinn Féin's Pearse Doherty said gardaí feel they have been abandoned by Government and their morale is at an all-time low.
He told the Dáil that gardaí have been pushed to breaking point and the Government's "soft touch" approach to crime is creating less safe communities.
Mr Doherty called for more garda recruitment, saying "communities deserve better".
He accused Ms McEntee of having a "hands-off" approach that is not working.
Responding, Tánaiste Micheál Martin said the seizure of a major shipment of drugs this week illustrates that those upholding the law are often in harm's way.
He said significant progress has been made in breaking up criminal gangs in Dublin and this is not evidence of a "soft touch" approach to crime.
However, Mr Martin conceded that the garda roster has raised legitimate concerns among rank-and-file members.
He said the best way to resolve this is through the industrial relations machinery.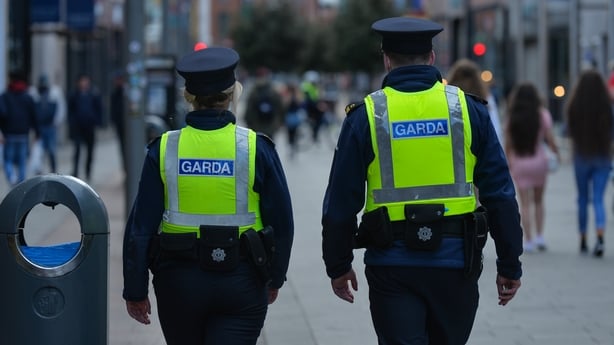 Gardaí to introduce 'revised plan' for protests
Ms McEntee said that she has been assured by the commissioner that there will be a "sufficient presence of gardaí on the ground" on Budget Day, and that the gardaí will be prepared should there be any protests like the one last week.
Commissioner Harris described the difficulties around policing protests.
He said it is often "one of the most complex pieces of policing that we have to engage. Because there is a right to protest that is enshrined in our constitution and within the European convention and obviously, we respect that".
"The difficulty often that we have is particularly with protests which give us challenges around their intention both in terms of what the protest intends to do often towards disorder or intimidation. In those protests they do not work in collaboration and cooperation with us," he added.
Therefore, there is no organiser for An Garda Síochána to negotiate with. He said instead they are trying to "confound us constantly in terms of their tactics as well".
"We have to respect the right to protest, but also, then make sure that we protect others from intimidation, violence or the threat of violence."
Commissioner Harris said gardaí have a specific responsibility to protect the Houses of the Oireachtas and have listened to the feedback they received after the protests outside the Dáil.
"What we just have to be very conscious of is the protests of last week, that does seem to be a phenomenon which is building. Certainly, it is building elsewhere in Europe," he said.
"We have seen it certainly build here over the last five years," he said, adding that gardaí will be "very conscious" that they do not "overreact in terms of what the legislative response or what legislation we use to manage it is".
He added that Budget Day will be the next liable day of protest, and there will be a revised plan in place.
"We need to be very careful in terms of our response. In the end, we have listened to the feedback, and we will have a somewhat adapted policing response and policing operation on 10 October," said the commissioner.
Assistant Commissioner Angela Willis said a number of people had been arrested at protests this year.
She said: "We have policed 423 protests so far this year in the Dublin area we have made 43 arrests, 32 of those in the course of protest activity.
"Many of the protests I should say are fully peaceful, and there is no significant disruption."
Additional reporting Mícheál Lehane