A former Fianna Fáil TD and Senator, who is a cousin of convicted child abuser Bill Kenneally, has denied that he tried to sweep the abuse under the carpet.
Brendan Kenneally, who was a TD and Senator between 1989 and 2011, is giving evidence to the commission investigating the response of gardaí, politicians, clergy members, health board officials and others to the allegations about Kenneally.
Basketball coach Bill Kenneally was convicted in two trials in 2016 and earlier this year of the abuse of 15 boys between 1979 and 1990.
The commission heard that gardaí believe he could have abused at least double that number of boys, and possibly more, in what has been described as one of the most serious cases of paedophilia ever discovered in this country.
Brendan Kenneally told the commission today that he had been involved in founding the TF Meagher's basketball club in Waterford in 1973 with Bill Kenneally.
He said Bill Kenneally was also a member of Fianna Fáil and was also involved in canvassing during elections and was a tallyman at election counts.
Brendan Kenneally said he was never informed of, aware of and never observed anything untoward between Bill Kenneally and young boys inside or outside the basketball club between 1973 and the late 1980s.
He said the first he knew of any allegations in relation to his cousin was on 23 August 2001 when a constituent whose husband had been abused by Bill Kenneally made an appointment to see him and told him her partner and another boy had been sexually abused.
She outlined that this involved stripping the boy to his underpants, tying him to a tree and taking a polaroid picture of him.
Mr Kenneally said the woman was upset and he agreed that he believed her and that it had taken great courage to come forward.
He said he himself was horrified and he could not believe anyone would stoop to do something like that.
Mr Kenneally told the commission that the woman was adamant that he was under no circumstances to go to the gardaí.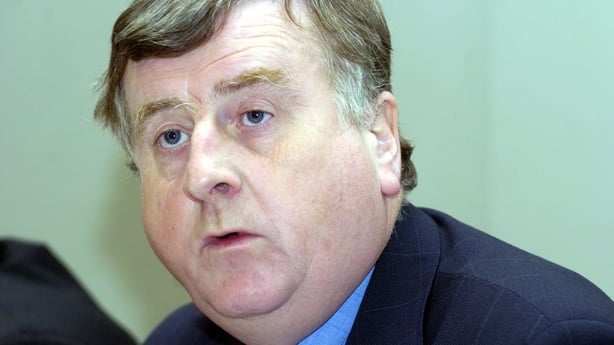 What she wanted to achieve, he said, is that what happened to the two boys would never happen to anyone else.
He said he had approached his father, Billy Kenneally, who had also been a TD and Senator in Waterford, for advice.
He said it was then he found out that his father had been told previously that Bill Kenneally was abusing boys.
The commission has heard evidence that former acting chief superintendent Seán Cashman had contacted Billy Kenneally in 1987 after the father of another victim said he had been abused.
Brendan Kenneally said he had not been aware of this.
He said his father encouraged him to contact a priest, Monsignor John Shine, who was an uncle of Bill Kenneally and who was also aware of the abuse allegations
They agreed that Brendan Kenneally would arrange for Bill Kenneally to see a psychiatrist.
The psychiatrist told him in a verbal report that Bill Kenneally had not offended for a number of years and was unlikely to offend again.
Brendan Kenneally said he put his faith in the psychiatrist.
He said he would not give the psychiatrist's name in public as they had said they did not want to get involved.
Brendan Kenneally said he kept an eye on his cousin by keeping himself informed about what was going on in basketball circles as he understood that was where the abuse had taken place.
At that stage, Bill Kenneally was not involved with training children.
Under questioning from commission barrister Ercus Stewart, Mr Kenneally said could not recall asking his father if he had done anything to stop the abuse from happening when he was first told about it.
He said in hindsight he probably regretted not asking him.
Mr Stewart asked Mr Kenneally why he had not gone to gardaí after finding out from Monsignor Shine that there were other boys involved.
He said he was "certainly not" making any effort to sweep the allegations under the carpet. But he did not think he had enough evidence to go to gardaí.
He said he did not go to the gardaí after the allegations against his cousin became public in media reports in 2013.
At that stage, he said he assumed they had all the information they needed.
Under cross-examination by lawyers for some of Bill Kenneally's victims, Brendan Kenneally said he did not know anything about his cousin's abuse before 2001.
He said that when the partner of the victim came to him, it never entered his head that such allegations against a family member could damage his prospect of re-election in the general election which was likely to be held within the following year.
"That thought never entered my head," he told Senior Counsel, Barra McGrory, "never".
He told Mr McGrory he was under oath and "that is the truth".
It was put to him that these allegations were made at a time when child sexual abuse was a key political issue, not long after then Taoiseach and Fianna Fáil leader, Bertie Ahern had made a public apology to victims of abuse in 1999.
Mr Kenneally said he did not need to be told in 1999 how abhorrent such abuse was.
He said when the partner of the man involved came to him, he was not aware of the extent of the abuse.
He said he did at all times what he thought was right and what he thought was appropriate to make sure Bill Kenneally did not abuse any more children. In hindsight, he said he probably did not do enough.
But he said he did not think he had enough evidence to make any formal report to gardaí or health board officials. He said he thought a psychiatrist could examine his cousin and ascertain whether he was still abusing people.
Mr Kenneally suggested he was naive and denied that he was deliberately avoiding the authorities because of the fear that his political career could be destroyed if the allegations became public.
Brendan Kenneally is the Commission's last main witness.
It will sit again at a later date to hear the rest of his evidence.