Claire O'Carroll is a part-time firefighter in Maynooth, Co Kildare and is paid an annual retainer, which starts at €8,500.
In return, she is expected to remain within a 2.5km radius of the fire station and be available for call-outs 48 weeks of the year.
"I have tried to get another job to supplement my income but employers aren't big fans of you telling them you have to leave every time a little pager goes off," Ms O'Carroll said.
"My priority will always be the safety of the community so employers can be reluctant to hire you," she added.
"I do this for the love of the job, helping people in the community, being there for people when they need you."
"Nobody does this for the time off or the money but we do need a little more just to attract people into the service," Ms O'Carroll said.
Retained firefighters began a campaign of industrial action today which involves refusal to co-operate with work outside of responding to emergency calls.
This includes refusing to engage in training exercises and drills and will also see radio calls through the emergency centres being replaced by the use of mobile calls to fire service management.
If there is no resolution to the dispute, rolling strikes will begin from 13 June which will see a series of one-day work stoppages at 50% of fire stations at any given time.
If there is still no resolution, an all-out strike will begin on 20 June.
Chanelle Doyle, a retained firefighter in Tramore, Co Waterford, says there is a recruitment and retention crisis within the service.
"It is not an attractive job to come in to," Ms Doyle said.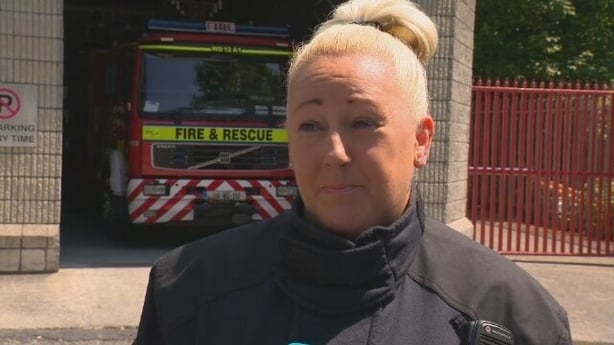 "You can't get a mortgage and it is the only public-sector job you have to subsidise with jobseekers' benefit."
"There is a lot that needs to be done to entice people into the job," she added.
SIPTU represents around 2,000 retained firefighters across 200 stations around the country.
While larger urban areas have full-time fire brigades, many parts of the country rely on retained firefighters.
In January, SIPTU members in the retained fire service voted overwhelmingly in favour of industrial action.
The union said that many firefighters are unable to take their leave entitlements due to staff shortages and have seen their incomes drastically reduced due to reductions in call outs over the last number of years.
"Our members are responsible and will do what is required to ensure public safety isn't compromised but equally the Government must recognise that they have let down firefighters by not tabling serious proposals which they acknowledge exist to address the crisis in the service," said SIPTU Sector Organiser, Brendan O'Brien.
Talks aimed at resolving the dispute broke down last month.
Minister for Housing, Local Government and Heritage Darragh O'Brien, has published a report on the future of the retained fire service which contains a number of measures aimed at addressing problems in the service and his department said that work is under way to begin implementing the recommendations.
Last week, Mr O'Brien told the Dáil that he is confident the industrial dispute can be resolved.
In a statement, the department said that SIPTU has confirmed that throughout the strike action it will comply with the provisions of the Code of Practice on emergency disputes.
"This reflects the professionalism and dedication of its retained fire service personnel to ensure that fire services are provided even in a strike situation and have confirmed that it will respond to all emergency calls involving life-threatening situations," the department said.