New government legislation which comes into force on Thursday means tobacco companies will now have to pay for part of the clean-up costs resulting from cigarette-related waste.
It is to comply with a European Union directive cutting back on single-use plastics across the bloc.
Minister of State Ossian Smyth, responsible for the Circular Economy, says he wants cigarette companies to come under pressure to clean up their act by reducing cigarette butt waste either through promoting more responsible disposal or by removing single use plastic from the product.
"We're going to require the tobacco companies to start contributing towards the cost of the cigarette butt litter that we're finding all over the ground," he told RTÉ news.
"For a long time we've had cigarette butts just cast aside and then you have a big cost to the councils and also a lot of volunteer work going in to collecting this litter, taking it away, and what we haven't done is actually charge the cigarette companies for that."
He said many people did not realise that cigarette butts were plastic waste.
"The cigarette filters actually contain plastic," Minister Smyth said.
"It doesn't biodegrade, so its staying in the environment and its also flowing out to the sea and there are cigarette butts all over the coast."
He said the money charged to the cigarette companies would be divided as to market share and will be used to collect the litter itself as well as collecting data and communicating with the public.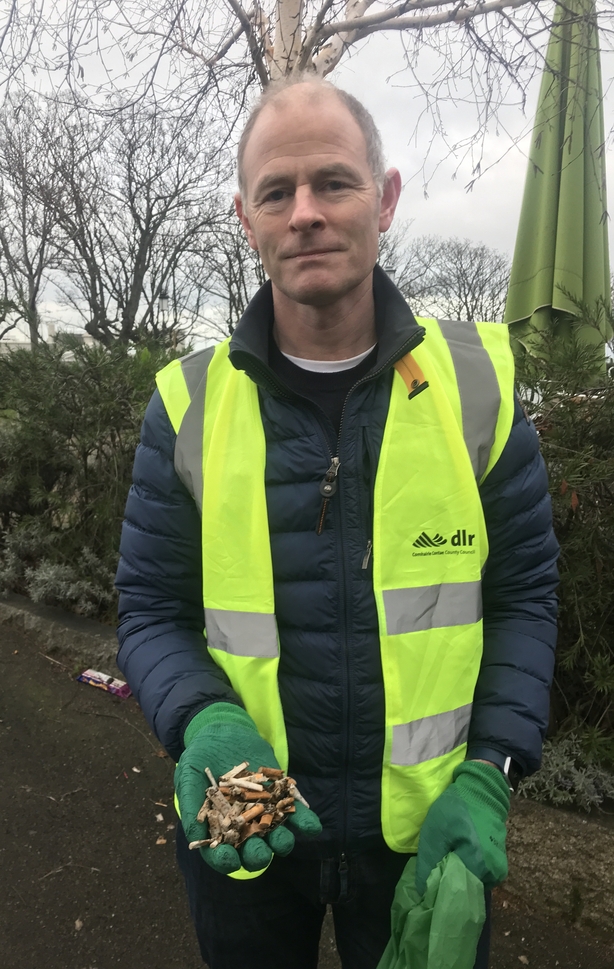 He said the government had been in contact with cigarette manufacturers here over the last year and that they were being co-operative.
However he emphasised: "They are legally required to do this.
"From the 5 January if you are putting cigarettes on the market in January, if you're a manufacturer, you must take part in this scheme and you must contribute towards the cost of collecting the cigarette butts."
He said over the course of the next year the government would be measuring how many cigarette butts are on the ground as part of the National Littering Pollution Monitoring System which recently found that almost half of all litter was cigarette-related.
He said many people had almost become immune to this type of littering because it is so prevelant.
"They're everywhere," Minister Smyth said.
"Even when you look at the ground in a tidy place like Dun Laoghaire which is one of the tidiest towns in Ireland, ranks very highly, but when you look carefully at the ground you'll see there are just cigarette butts everywhere and its an endless task trying to pick them up."
Next in the governments sights, when it comes to tackling single use plastics is fishing gear and wet wipes.
"The largest kind of litter you find in the sea is fishing kit and rigging and so on, so we'll be bringing in a similar scheme to this towards those who manufacture that," Minister Smyth said.
That legislation is expected next year in 2024.