Ireland is to provide an additional €30 million in humanitarian aid to respond to the rapidly deteriorating food crisis in the Horn of Africa.
The area - which includes Somalia, Ethiopia and northern Kenya - is experiencing one of the worst hunger crises of the last 70 years, according to the World Health Organisation.
Almost 40 million people are facing acute hunger, with approximately seven million children under the age of five acutely malnourished in the region.
Climate change, conflict and rising food prices have compounded one of the worst droughts in the region in recent decades.
The Department of Foreign Affairs said the aid brings Ireland's humanitarian and development funding for the Horn of Africa to over €100m in 2022.
The funding aims to support a range of UN and Irish NGOs on the ground including UNICEF, Concern, Trócaire and GOAL.
A significant proportion of the funds will support the response in Somalia where the threat of famine is most severe.
The World Food Programme said roughly half the population of Somalia urgently needs food and children are starving to death.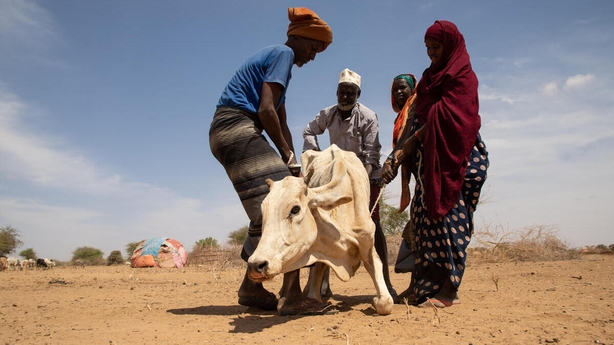 The Minister for Overseas Development Aid and Diaspora Colm Brophy called on the international community to "urgently" step-up.
"The international response to this crisis remains drastically underfunded, with humanitarian funding gaps of over 50% evident across some of the affected countries."
In August, the World Health Organisation called for $123.7 million to respond to rising health needs and to prevent a food crisis from turning into a health crisis.
Funding from the Irish Government intends to target the worst affected areas with a focus on life-saving health, nutrition, sanitation, cash, gender and protection.
Around €2 million will also be allocated to help support the protection of women and girls from sexual and gender-based violence.