A mother who is among around 200 Ukrainian refugees being moved today from a Dublin hotel to other accommodation in Cork, Donegal and Limerick, fears the move will be devastating for her son who has autism.
Oksana Kopernyk and her sons Milan, three, and ten-year-old Yehor, who has autism, have been in a hotel in Clondalkin since the end of March after fleeing their home in Dnipro in eastern Ukraine.
Last week, as reported on RTÉ's Prime Time, they received letters on behalf of the Department of Children, Equality, Disability, Inclusion and Young People, informing them they would be moved this week to alternative accommodation in Cork, Donegal and Limerick.
Oksana was told on Friday by the department that her family was being relocated from Clondalkin to accommodation at the Trabolgan holiday centre in Cork.
They boarded a bus bound for Trabolgan this afternoon.
Yehor had been attending a special class in St Joseph's Boys National School in Clondalkin, and Oksana said he had made excellent progress, which she worries will be lost now.
The school was a 25-minute walk away from where the family was staying but earlier Oksana had said: "I don't care ... I would walk one hour or one hour 30 minutes if we only get to stay in this school."
According to Oksana, teachers in the school had "found a way to communicate with Yehor and have even begun to integrate him into mainstream classes".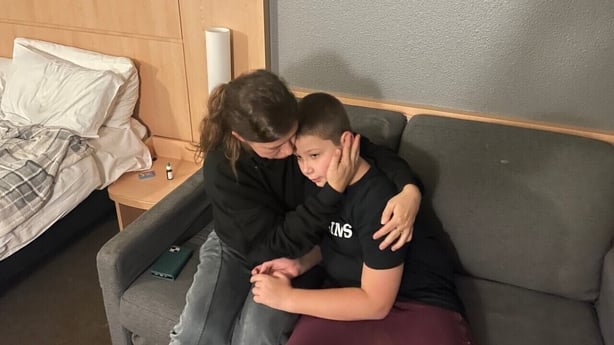 Yehor was non-verbal until he was six and Oksana said he had made excellent progress but now she worries about regression and that he might not keep up the communication skills he has developed.
"In the last four months he's been doing so well, but I am worried that work will be destroyed."
Oksana is concerned that the same services will not be available for Yehor in Trabolgan.
Since attending St Joseph's in Clondalkin his mother said Yehor has become much more relaxed and that he has fewer "bad days".
If he is having a "bad day", Oksana said that Yehor "cries, shouts, screams and has hysterical meltdowns.
"He can get very physical and be aggressive and can't control himself in those moments," she said.
Yehor received special support, including a special teacher back home in Ukraine - before the family was forced to flee their home.
She said the family has received a wonderful welcome since arriving in Ireland at the end of March.
"We are very appreciative of the welcome. I know it's a difficult situation with housing Ukrainians and I thank the Irish people for their understanding."
Oksana said the family hopes to go home to Ukraine eventually but does not think that will happen any time soon.
"Only last weekend there was a missile attack near where our home (in Dnipro) is and it wouldn't be safe to return."
We need your consent to load this rte-player contentWe use rte-player to manage extra content that can set cookies on your device and collect data about your activity. Please review their details and accept them to load the content.Manage Preferences
In a statement the Department of Children, Equality, Disability, Integration and Youth said it provides "short-term accommodation to those who are deemed by the Department of Justice to be eligible for temporary protection under the Temporary Protection Directive.
"Due to unprecedented demand for accommodation by new arrivals into the State, occupation of existing accommodation is maximised.
"As a result of current constraints on temporary accommodation, it is necessary for the department to transfer Beneficiaries of Temporary Protection to other accommodation as and when it becomes available. This helps ensure accommodation is available for all those who seek it. Such transfers only take place where necessary."
It added that over 200 Ukrainians have been residing at the hotel in Clondalkin and that the department is "working with our implementing partners and accommodation providers to make this move as easy and efficient as possible".