More than 200 refugees who have been living in the Ibis hotel in Clondalkin in Dublin are being transported to alternative accommodation in Cork and Limerick.
RTÉ News understands that 72 children are among the group, and some of the families have been living in the hotel since March.
Throughout the day, residents with packed suitcases made their way onto busses parked outside.
The majority of residents are being moved to accommodation at the Trabolgan holiday centre in Cork, however RTÉ News understands that families or individuals with pets are moving to accommodation in Bruff in Co Limerick.
A small group are also understood to have been moved to Donegal, while one family is moving to Bray in Co Wicklow.
The Department of Children, Equality, Disability, Integration and Youth has confirmed that the Irish Red Cross and Helping Irish Hosts have secured pledged accommodation for 78 people, and that it expects pledges for a further 19 people to be confirmed in the coming days.
RTÉ News understands that people were informed of where they were moving to and when at 3.30pm on Friday afternoon.
We need your consent to load this rte-player contentWe use rte-player to manage extra content that can set cookies on your device and collect data about your activity. Please review their details and accept them to load the content.Manage Preferences
Triona Reid from South Dublin County Partnership, who works with Ukrainian refugees and international protection applicants living in the hotel, said that concerns about families being split up and sent to different locations were addressed by International Protection Accommodation Service staff who were on site during the day, and that she believed that no families were split up.
Ms Reid said that arrangements were also made to allow a number of people with serious medical conditions to remain in Dublin.
Oksana Kopernyk, a mother of two boys, three-year-old Milan and ten-year-old Yehor who has been attending a special needs class in the area was unsuccessful in reversing the decision to move the family to Cork.
They boarded a bus bound for Trabolgan this afternoon.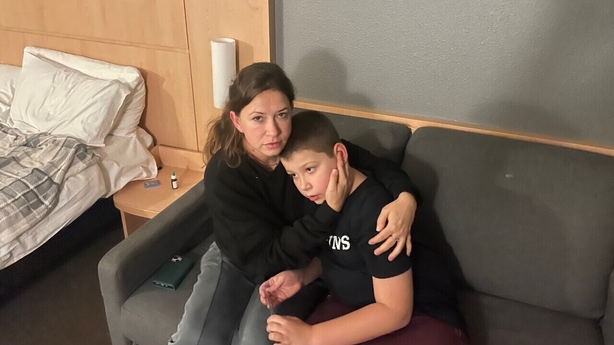 Meanwhile, the Minister for Children and Integration has renewed a call for unoccupied homes to be made available to provide "really meaningful support" to Ukrainian families.
Speaking following the launch of the National Traveller Health Action Plan, Roderic O'Gorman said it was his understanding that at least 50 people had been moved into pledged accommodation locally.
"That's why the use of pledged accommodation is so important," he said.
Asked about the situation in East Wall, he said neither he nor the Government were in a position to "countenance closing emergency accommodation" for either international protection applications or Ukrainians.
He said his department was accommodating 64,000 individuals from Ukraine or other countries seeking shelter, safety or from persecution or from war.
"That has necessitated us acting quickly, securing emergency accommodation where we can, we've secured it at East Wall, we've secured it in other parts of the country and we'll continue to do so," he said.
The minister acknowledged the importance of providing information when it comes to opening new emergency accommodation and he accepted it needed to be done "in a timely way".
Mr O'Gorman said increased resources will be provided to a unit in his department to do that.
Additional reporting Ailbhe Conneely