Democratic Congressman Richard Neal has indicated that US politicians will continue to intervene on issues relating to the Northern Ireland Protocol, even if Republicans take over the House of Representatives in November.
"I think it would be business as usual," he told RTÉ's States of Mind podcast.
"I think we are able to put aside some of the differences … to ensure not just the success of the Good Friday Agreement, but to also ensure the argument that the Good Friday Agreement is a template for what peace accords can be like across the world," he added.
Mr Neal is chairman of the Ways and Means Committee, which has oversight of US trade agreements.
He has used his powerful position to put pressure on UK politicians to make sure they maintain their commitment to the Good Friday Agreement amid battles over the future of the protocol.
Polls suggest that Republicans will secure a majority in the House of Representatives during November's midterm elections, meaning Congressman Neal could lose his chairmanship.
"You should know that I have been very careful over my long career on these issues - dates back almost to the Bobby Sands death - to make sure this was always bipartisan.
"So during my time as chairman and co-chairman I carefully recruited Republicans of Congress who were interested in the issue of a strong bi-partisan committee," he said.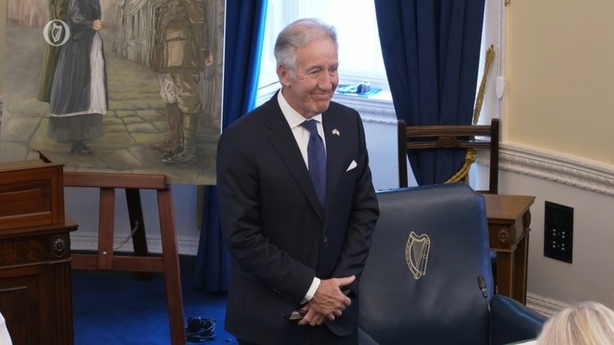 Mr Neal, along with high-profile Democrats including President Joe Biden, have been vocal defenders of the peace deal during Brexit negotiations, particularly in relation to the Northern Ireland Protocol.
He said previously that while a bilateral trade deal between the US and the UK is "desirable", an agreement would not be entertained if there was any jeopardy to the Good Friday Agreement.
The protocol keeps Northern Ireland in the EU's single market for goods, avoiding the need for a hard border with the Republic of Ireland, but it creates a new trade border between Northern Ireland and the rest of the UK.
Unionists claim it is undermining Northern Ireland's place in the UK and is contrary to the Good Friday Agreement.
The DUP is refusing to return to power-sharing at Stormont due to its opposition to the protocol.