The Government has admitted that Ireland's target for refugee resettlement under the Irish Refugee Protection Programme, may be challenged due to a lack of suitable accommodation.
270 programme refugees who are Syrians from Jordan had been expected to travel this year but are now not expected to arrive until the first six months of 2023.
The Department of Children, Equality, Disability, Integration and Youth which oversees the Protection Programme for refugees from war-torn countries including Syria and Afghanistan, said today that the challenge of responding to the crisis in Ukraine, along with "the serious increase" in the number of applications for international protection was behind the impact on available accommodation.
It follows a report by the Irish Refugee Council which said that the arrival of over 52,000 refugees from Ukraine and an increase in the number of people seeking international protection here, meant that the system was in crisis, with the State is close to exhausting its options.
A spokesperson for the Department of Equality said today that Syrian refugees were continuing to arrive in Ireland, including 69 programme refugees who arrived here today from Lebanon.
Preparations are also under way for further arrivals from Lebanon, in December of this year.
The Department of the Equality said earlier this year that no firm date had been given to Syrian families selected to travel to Ireland from refugee camps in Jordan, but they were first interviewed back in 2020 before the Covid-19 pandemic began.
Minister for Equality Roderic O'Gorman then travelled to Jordan with a delegation from his department almost a year ago, in November 2021. During a visit to the Zaa'tari Refugee Camp, he said he hoped that the refugees from there could be resettled in Ireland this year, saying the State was "determined" to reach its target for resettlement.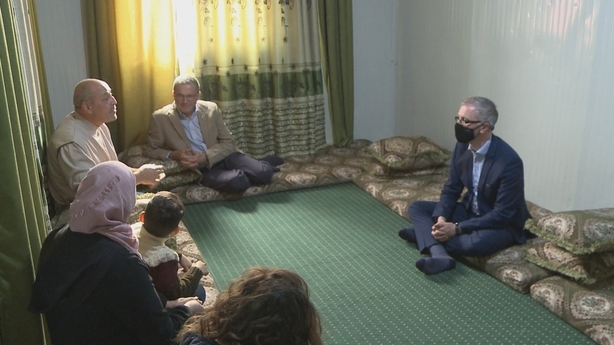 Overall, Ireland has pledged to resettle 2,900 refugees from Syria over a four-year-period to the end of next year, but the Department of Equality now says accommodation pressure "together with the impact of the Covid-19 pandemic during 2020 and 2021, may challenge Ireland's targets for resettlement under the Irish Refugee Protection Programme".
It says documentation to travel to Ireland is issued immediately prior to a departure date, with no timeframe imposed on the validity of documentation or a specific limit on time between interview and arrival imposed.