Concerns have been raised about Ireland's ability to protect key undersea infrastructure from a possible attack from any quarter.
It follows NATO claims that the damage to the Nord Stream pipelines were an act of "sabotage".
Russia carried out military exercises last year in waters off the south coast of Ireland.
There are fears that Russia could have been mapping the cables running under the Atlantic connecting the European Union and the US during the military exercises.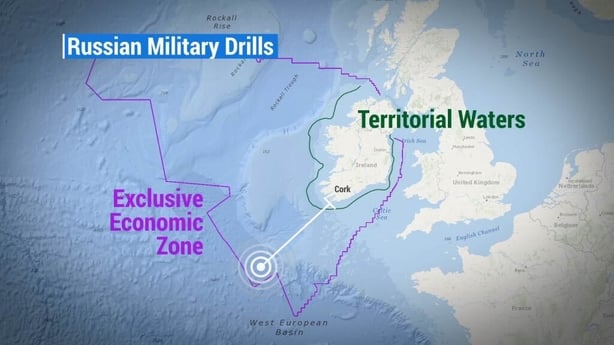 Some politicians claim Ireland does not have adequate naval ships and personnel to protect and monitor the waters off the Irish coast where the cables are located.
Minister for Foreign Affairs Simon Coveney said that the undersea pipelines linking Russia to Europe had been breached "clearly by deliberate acts of sabotage".
He denied that Ireland was a "weak link" and said that we have a naval service and an air corps that monitor Ireland's sovereign territory at all times.
He said every country in the EU had to ensure international infrastructure is protected.
We need your consent to load this rte-player contentWe use rte-player to manage extra content that can set cookies on your device and collect data about your activity. Please review their details and accept them to load the content.Manage Preferences
The minister said there were countries that had "far bigger defence forces" than Ireland that had been targeted.
He said: "But I think this is an attempt to frighten everybody in terms of international infrastructure, and I think we need to be wise and careful not to respond to that with any panic.
"But clearly every country in the European Union will be aware of vital infrastructure for their economies and their countries and Ireland is no different and we have a responsibility of course to monitor our own sovereign territory."
Independent TD Cathal Berry is among the TDs to raise concerns about Ireland's ability to protect the waters of the Irish coast where the cables are located.
He said: "The big concern is if they are severed by a hostile nation and we saw what happened in the Baltic sea only 72 hours ago.
"Another big concern of mine, we know it's a risk but Ireland is practically defenceless, it's very difficult for us to mitigate that risk.
"For instance our naval service, we started this year with nine naval ships, three were very quietly decommissioned during the year so now we only have six."