More than 61,000 Leaving Cert students are receiving their results, which were artificially boosted in order to comply with a commitment made by the Minister for Education earlier this year.
The State Examinations Commission (SEC) has added marks to the exam scores achieved by students on a sliding scale to ensure that this year's outcome matches last year's.
Scores have been boosted by an average of 5.6%.
The uplift was carried out in order to fulfil a promise made to this year's Leaving Cert students by Norma Foley that their results would, in aggregate, be no lower.
It means that for a second year running results are exceptionally high.
The SEC said that prior to its adjustment there was an "across the board" gap between this year's results and last year's, with results this year lower.
The gap to be bridged was widest at the bottom end of achievement, and narrower towards the top, it said.
What is known as a 'linear adjustment' was made across all subjects and levels, with more marks added towards the lower of the results scale compared to the top.
We need your consent to load this rte-player contentWe use rte-player to manage extra content that can set cookies on your device and collect data about your activity. Please review their details and accept them to load the content.Manage Preferences
For example, a student who scored 50 out of 100 had seven extra points added, while a top score of 100 out 100 attracted just three additional points.
Adjustments were applied across all subjects and levels, according to the SEC.
Last year's results were unnaturally high because, in a system that combined predicted grades from teachers with exams sat by students, students were awarded whichever outcome was the highest.
The commitment that this year's aggregate results would be no lower was given to students by Ms Foley following significant student and political pressure earlier this year.
Students were concerned that they would be at a significant disadvantage if they were forced to compete for college places against last year's students, without any aid.
---
Portal, points and perspective - navigating results day
Foley vows 'no cliff edge' for class of 2023
---
Results have been available online since 10am.
More than 61,000 students sat the exams this year. They include 12,452 who opted for the Leaving Certificate Vocational Programme and a further 3,051 who followed the Leaving Certificate Applied.
H1s account for 14.4% of all Higher Level grades awarded this year, a proportion that matches that of last year.
An additional more than 20% of Higher Level grades this year are H2s.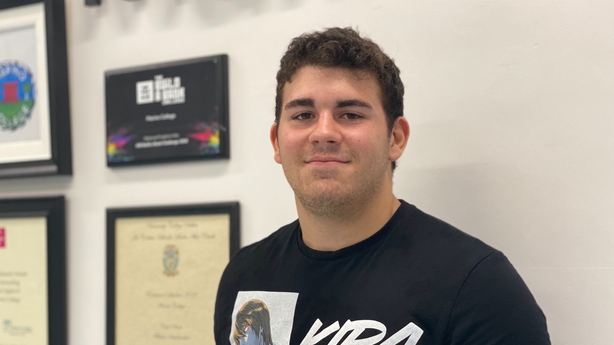 Some 18% of those who sat Higher Level Maths will receive a H1, compared to just 6.4% in 2019.
While 7% of Higher Level English Students have achieved the top score, compared to just 3% three years ago.
Almost 13% of Higher Level Irish students have got a H1 compared to just 6% in 2019.
This year's outcomes are no lower than those of last year at an aggregate level, and the SEC said that the grade profile at each level is similar to that of 2021.
However it said grade profiles do vary across subjects and are not identical to last year.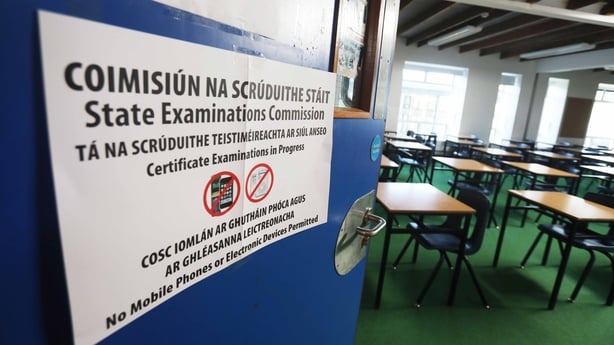 Grade inflation
The challenge for the SEC was to fulfil the minister's commitment while at the same time minimising grade inflation.
It will be hoping that the fact that adjustments were greater at the lower end of achievement and smaller at the top will have contained grade inflation somewhat.
Last year there was great concern when it emerged that the high number of students achieving six or more H1s meant that significant number of students with top CAO points of 625 still failed to secure places on courses they had chosen, because random selection had been deployed.
This year's CAO round one offers will be made next Thursday.
The full impact of this year's Leaving Certificate outcomes to points levels will be known then.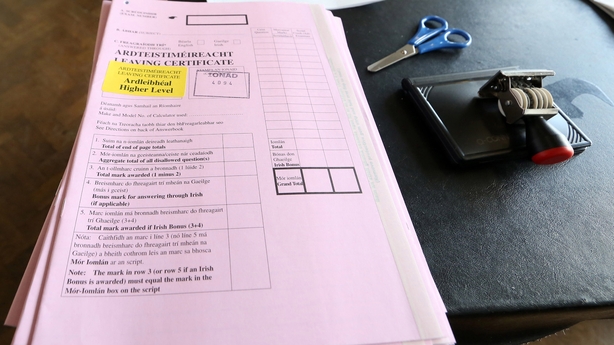 Returning to normal
Despite the fact that results are once again at record high levels, this year's exams do represent the beginning of a return to pre-pandemic practices.
For the first time in three years a full cohort of students sat exams, and there were no predicted grades.
However this year's students were given greater choice on exam papers and fewer questions in an attempt to compensate them for the significant disruption to their education that they suffered over several years as a result of the pandemic.
There was also a second sitting of the exams for students who whether through illness or bereavement were unable to sit them in June. Some 397 candidates availed of this.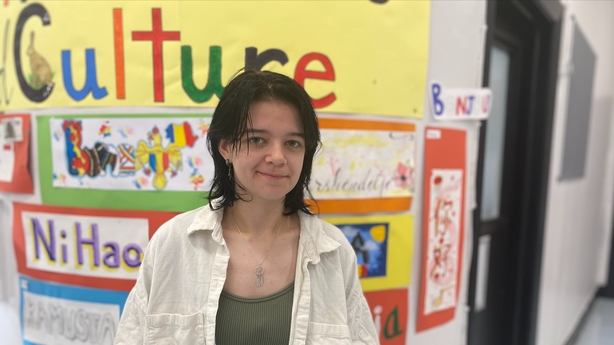 This factor contributed to this year's delayed publication of results. Results are normally published in mid August.
The fact that this year's results had to be adjusted to compare favourably to last year's was another significant factor in this delay.
New languages
This year also saw competency in four languages - Polish, Portugese, Lithuanian and Mandarin Chinese - examined for the first time.
280 students sat the Chinese exam and 87% of them have been awarded a H1. Of the 131 students who sat Portuguese 88.5% achieved the top score.
Nervous and excited
There were mixed emotions among those getting their results at Marino College in Dublin.
Niamh Murphy, 17, from the North Strand said: "If I could describe how I felt this morning in one word it would be excited. I wasn't nervous about it. We got it out of the way now it's done."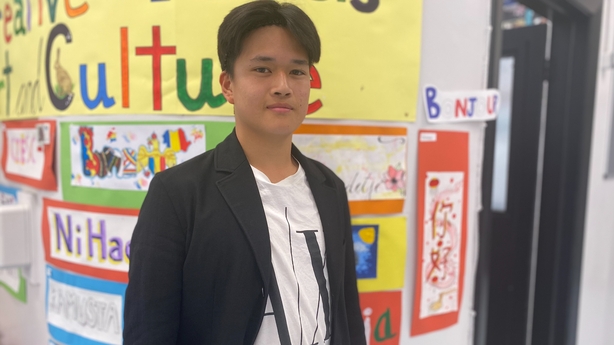 Guylherme Neto, 18, from Marino said: "I was nervous this morning but after I saw my results I was happy. I got what I wanted. The subjects I thought I'd do well in I did. I did well so I'm overjoyed with it."
John Liu, 18, from Dublin added: " I did well. I'm hoping I can get to Trinity College to study Computer Science or Business."
The class of 23 and beyond?
This year's Leaving Certificate students got what they wanted.
They feared that sudden grade deflation this year after last year's record results would leave them hugely disadvantaged, facing a 'cliff-edge' in terms of their own CAO points.
But what about future years? Some worry that this year's compromise was simply delaying the inevitable.
Most policymakers agree that results need to return to pre-pandemic levels at some stage.
But how do you do that without disadvantaging one particular exam year?
The class of '23 will want a level playing pitch too. They may well have concerns too about a potential 'cliff-edge'.
They are likely to become increasingly interested in this topic as this new academic year progresses.