The owner of a café in Co Westmeath has said she was left speechless after receiving an electricity bill for almost €10,000 this week.
Geraldine Dolan, who runs Poppy Fields Café in Athlone, said the bill for €9,836 was for just over two months, from 8 July 8 to 19 August.
"I opened the bill, I took my glasses off, I put them back on again. I just couldn't believe it," Ms Dolan said.
"I got one of the staff here to look at it too and I thought maybe the decimal point is in the wrong place," she added.
Ms Dolan had a business account with Spanish company Iberdrola, which pulled out of the electricity supply business in Ireland in June.
Her account was then automatically transferred to Electric Ireland and it appears she lost the switching discount offered by Iberdrola.
It meant that instead of paying a discounted rate for her electricity, Ms Dolan was transferred to the standard unit rate charged by Electric Ireland.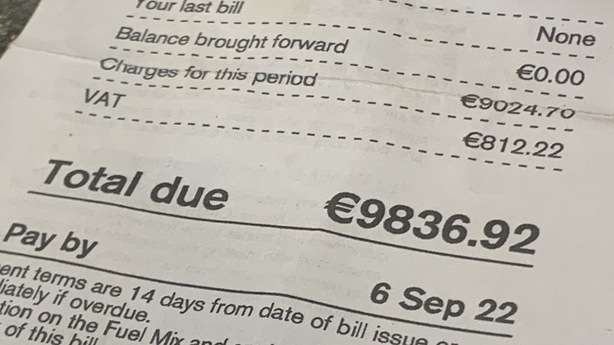 "How can you go from paying €14.99 per unit, which works out at €34 at day to €123 a day?" she asked.
"We've no extra heating on at the moment. We have an air purifier, but they're not hard on electricity. Our kitchen is not all electric, we use gas too," she explained.
"We're not using electricity any more now than we did last year. You need your oven on, you need your griddle on? How can I reduce my electricity anymore?" she asked.
Ms Dolan said she had no other option to switch providers until the start of September at the earliest, but she will be changing as soon as she can.
"The bill will have to be paid because I've no intention of closing my business," she said.
The café owner remains defiant and said she is determined to continue, having been in Athlone for 16 years.
"I've great staff and great clientele. I've been on to the Restaurants Association today about this, but the Government will have to intervene," she said.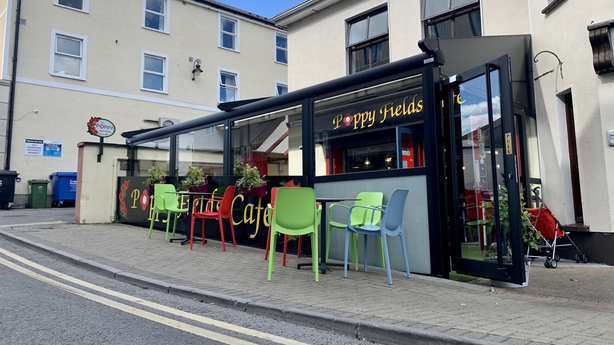 President of the Consumers' Association of Ireland Michael Kilcoyne said if a contract with a supplier runs out, then it reverts to the normal market rate.
"It will drive places out of business," he said.
"This is so serious. I think the Government deciding to give people a voucher for a few hundred euro won't solve the problem either.
"What we didn't do over the last 20 years is going to come back to haunt us. We should have been generating our own electricity and now the consumer is paying through the nose," he added.
In a statement, Electric Ireland said it does not comment on individual customer bills, however it said the company is acutely conscious of the impact of price rises on customers.
The company flagged unprecedented wholesale prices that are "currently many multiples of what would just a year ago have been deemed normal wholesale energy prices".
Electric Ireland said this has resulted in "significantly higher unit rates for customers who may be coming off fixed-price contracts, which are now expiring and were agreed with their supplier in previous years, when energy prices were much lower".
We need your consent to load this rte-player contentWe use rte-player to manage extra content that can set cookies on your device and collect data about your activity. Please review their details and accept them to load the content.Manage Preferences