An 81-year-old man who pleaded guilty to the manslaughter of his daughter over two years ago told a court that he "couldn't hold back" when he set fire to the family home near Slane, Co Meath.
His daughter Sinead Masterson was seriously injured in the blaze, and she died from her injuries seven months after the fire. Her mother Maureen was also injured.
The sentencing hearing of Peter O'Brien, with an address at St Michael's, Beauparc, Navan, heard evidence at Trim Circuit Court today.
Victim impact statements were heard and sentencing was adjourned until 7 October.
Trim Circuit Court heard how on 19 May 2021 a number of people called to to the house in Beauparc to extend good wishes to Maureen O'Brien who was celebrating her 80th birthday.
The mother and grandmother had been married to Peter O'Brien for 55 years, but the court heard that although they were living together, they were separated and living entirely separate lives.
During the day the court heard how Ms O'Brien received cards, flowers and balloons from some of her family who had called to the house.
Later in the day Peter O'Brien arrived into the kitchen. The court heard how he finished his dinner and went to his bedroom with a cup of tea while Ms O'Brien began to prepare her dinner.
The court heard that at around 5.30pm Mr O'Brien returned to the sitting room where he grabbed all the birthday cards and balloons that Ms O'Brien had received and put them in the bin.
The court heard how Ms O'Brien was very upset by this and she rang her daughter Sinead who lived close by.
The court heard Ms Masterson came up to the house and confronted her father.
The court heard evidence that Ms Masterson told her father that he had no right to have done what he had done.

Trim Circuit Court heard that she retrieved the cards and put them back on the mantelpiece. Some of the cards had been ripped up.
'Instant flames'
The court heard Ms Masterson and her mother were sitting on the couch in the sitting room when Mr O'Brien lifted a bucket and threw it at the stove fire in the room.
Detective Garda Kathryn Christie told the court that there were instant flames in the room.
The court heard evidence that Maureen O'Brien had to crawl out of the room on her hands and knees while Mr O'Brien fled the scene.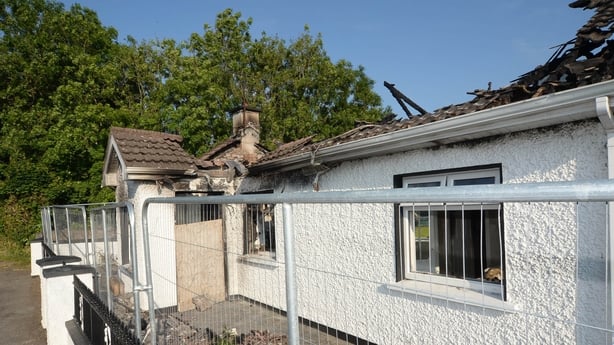 Ms Masterson also managed to escape but was seriously injured.
Such was the extent of her injuries her clothes had been burned off her, the court heard.
The mother of two was taken to the burns unit of St James's Hospital for treatment.
She remained in the hospital but died on 16 December 2021.
The court heard she underwent ten procedures over seven months.
Trim Circuit Court heard how Ms Masterson "fought very hard" and was determined to get home for Christmas with her family.
Detective Garda Catherine Christie told the court that much of Ms Masterson's fight was on her own because of the Covid regulations in place at the time.
'It was all her fault'
O'Brien presented at Navan Garda Station an hour after the incident, the court heard.
Garda Christie told the court that on his arrest O'Brien admitted starting the fire but blamed his daughter Noeleen, saying "it was all her fault".
The court heard that there was ongoing disagreement over a financial loan, however, the prosecution said it did not accept a claim made by Mr O'Brien that he was the subject of financial bullying.
During garda interviews, Mr O'Brien said he said emptied the petrol from a can into a while plastic bucket so that it would spread.
"I knew the whole place was going to go up on fire," he told gardaí.
"It was in me, and I just couldn't hold back."
During garda interviews, O'Brien was asked why he drove away from the blaze.
"I didn't want the car to go up on fire," he told gardaí.
The court heard O'Brien had suicidal thoughts in the past and had sought help.
He told gardaí after his arrest that there was "nothing" for his birthday and "then to see what was going on yesterday that really hurt me".
Trim Court Court heard that Maureen O'Brien has made a full recovery from her injuries.
However, she is still without the family home which has not been repaired following the fire.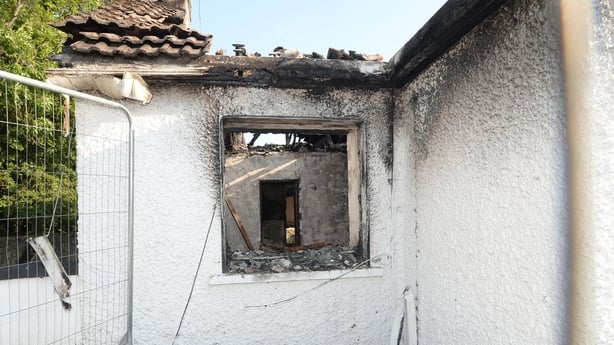 'I might as well be dead'
In a victim impact statement Noeleen Donoghue, sister of Ms Masterson, said she is and always will be in fear of her father.
She said since her sister's death, there is an empty space, a void that will never be filled.
"Family gatherings will never be the same, she will always be missing," Ms Donoghue said.
She said her father hated her and the hate had built up over the years.
She recalled seeing her sister after the blaze and her sister saying to her "look at the state of me, I might as well be dead".
Ms Donoghue said that although she has gone to counselling, she is still so angry and upset at what has happened and life will never be the same again.
She added that she will never forgive O'Brien and she hopes that she will never see him again.
In her victim impact statement, Maureen O'Brien said her life has been destroyed by what Peter O'Brien did.
"What has damaged me the most of all, is what he has done to Sinead," she said.
"Life since her death will never be the same for me. I find it so hard to cope.
"I go to her grave every day and I talk to her every day. I'm always looking for signs that she's OK. It's so hard."
Maureen and Peter O'Brien had been married for 55 years but in recent years, had separated.
"My life has been destroyed. My daughter and my home have been taken from me; this shouldn't have happened," she said.
In another victim impact statement, Ms Masterson's brother Paddy O'Brien said his sister "lived for her family".
He said there is not a day that goes by that he doesn't think about what happened and if he stayed in the house then maybe his father wouldn't have done what he did.
'I miss her - we shared all decisions'
In his victim impact statement, Edward Masterson, Ms Masterson's husband, said he will never forget seeing his wife in hospital, bandaged from head to toe.
The couple were married for 29 years, having met around the time Ms Masterson had turned 21.
They had two children together, Laura and Ciara.
"I miss her company. We shared all decisions in life together," he said.
Laura Masterson, daughter of Sinead Masterson, said life isn't the same without her mother and she cannot understand why her grandfather could do this.
"My mam did everything for me," she said.
"She washed my clothes. She ironed my clothes. She helped me with my homework but most of all she was always there for me when I needed to talk."
Ms Masterson's eldest daughter, Ciara Masterson, said she was 22-years-old when her mother died.
"Mam's goal was to get home for Christmas, but Mam didn't get home for Christmas," she said.
"I worry about my Dad now, he's all we have left."
The defence said there is continual and genuine remorse on behalf of O'Brien over what happened to his daughter, Sinead.
The court heard that in a garda interview, O'Brien said he prays for his daughter every day.
"Every night in my cell I pray for her," he said.
"Her children and husband must be heartbroken as well."
Judge Martina Baxter extended her sympathies to the family and adjourned sentencing until 7 October.