An alleged Russian spy - who was expelled by authorities in the Netherlands - had previously studied in Trinity College, Dublin.
The Dutch Intelligence Agency said it prevented the 36-year-old gaining access to the International Criminal Court in the Hague which is currently investigating possible war crimes committed by Russia in Ukraine.
In an online statement published yesterday, it said Sergey Vladimirovich Cherkasov, a member of the Russian Military Intelligence Agency, the GRU, had applied to be an intern in the ICC.
"The Russian intelligence officer purported to be Brazilian citizen Viktor Muller Ferreira (born on 4 April 1989), when in fact his real name is Sergey Vladimirovich Cherkasov (born 11 September 1985).
"Cherkasov used a well-constructed cover identity by which he concealed all his ties with Russia in general, and the GRU in particular."
The statement continued: "An officer of this kind is better known as an 'illegal': an intelligence officer who received a long and extensive training.
"Because of their alias identity, illegals are difficult to discover. For that reason they often remain undetected, allowing them to carry out intelligence activities.
"Because they present themselves as foreigners, they have access to information that would be inaccessible to a Russian national.
"In addition to the GRU, the Russian intelligence service SVR also makes use of illegals".
Under the alias Victor Muller Ferreira, Mr Cherkasov studied at Trinity College, Dublin from 2014 to 2018.
He completed a four-year degree in Political Science and Quantitative Methods of Research and claimed to be a Brazilian national.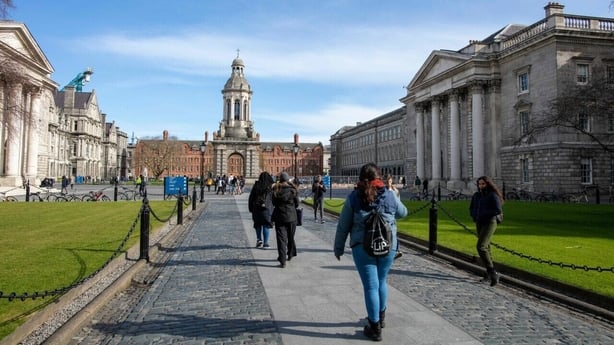 Trinity College said it could not comment on his time at the university due to GDPR regulations but some of his former classmates told RTÉ News they were surprised to hear they had been studying alongside a Russian spy.
One student, who asked not to be named, described Victor Muller Ferreira, as he knew him, as unassuming, intelligent and quiet and said he had an unusual accent
Another student said "Victor" was a "very quiet, private guy who none of us saw much and who kept to himself, for good reason as is now apparent.
"He did actually attend the odd lecture and tutorial and graduated with the rest of our course in November 2018 and was there in person for the ceremony.
"Some of my course mates made tentative steps to invite him to social events early on in college but it was fairly clear he wasn't there to socialise, which isn't uncommon for mature students."
The student added: "Personally I didn't think anything of the mix of the Brazilian nationality with a Germanic name - there were plenty of Germans who travelled to South America in the 1940s, I just presumed he was descended from them.
"I haven't spoken to "Victor" since leaving Trinity in 2018, and having chatted with most of them in the last 24 hours, I don't think any of my course mates have either".
Donnacha Ó Beacháin, an expert in Russian affairs who is a Professor of Politics in the School of Law & Government at Dublin City University, said it was not surprising that Mr Cherkasov was educated in Ireland.
He said the only thing that was surprising was that he got caught
"Essentially these are sleeper agents. The idea would be that - from a young age- they would build up a fake identity, and they would acquire different qualifications and credentials that would make them more plausible.
"Then they will be used to infiltrate Western organisations. Trinity College would be a very credible university based in a friendly western country.
"So from that perspective, placing an operative in Trinity and giving them a background there would be something that can be utilised later."
A former lecturer of Mr Cherkasov from Johns Hopkins University in the US did not hold back when he discovered his former student's true identity.
I had good reasons to hate Russian security services before. Now I am just exploding. I feel angry, I feel stupid, I feel naive, I feel tired. I got played. I had him in class. Twice, in fact. One class was half-Zoom during COVID, several interactions outside classroom https://t.co/71HIC6A92d

— Eugene Finkel (@eugene_finkel) June 16, 2022
In a tweet Eugene Finkel said: "I feel angry, I feel stupid, I feel naive, I feel tired. I got played.... After the graduation he asked for a reference letter for the ICC [International Criminal Court].
"Given my research focus it made sense. I wrote him a letter. A strong one, in fact. Yes, me. I wrote a reference letter for a GRU officer. I will never get over this fact."
Dutch authorities said they refused Mr Cherkasov entry to the Netherlands in April and sent him back on the first flight to Brazil.