The third meeting of the Citizens' Assembly on Biodiversity Loss took place today with a field trip to see examples of biodiversity management and conservation at three locations around Dublin.
The Chair of the Assembly Dr Aoibhínn Ní Shuilleabháin said the event was organised to help the citizens understand some of the practical issues, challenges and opportunities associated with managing, protecting and restoring biodioversity.
The EU wants to stop biodiversity loss by 2030.
But what precisely needs to be done, and who exactly should be doing it, are among the key questions that the Citizens' Assembly Members will be trying to grapple with before coming up with recommendations to the Government when their work is finished towards the end of this year.
Today's field trip started at Turvey Island Nature Reserve near Donabate in north Co Dublin.
The nature reserve is a 220-acre local authority owned park that was bought in the 1970's but designed and built by the local community.
This included 30,000 trees planted by local schools over the past 15 years.
It was farmland but has now been turned into an area that has grass and wetlands, wildflowers and other habitats.
Hans Visser, Biodiversity Officer at Fingal County Council said there are a lot more species in the area now and this is a model that can be replicated anywhere else in Ireland.
He said the transformation didn't cost a lot and in the main it was a case of leaving nature to its own devices.
The council blocked the drains and created new wetland areas.
Mr Visser said that originally Turvey Island had no freshwater habitats at all and no wetlands to start with.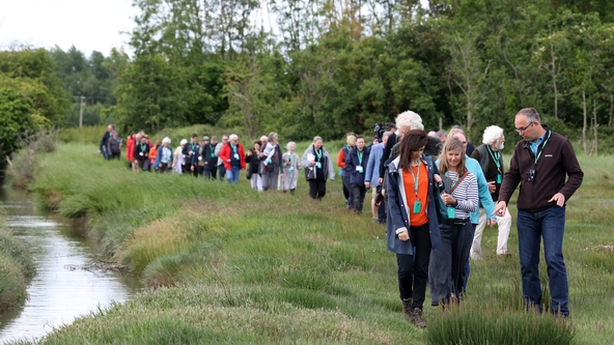 Now there are swans breeding, ducks, kingfishers, otters and much much more as a result of the work that has taken place.
He explained that so-called "sacrificial" crops including a combination of cereal and wildflowers which are left to stand alone into the wintertime acted like big bird feeding tables.
They attracted flocks of many hundreds of finches, which in turn attracted lots of birds of prey.
Dr Ní Shuilleabháin said that the Citizens were there to hear about the "merits, the costs, the challenges, and the opportunities that are involved in managing a place for its biodiversity."
The Citizens's Assembly field trip also visited Bull Island, a much-loved and highly used public amenity which is part of Ireland's NATURA 2000 network of internationally important biodiversity sites.
Such sites cover 13% of Ireland and are designated to ensure the long-term conservation of important species and habitats.
The citizen's also visited Dublin Port where the port authority has undertaken significant measures to conserve biodiversity in a highly commercial and industrial environment.