Newly crowned European middleweight boxing champion Gabriel Dossen was greeted at Dublin Airport with a rapturous welcome from family and friends.
The 22-year-old Galway boxer said his gold medal victory in Armenia yesterday felt "unreal" and he was still processing his success at the European Championships.
His win against England's Lewis Richardson in the middleweight final ensured Team Ireland returned home with a gold medal.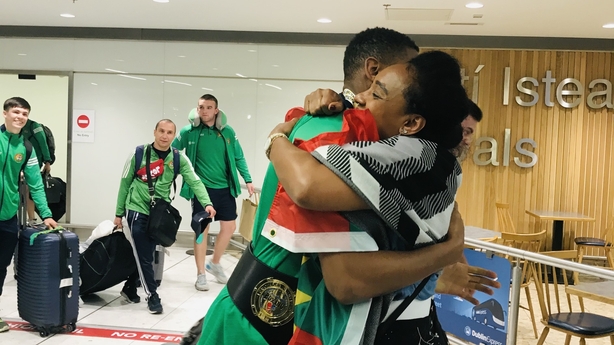 Dossen said it took a lot of "hard work" to achieve this success and expressed his gratitude for the support he has received from his family, coaches, team mates, and his club in Galway, Olympic Boxing Club.
He said that after celebrating he will take three weeks off before returning to the gym and training, with the World Championships and European Games next in his sights.
He also said more funding that will be allocated to him by Sport Ireland following his win will be much welcomed so he can dedicate more time to boxing.
His mother Meserk described her son's achievement as "amazing". She said he had a dream and never stopped training.
Team Ireland also claimed a silver medal. Dylan Eagleson lost his bantamweight final to Bilal Bennama of France but still returned from Yerevan with the silver.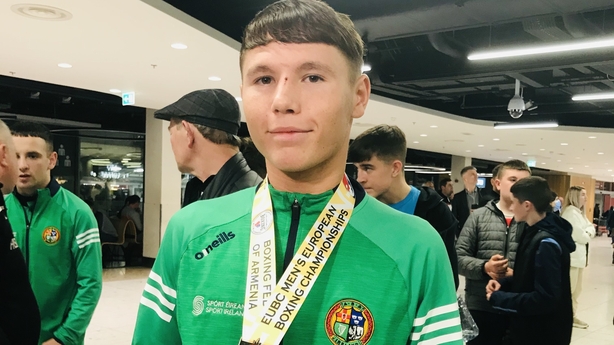 The 19-year-old boxer from Belfast said he cannot wait to get home to celebrate with family and friends.
He said it has been "a lot of early mornings and late nights" without going out to achieve this success at an international competition.
He said his focus now will be on the Commonwealth Games this summer but his ultimate goal is the Olympics.
Dylan and Gabriel join an elite group of 14 Irish boxers who have won 21 European medals between them since 1939.
In total, 10 Irish boxers competed at this European Championships.
Team Ireland's Head Coach, Zauri Antia said the 2022 Men's European Championships has been an excellent tournament and all boxers performed well.