A shortage of affordable hotel rooms in Dublin means that Kerry's county hurlers - finalists in next month's Joe McDonagh Cup - will be travelling to and from home in the one day for their Croke Park fixture.
Patrick O'Sullivan, Chairman of the Kerry County Board, told RTÉ's News At One about the efforts they made to secure accommodation for the hurlers.
He said they rang around hotels in Dublin and by Monday they could not get anywhere as they were booking for 45-50 people.
Later, two hotels came back with prices of €13,000 to €15,000.
He said the players had a meeting as even the families of players could not get rooms and were quoted €1,100 for a family, with past players also struggling due to the prices.
The decision was taken for the team to come home after the match.
A shortage of affordable hotel rooms in Dublin means that Kerry's county hurlers - finalists in next month's Joe McDonagh Cup - will be travelling to and from home in the one day for their Croke Park fixture. | More: https://t.co/jCSs4LRU3i pic.twitter.com/OUplGswwSY

— RTÉ News (@rtenews) May 27, 2022
Kerry GAA also decided at that point to pre-pay for accommodation for a football game they have not yet qualified for and therefore do not know when or if it will take place.
The county board has pre-paid €13,000 for hotel rooms on the weekend of the All-Ireland football quarter-finals or run the risk of encountering the same problem as the hurlers.
"Prices were €17,000 to €13,000 because of concerts on in Dublin that night, they barely had enough room for a Saturday night," Mr O'Sullivan said.
"If we play on a Saturday night, we have no accommodation for the Friday night.
"About 85% of the time we play our matches on a Sunday, so we took a chance and booked for Sunday."
The Irish Independent reported today that the Kerry hurlers could not get accommodation anywhere close to the city.
The experience of Kerry GAA has once again focused attention on the extraordinary prices being asked of anyone seeking a hotel room in the capital, especially if they are booking at the last minute.
We need your consent to load this rte-player contentWe use rte-player to manage extra content that can set cookies on your device and collect data about your activity. Please review their details and accept them to load the content.Manage Preferences
'Prices were extortionate'
At Dublin Airport departures today tourists departing Ireland spoke of their experiences of high prices here.
One man returning to the US said cost and availability of hotel rooms were a massive problem.
"I came to Dublin having looked online and could not find anything unless I was willing to pay €500 a night," he said.
"I thought when I get here I would be able to find something but I could not and I had to go down to Co Wicklow to find a room."
He did not rent a car, but considered it in case he was left without accommodation.
"One of my concerns at one point when I could not find a room, I thought if I rent a car I could at least drive somewhere where I could find a room or if push came to shove I could sleep in the car. There were no rooms to be had."
A French woman arriving at the airport for a flight home tomorrow morning said costs in Ireland are "absolutely crazy."
She said food, fuel and car rental were really expensive and while she stayed in one hotel for €200 that was booked in advance, she was shocked at prices quoted to her for accommodation tonight and will sleep in the airport instead.
"I couldn't find anything cheap...everything was €500 or €600 and even €1,200 so its really, really very expensive."
Another man from London, here for a business conference, said prices were extortionate.
"It was €600 for three nights. It didn't include breakfast or dinner or anything."
He also commented on the price of a pint: "€6.50.... its crazy. I come from London and it's even more extortionate than that."
The Irish Hotel Federation accepts prices are well up if people are booking at the last minute, but advance bookings are cheaper.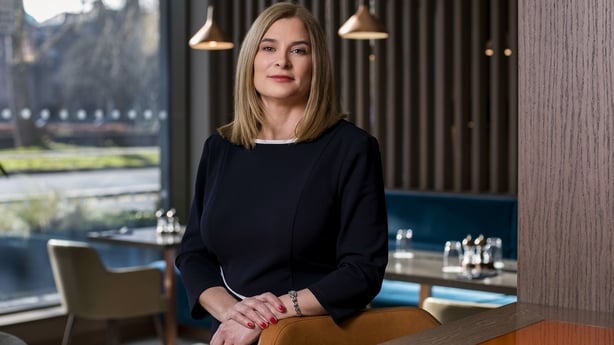 IHF President Denyse Campbell said: "We're seeing a strong recovery after a very difficult two-and-a-half years and there is a lot of demand for accommodation in Dublin at the moment.
"A lot of our business at the moment was pre-booked from 2020 and 2021 for tour and group business and its in Dublin now, we have our corporate and conference business back as well, and there is also a number of events in the city.
"That is all putting pressure on accommodation and our supply is quite short.
"Some of the hotels have given up their stock to the Government at this time and some hotels that were due to open did not due to Covid."
Ms Campbell say costs for hotels themselves have also risen hugely.
"Our energy costs have gone up 88%, food and beverages have gone up 20% and our linen costs have gone up in some hotels by 30%, so like any other industry we are experiencing an awful lot of pressure on our costs," she said.
So how long does the IHF president think this period of high prices will last?
"I would say that that it will wash itself out in a matter of months, we are in peak season at the moment," she said.
"It's temporary, it's the next couple of months and in the meantime we would urge people if they are coming to Dublin to book in advance."
Regarding the special 9% VAT rate for the hospitality sector that was recently extended for another six months by the Government, Ms Campbell said it was the correct one for the industry and if they were to return to the 13.5% rate they would be completely uncompetitive.