The Environmental Protection Agency has warned that the number of homes in Ireland at risk from radon, a cancer-causing gas linked to 350 new lung cancers each year, is significantly higher than previously thought.
New radon maps to be launched the EPA predict as many as 170,000 homes are now at risk, up 45,000 from previous estimates made 20 years ago.
An EPA spokesman told RTÉ Morning Ireland that almost half a million Irish citizens are living in houses that could potentially be at risk of having radon.
Radon is a colourless, odourless, and tasteless, naturally occurring radioactive gas. It is released by the decay of uranium in rocks and soils.
If we breathe enough of it in, over a long period of time, it can damage DNA in our lungs and increase our risk of lung cancer.
It is linked to 350 new cases of lung cancer per year, with smokers especially at far greater risk.
Now for the first time in 20 years, in collaboration with Trinity College, the Geological Society of Ireland and the ESRI, the Environmental Protection Agency has published an updated radon risk map for the entire country.
It shows 170,000 homes are located in high-radon locations and so could be at risk from this radioactive gas.
This is an increase of 45,000 homes since 2002 - the last time this analysis was conducted.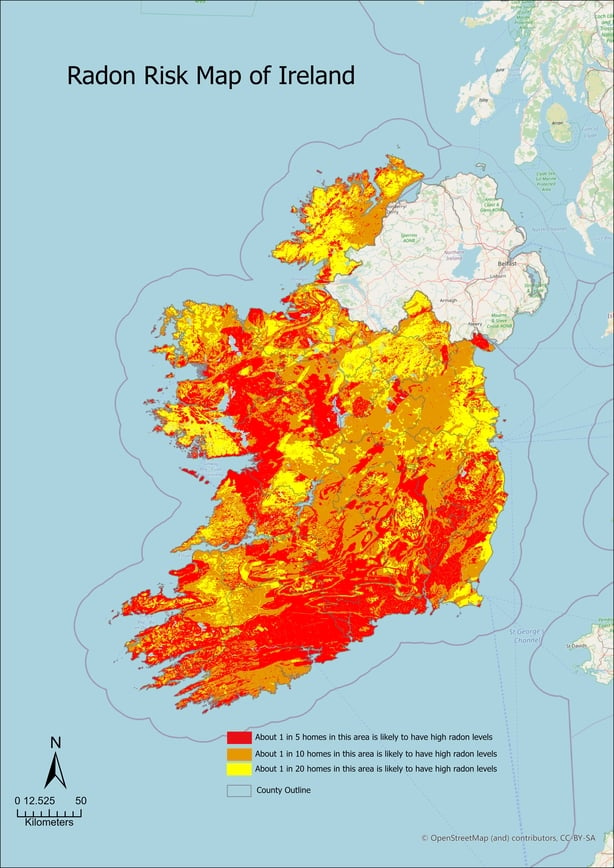 The map shows Munster and Connaught in particular are at increased risk, with high radon levels likely in as many as one in five homes in much of these regions.
The EPA is urging people to test their homes for radon, saying this is the only way to protect families from this cancer-causing gas.
Updating the maps involved work completed by Trinity College Dublin, The Geological Survey of Ireland and the Economic and Social Research Institute alongside the EPA.
EPA Director Micheál Lehane said: "Radon is a serious public health hazard. The new maps combine thousands of radon measurements, with detailed geological information, and are a significant revision of the previous map from 2002.
"More importantly, the new maps make it easy for everyone to find out the radon risk in their local area using the eircode search on the EPA website," he said.
The EPA points out that employers in high-radon areas have a responsibility and are legally obliged to test their workplaces to ensure employees are protected from exposure to this radioactive gas. By law, all schools in high radon areas must also be tested.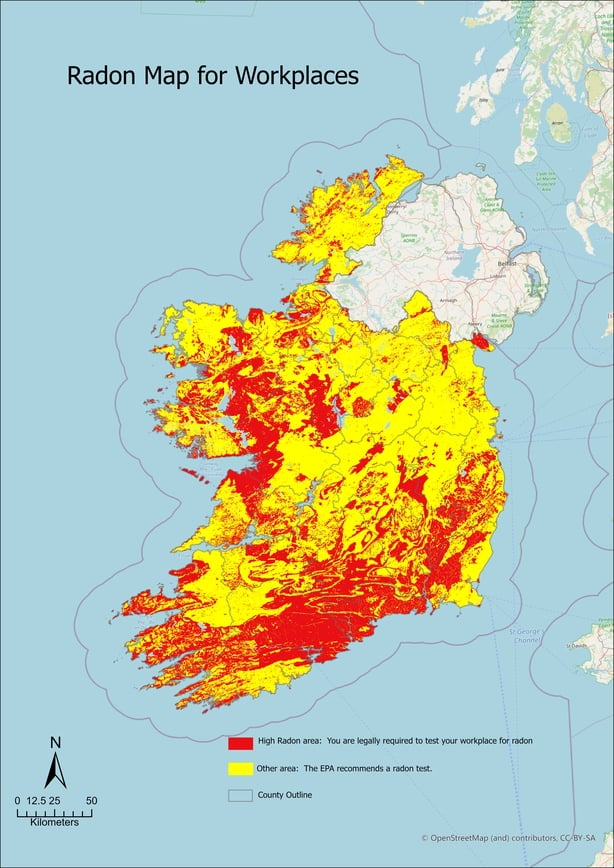 Yvonne Mullooly, Assistant Chief Executive of the Health and Safety Authority (HSA) said: "The new maps enable employers to clearly identify where they are legally obliged to test, so allows for targeting of resources in the areas where the risk from radon is highest. The HSA will continue to support employers by providing information, and through our online risk assessment BeSMART tool www.BeSMART.ie"
At present here is no legal requirement for landlords to test their rented homes for radon or to reduce it if the levels are high.
The EPA said radon testing is simple and inexpensive and, where necessary, reducing high radon levels in a building is also straightforward.
A radon test involves the placing of two radon detectors, one in a bedroom and the other in a living room. The detectors are left in place for at least three months because of significant day-to-day variations in radon levels.
The EPA strongly recommends that all tests are carried out during periods when a home is occupied rather than when a home is vacant as the flow of ventilation in unoccupied homes will be lower. This is because less ventilation in a building allows a greater build-up of this radioactive gas and so could result in an artificially high reading.
Radon levels in Irish homes vary widely from area to area and even from house to house. The only way of knowing the level in your home is to have a test carried out.
Various factors such as geology, the construction type of the house and ventilation all influence the amount of the gas entering a building.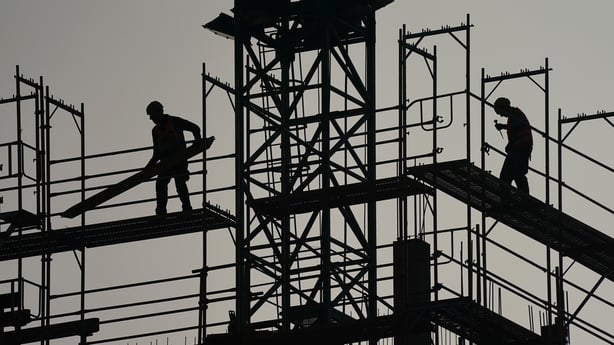 The distribution of radon nationally is largely determined by geology. Certain types of rock and deposits - including some granites, limestone and shales - tend to be associated with high radon emissions.
Radon is measured in becquerels per cubic metre of air (Bq/m3). A becquerel is a unit of radioactivity, and corresponds to one radioactive disintegration per second.
According to the EPA, the average indoor radon level in Irish homes is 77 Bq/m3. The reference level for Irish homes above which it recommends measures to reduce radon is 200 Bq/m3.
Radon is a carcinogen. This puts it in the same group as tobacco smoke and asbestos. Long-term exposure to high levels of radon can irradiate lung tissue and that increases the risk of lung cancer.
According to current scientific knowledge there are no other proven health effects associated with radon exposure. It is not linked with other respiratory illnesses.
Health risks from radon - EPA
The greatest health risk from radiation in Ireland is from radon, according to the EPA. It says 56% of the total radiation we are exposed in Ireland is from radon.
About 350 cases of lung cancer in Ireland every year can be linked to the gas.
Radon produces tiny radioactive particles. When they are inhaled, these particles can be deposited in the airways and result in a radiation dose to your lungs. Over a long period of time, this exposure to radon can increase your risk of developing lung cancer.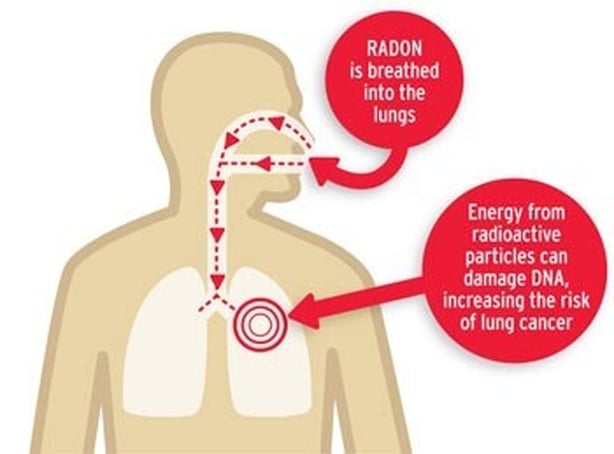 Radon is a particular hazard for people who smoke. Radon is not irritating to the lungs in the usual sense. It does not cause or increase the risk of asthma, nor is it associated with other common respiratory illnesses.
The risk from radon is 25 times greater for smokers than for lifelong non-smokers exposed to the same levels of radon. This is in addition to the lung cancer risk due to smoking itself.
Former smokers remain at increased risk from radon for a number of years after they have stopped smoking.
Your risk of developing lung cancer from exposure to radon depends on:
How much radon you have been exposed to
How long you have been exposed to this level of radon
Whether or not you are a smoker

Speaking on RTÉ's Morning Ireland, Eugene Monaghan of All Clear Radon said they have come across homes where people have died from lung cancer from high radon levels.
He said the highest radon levels are found in Waterford, Cork and counties along the Western seaboard.
Mr Monaghan said for most homes, the solution is the installation of a radon extraction fan which draws radon from underneath the ground and "blows it off into the atmosphere".
He said it is generally easily installed and is extremely effective.
"Some houses may require two. You are talking in the region of €1000 and €2000," he said.