Fares on public transport are to be reduced from tomorrow as part of Government plans to help reduce the cost of living and encourage more sustainable travel.
The national fare reduction is the first in 75 years.
The National Transport Authority has said that in some areas where fares have recently been reduced, passenger numbers are now ahead of pre-pandemic levels.
Fares on Dublin Bus, Luas, Go Ahead Ireland and Irish Rail's DART and commuter services in the Greater Dublin Area will drop by 20% for the remainder of 2022.
All Iarnród Éireann's intercity and commuter fares across the country will also drop.
Fares on Bus Éireann and Local Link services were reduced by 20% last month.
Young adults aged 19-23 will also now receive a 50% reduction in fares on all subsidised public transport from tomorrow by using an existing Student Leap card or applying for a new Young Adult Leap card.
The changes means the Transport for Ireland 90-minute fare, which was introduced last year for those travelling in and around the capital and transferring between services, will drop to €2.00 for adults and €0.65 for children.
For young adults aged 19-23, the 90-minute fare will be €1.
The 20% reduction in public transport fares was announced by the Government in February as part of a package of measures to help ease the cost of living
It is the first time public transport fares have been cut nationally since 1947.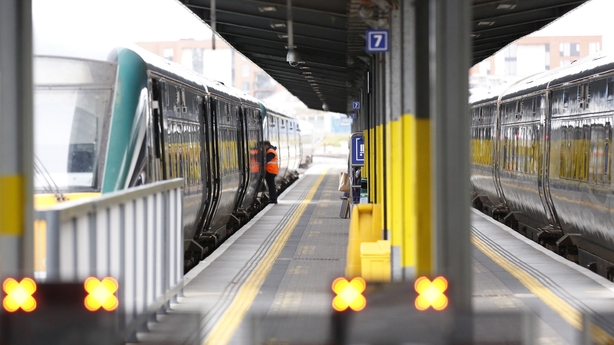 The National Transport Authority said that since Bus Éireann fares were reduced last month passenger journeys have climbed by almost 10%.
NTA CEO Anne Graham said Bus Éireann passenger numbers in Galway and Limerick are now ahead of pre-Covid levels.
Minister for Transport Eamon Ryan has said that he hopes the 20% reduction will make public transport a more attractive option for those travelling around the capital and also help ease the financial strain that households are experiencing.
The minister said the 50% fare reduction for young adults announced in Budget 2022 was designed to make public transport "become a habit of a lifetime" for this age cohort and to make day to day life a bit more affordable.
"This fare cut is unprecedented and quite radical. But I believe strongly that it is the way we need to go if we are serious about putting low-carbon transport at the heart of our efforts to build a sustainable future and if we want to bring people, and particularly young people, with us on that journey," he said.
From tomorrow, Mallow in Co Cork is also being brought into the commuter rail fare area for the first time.
It means an adult can travel from Mallow to Cork city or any other station in the Cork commuter area for €3.90 if paying with a Leap Card.
The facility to apply for the Young Adult Leap Card opens on line from tomorrow and the NTA has said that all applications for these will be "completed promptly".