Criminal gangs and gang members are separated and isolated in prison to prevent them from exercising control over other inmates, according to the Director General of the Prison Service.
Caron McCaffrey said there are 14 criminal gangs in prison comprising around 200 hardcore gang members and stressed they do not control any aspects of prison life.
She said these gang members are isolated from the general prison population.
Different gangs are held in different prisons, with a significant amount of gang members in Mountjoy, other gang factions in Wheatfield, along with many senior gang members detained in the maximum security prison at Portlaoise.
Ms McCaffrey said the Prisons Operational Support Unit is constantly gathering intelligence, engaging and sharing information with gardaí and taking any measures to ensure they limit the ability of criminal gangs to have influence in the prisons.
Feud-related issues also continue in prison, she said, but feuding gangs are also kept in separate prisons.
She was speaking at the Prison Officers Association annual conference, where prison officers said they were concerned about the potential difficulties that sanctions on the Kinahan organised crime group can cause in the prisons.
Jim Mitchell said if the sanctions announced by the United States and UAE damage as expected the ability of the Kinahan gang to operate successfully, then another organised crime group could seek to take over and that could lead to violence in the prisons.
The Director of Prisons insisted that the Prison Service, not the criminal gangs, control the prisons.
Ms McCaffrey said significant amounts of drugs and other contraband had been intercepted on the way into the prisons, including €170,000 worth of drugs in November 2020 and another €140,000 worth last year.
There has also been a return to more traditional drug smuggling routes such as ""throw overs" from outside the prison walls.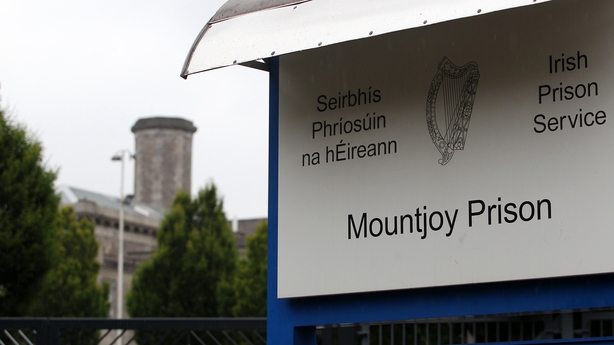 Two people were recently arrested outside Cork Prison while gardaí say they intercept four attempts outside Mountjoy every week.
Family visits are being screened and a special confidential helpline is available for inmates and their families who are being pressured by gangs to smuggle in drugs.
New technology has been introduced including scanners, swabbing of visitors for drugs residue and a system in six prison to prevent drones being used to fly contraband into the prisons.
New generation body scanners are also to be introduced, with the first at Limerick Prison later this year.
The Director also said that there have been significant rises in certain categories of prisoners over the last number of years.
In 2015, there was 450 people on remand in Irish prisons. Today, it's almost 950 people, which is about 23% of the prison population.
Ms McCaffrey said the increase in the number of people being held on remand and not being given bail is having an impact in the prisons.
There has also been a significant increase in relation to sex offenders. In 2015, sex offenders made up 11% of the prison population, today they make up 15%.
These conditions, she says, are contributing to the problem with over-crowding.
Cloverhill, which is the remand prison, is at 101% of capacity while the Midlands Prison in Portlaoise, where the majority of sex offenders are imprisoned, is at 99% capacity.
She also said the provision of treatment to sex offenders is an absolute priority for the prison service.
Yesterday, Minister for Justice Helen McEntee said more than 220 new prison spaces will be opened by the end of the year to alleviate the worsening problem of overcrowding.