A survivor of the Chernobyl nuclear disaster, who was abandoned in an orphanage before being adopted in Ireland, has expressed her concern for the many children caught up in war in Ukraine.
She said: "It's upsetting because I'm thinking back when I was alone as a child in an orphanage, that loneliness and watching children in the footage from Ukraine, there's a lot of emotion."
Today is the United Nations' Chernobyl Remembrance Day, marking 36 years since the world's worst nuclear disaster, and it is a poignant day for Raisa Miknovitch Carolan, who has experienced first-hand the horror of nuclear effects.
The 29-year-old ambassador for the charity Chernobyl Children's International (CCI) has undergone 25 operations to treat many of the health issues she was born with as a result of the radiation from the Chernobyl disaster.
These included a cleft palate and eventual limb amputation, as she was born with webbed legs and a clubfoot.
After several visits to Ireland organised by CCI, Raisa was adopted by the Carolan family in Trim in Co Meath when she was ten years old.
"My birth parents left me in the hospital when I was born and I was later brought to an orphanage. When I was six years old, Adi Roche came over and saw that I needed a lot of attention and care, and I was brought to Ireland on one of their summer programmes," she said.
From there it was clear Raisa needed a lot of medical attention and Irish woman Ann Carolan said she wanted to adopt the young girl in order to give her a better life, a process that took two years and was finalised in 2002.
"My mother Ann was a group leader for the Chernobyl charity at the time. She knew I needed a lot of medical care and the doctors said I needed to be here permanently to get the care needed," said Raisa.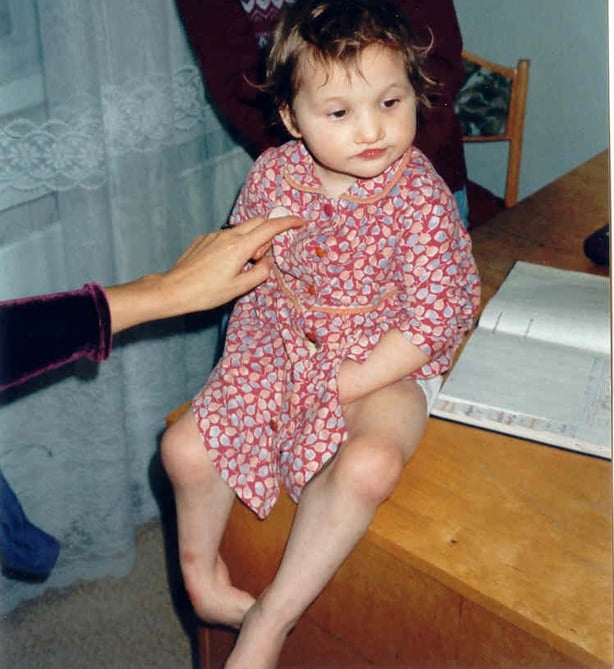 UNICEF estimates that before the war around 100,000 children lived in an orphanage or institution in Ukraine but now as the Russian invasion continues, many are at risk of being left behind or being permanently separated from their family.
The CCI said it is deeply concerned about reports of an alarming rise in radioactivity, due to the ongoing devastating war in Ukraine, which could result in a second Chernobyl disaster.
Raisa has said she is concerned that children still experiencing the effects of the Chernobyl disaster are now suffering again.
"It's worrying because not only are they still trying to get over the nuclear disaster that happened in Chernobyl, but now they have to deal with this.
"There's a lot of children who still need a lot of medical help and it's proving to be difficult, and this is just going to prevent them from getting life-saving surgeries".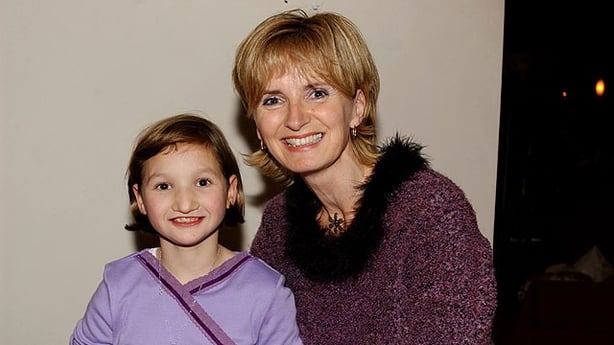 While the footage emerging from Ukraine is difficult to watch, Raisa Miknovitch Carolan said she likes to know what is going on.
"It's very upsetting looking at the children walking to the borders. There's a lot of children being impacted, especially children in orphanages," she said.
In the last year, after a search for many years, the 29-year-old has tracked down her birth family who live in Belarus but any plans to meet them soon had to be put on hold for now.
"Unfortunately, what is happening in Ukraine, it's definitely put things on hold, out of fear for myself going over there and just not knowing what things are like on the ground there," she said.
"I've been in communication with my brother through email and I think that's the way it's going to have to be for now".
While Ireland is home for Raisa, her thoughts are with those forced to flee Ukraine.
"It's extremely sad that millions of people have had to leave the country, not knowing if they're going ever return, it's just so sad to see".
We need your consent to load this rte-player contentWe use rte-player to manage extra content that can set cookies on your device and collect data about your activity. Please review their details and accept them to load the content.Manage Preferences
Chernobyl 'is forever'
"Chernobyl is often relegated to the realm of history, with many thinking that it is something that happened a very long time ago and no longer poses any threat. However, we are now witnessing that the reality is very different" said Adi Roche, CEO of Chernobyl Children International.
She added that Chernobyl is not something from the past, rather Chernobyl was and is "forever".
"The impact of that single shocking nuclear accident can never be undone. Its radioactive footprint is embedded in our world forever and millions of people are still being affected by its deadly legacy. The recent military activity at Chernobyl is further proof that Chernobyl remains an unfolding disaster," she added.
CCI is calling for an immediate evacuation of those who are trapped in the Chernobyl region, especially innocent vulnerable children, to cleaner and safer areas in western Ukraine.
It is also calling on the Irish Government to lobby the UN to declare that any attack on Chernobyl or any other Ukrainian nuclear facilities, be deemed a most heinous war crime, and for the region to be declared a "no war zone".
---
Read latest stories on Ukraine
---