It's one of the great tales in Irish mythology and now the Táin Bó Cúailnge - or the Cattle Raid of Cooley - has been recreated on a giant tapestry.
Over 40 volunteers across counties Roscommon, Longford, Westmeath, Meath and Louth worked on the project over the last few months.
Funded by Creative Ireland, each tapestry depicts a scene from the great tale of the Táin.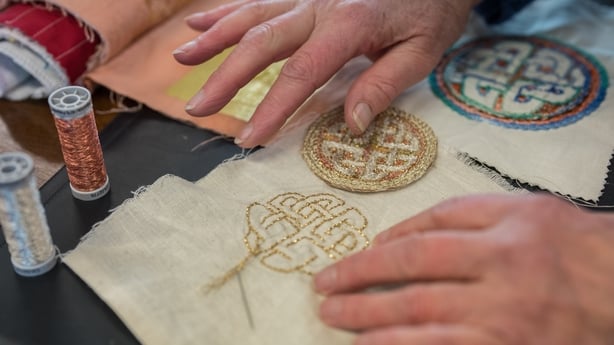 "Threading The Táin is a five piece stitch tapestry project that depicts scenes from the Cattle raid of Cooley," explained Mary Claire Cowley, Project Manager.
"Each panel depicts scenes geographically located to each county that is referenced in the Táin."
A variety of textile techniques were used in the creation of the tapestry including appliqué, embroidery, quilting and hand dyeing.
Teams of community sewers worked on the project for months.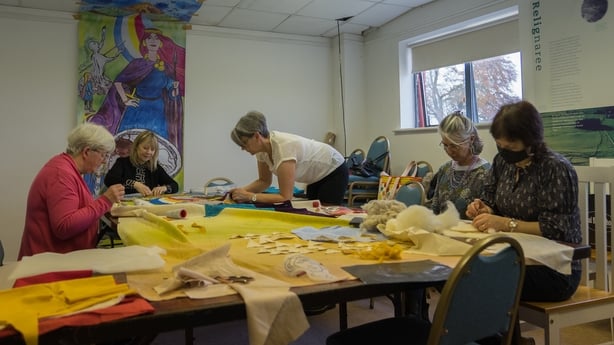 Louth based Sophie Coyle was the lead artist and she worked closely with a textile artist and project facilitator as well as the community sewers in each county.
"It's absolutely wonderful to see it all brought to life with all the beautiful detail, it's very emotional," she told RTÉ News.
Fiona Lennon is part of the North East branch of the Irish Patchwork Society and she worked on the Louth panel of this tapestry.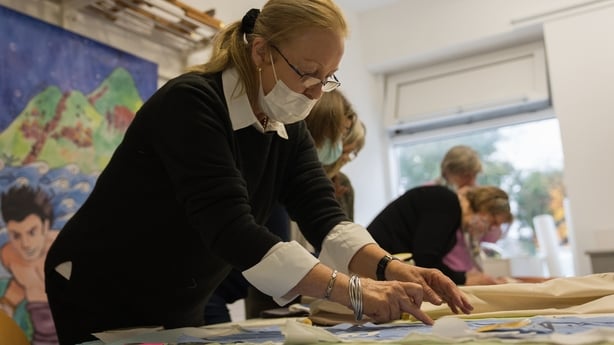 "I was involved with a lot of the stitching and embroidery techniques and like most of the members, we contributed to the interpretation of the artist's drawing and how we thought it would work best on fabric."
The five tapestries have now been placed together into one giant work of art, portraying the overall story of the Táin.
The famous myth tells the tale of Queen Méabh of Connacht and her husband Ailill, who plot to steal the sacred stud bull Donn Cuailnge from Ulster.
We need your consent to load this rte-player contentWe use rte-player to manage extra content that can set cookies on your device and collect data about your activity. Please review their details and accept them to load the content.Manage Preferences

Much of the action is focused on the efforts of Ulster teenage hero Cúchulainn to oppose the warriors of Connacht - mainly around the Louth area.
The combined tapestry is on display at An Táin Arts Centre in Dundalk to mark the launch of the 2022 Táin March Festival, which kicks off on 10 June.