An estimated 300 to 400 young people took part in the Fridays for Future climate strike at Merrion Square in Dublin today.
The event was part of the tenth round of worldwide student climate protests demanding that politicians and others in leadership positions take far stronger and more urgent action to limit greenhouse gas emissions and tackle climate change.
The Fridays for Future movement, inspired Swedish climate activist Greta Thunberg, staged similar protests in cities around the world from Australia to Indonesia, the United States and throughout Europe.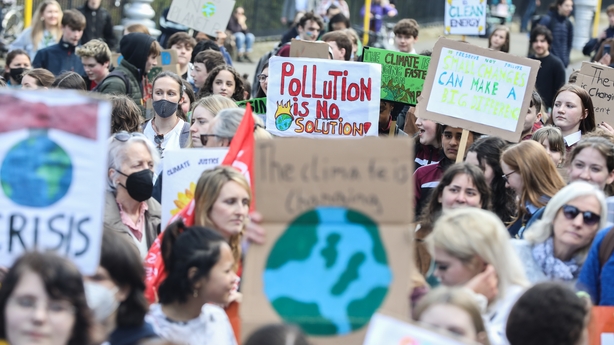 Young protesters waved placards demanding systemic change to tackle the climate crisis and saying how small changes can make a big difference.
Chair of The Elders and former president Mary Robinson said she strongly supported the strikers.
Elders fully appreciate the role that young people are playing in speaking truth to power and urging the implementation of the steps necessary to secure a just and equitable world, living within the ecosystems that support us, she said.
Mrs Robinson said that it must not be only young people who protest, and she called in particular for grandparents of her own generation to join with the young people to magnify the work that young people are doing.
Around the country, rallies also took place in Cork, Galway and Belfast.
In Cork, several hundred people took part in a rally from the Grand Parade to City Hall.
Participants acknowledged progress being made by the Government in measures to reverse climate change, but they said more needed to be done.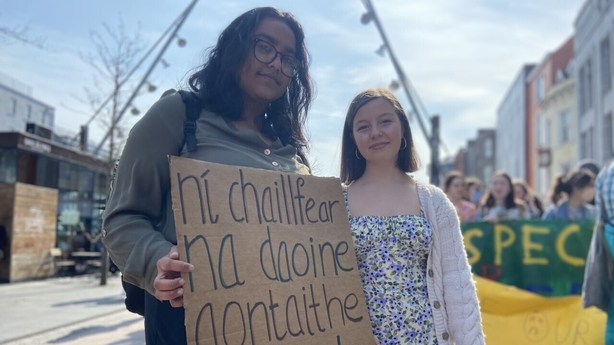 Alannah Wrynn, 17, travelled to the rally from Dunmanway in west Cork with her cousin Ronan McCarthy, who is 16.
Alannah said she was advocating for climate justice.
"It's about environmental sustainability, economic justice, social justice and that is what we are advocating for here today," she said.
"It's about people not profit, and that's the slogan we're using here today."
Alannah said while progress was being made, it was not being made quickly enough.
"What we are facing now is urgent," she said.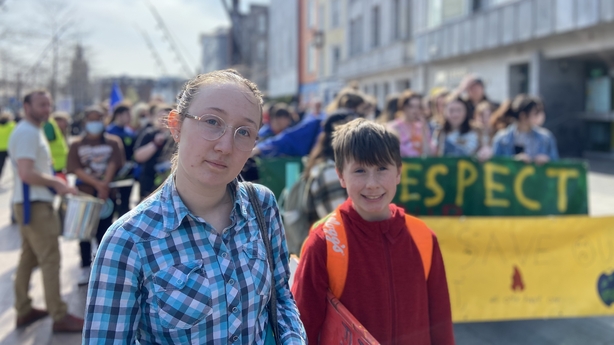 "We are standing on the precipice, and if we don't act now it will be too late. We are doing damage that we can't go back and we can't turn the clock back, so we have to act now and act fast and act as if our house is on fire, because it really is."
Amy O'Brien, 16, was also at the rally with Theresa Sebastian. Amy is also calling for urgent action.
"This climate crisis is impacting people especially in the so-called global south, in countries that have already been exploited by countries with more money and more wealth.
"We are demanding that we put people before profit, and that we pay reparations, that we achieve a just transition and that we achieve equality and equity for everyone and that's what our narrative for this strike is all about: people not profit."
In Dublin, protest organisers said that they had emailed all 191 secondary schools in Dublin seeking support for the protest but not a single secondary school replied to their email.
As a result, they said, those secondary school students who did take part in the Dublin rally had to make excuses to take time off school and had to take a risk in that regard.
A minute's silence was held in support of the people of Ukraine.
The young people who attended, heard about the potential for the climate crisis to result in an even greater refugee crisis than Ukraine unless urgent action is taken, with the potential for more families to be disrupted, more people displaced, and the possibility of significant climate related conflict in the future.
Some speakers focused on the role of politicians in the Dáil with statements such as "you will not ignore us, we will not be silent, we are not going anywhere".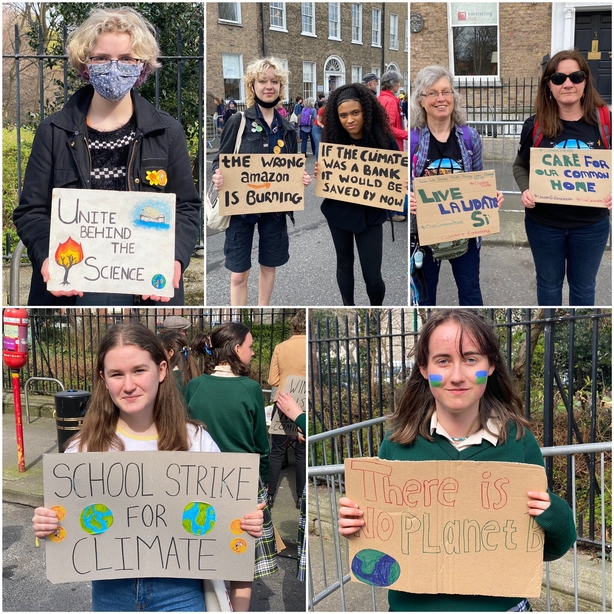 Around 50 people are attending the Fridays for Future rally in Eyre Square, Galway.
Students from a number of local secondary schools have gathered to demand "system change not climate change".
At the protest in Belfast, Kay Laverty, from Fridays for Future Northern Ireland, challenged Stormont politicians to make good on commitments to reduce emissions legislated for in the recent Climate Change Act.
"We've had a whole bunch of people here to raise awareness about the climate crisis and put pressure on the NI assembly to act on the climate bill that they have made," she said.
Ms Laverty said activists viewed the measures agreed by global leaders at Cop26 in Glasgow last year as insufficient, branding the event "Flop26".
Additional reporting Paschal Sheehy, PA