A committee on food security will be established as a result of tonight's meeting between the Department of Agriculture, farming representatives and the Minister for Agriculture Charlie McConalogue.
Discussions were held to examine options to deal with the impact of the Ukraine war on food, fuel and fertiliser prices.
After talks lasting three hours, during which each group put forward their views on what needs to be done to enhance supplies, it was agreed to establish a committee on food security.
The new body is titled the National Fodder and Food Security Committee and it will meet on Friday.
A Department spokeperson said actions to tackle the crisis will be rolled out immediately and the minister will brief Cabinet tomorrow on the role of the committee, the current situation for farmers and the need for rapid actions to address feed concerns.
Meeting participants said there was little talk of the suggestion that all farmers should start planting some crops, an idea which Minister McConalogue had floated at the weekend.
Speaking afterwards, IFA president Tim Cullinan described the meeting as "very disappointing with the minister failing to come forward with any concrete proposals" which he said was "very concerning".
He said it was "not committees we need now but Government intervention and action".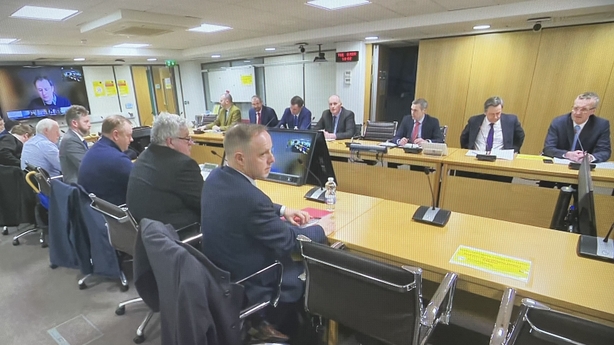 ICMSA president Pat McCormack said the key outcome of the meeting is the need for support across the sector for fertiliser and fuel.
He said farmers can be part of the solution for food security within the EU.
Regarding all farmers planting crops, he said the view was expressed that the level of knowledge may not be there and it would be best left to the experts.
ICSA president Dermot Kelleher said relief for fertiliser and agricultural diesel will be discussed at Cabinet.
He said he thinks the Government is beginning to take things seriously now "as there has been a wake-up call and Ireland needs to be secure from a food point of view".
Macra na Feirme president John Keane said there was a lack of certainty coming from the meeting.
He said they have identified the issues around food security and feed security but there was no certainty on what was on the table in order to address these concerns.
He said the new committee must have real teeth and get established quickly.
We need your consent to load this rte-player contentWe use rte-player to manage extra content that can set cookies on your device and collect data about your activity. Please review their details and accept them to load the content.Manage Preferences
Vincent Roddy of the Irish Natura And Hill Farmers Association (INHFA) said a lot of proposals were put forward and there was a recognition that all farmers planting grain was not going to be practical.
He said an inventory of how much fertiliser is in the country will be needed and that fuel costs were also a massive issues for farmers.
Bobby Miller of the Irish Grain Growers group said it was "never realistic" that all farmers would plant grain and Ireland needed specialist growers to raise crops.
He said also urged action on high fuel and fertiliser prices.
Earlier today, the Taoiseach said measures must be taken to offset disruptions in grain supplies due to the Russian invasion of Ukraine.
Speaking in the Dáil this afternoon, Micheál Martin said that both fuel and food are areas of concern for the Government.
Ireland is heavily reliant on imported grain, with around 60% of the 5.5 million tonnes used in this country every year sourced from overseas. It is used both in products for human consumption and for animal feed.
Ukraine and Russia are both key international exporters of grain. Russia also supplies more than 20% of fertiliser used in Ireland.