A protest by farmers at Dunnes Stores branches in Cork and Monaghan is set to continue overnight.
In Bishopstown in Cork, the entrances to the Dunnes Stores car park have been blocked by parked tractors and farm vehicles. IFA President Tim Cullinan remains at the scene with the protesters.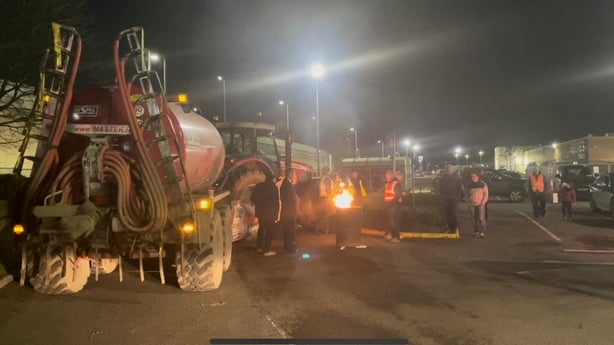 Farmers producing pigs and poultry gathered at two branches of Dunnes Stores today to protest the prices they are being paid for their produce.
Farmers say they need better prices from the company due to soaring input and energy costs.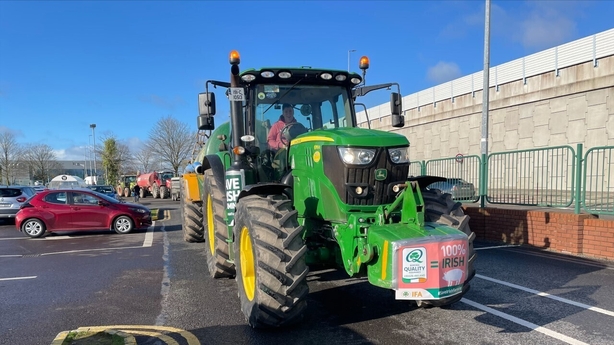 Speaking earlier outside Dunnes Stores in Bishopstown, Mr Cullinan said they need to sit down with Dunnes Stores to discuss prices, but the company has so far refused to do so.
"We have had engagement with a number of retailers at this point and they are willing to look at the serious situation we are dealing with, but we're here in Cork outside Dunnes Stores and I am very frustrated that Dunnes haven't given us a meeting to date and that is very concerning for us," Mr Cullinan said.
He said poultry and pig farmers are in desperation at the moment, "losing serious money".
"We need to cut to the chase here, the price of food needs to go up and we need to get around the table with retailers."
He added the Government needs to bring in legislation for the new food regulator to see where the margins are going, whether its retailers or processors, as he is certain the margin is not with farmers.
"If Irish consumers want to be able to continue to go into retailers and buy Irish produce then a proper price has to be paid back to the primary producers to keep them, its about keeping farmers in business and maintaining and sustaining rural Ireland as well."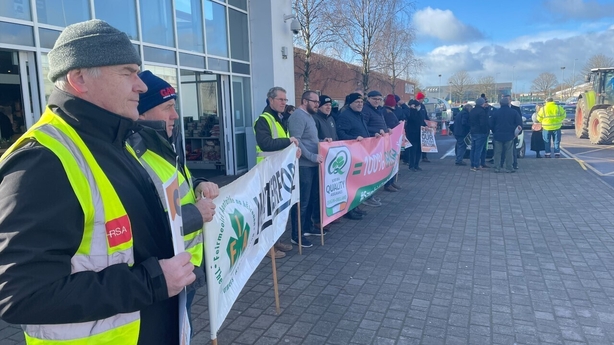 The Minister for Agriculture, Food and the Marine, Charlie McConalogue, said it is crucial that the Irish food system is built on a situation where family farms are economically sustainable, fully rewarded and get a fair price for the work that they do.
Speaking on RTÉ's Drivetime, Minister McConalogue said national retailers should be charging a fair price for food.
"They should not be selling it below cost, farmers deserve fairness," he said.
"I think it's really important, certainly in relation to the cost of production, I think in terms of the relationship that's there with our retailers they should be reflecting that in the prices that they charge."
The minister said retailers should not be selling produce below cost and should be ensuring farmers get a fair price and a profit for the food they are producing.
He said one of the key initiatives that he wants to introduce is a Food Ombudsman regulatory office.
"It's really important to have a strong independent office nationally which can improve price transparency in the food supply chain and ultimately ensure that family farms and primary producers are getting a fair deal," he said.
"Ninety percent of the food we produce is exported abroad so it's also really important that we develop and enhance the markets we have abroad."
The Irish Farmers' Association has held meetings with management of Tesco, Centra, Supervalu and Lidl in recent days to press their case for higher prices, but so far Dunne Stores management have not been available.
The company has not responded to requests for comment from RTÉ News.