Tánaiste Leo Varadkar has said an employee of six months standing will be able to apply for remote working, under a heads of bill passed by Cabinet today.
The employer must reply to the request within 12 weeks.
If the employer is refusing a request under 13 listed conditions, it must be for a specified and what he termed "good" reason.
The Tánaiste said any refusal by an employer to facilitate an employee can be appealed to the Workplace Relations Commission (WRC).
He said he wants the legislation published by Easter, and passed the Oireachtas by the summer recess.
Mr Varadkar said any WRC decision is expected to be binding but there is a possibility of going to the Labour Court.
He added that compensation could apply to an employee, in the case of an employer being ruled against.
We need your consent to load this rte-player contentWe use rte-player to manage extra content that can set cookies on your device and collect data about your activity. Please review their details and accept them to load the content.Manage Preferences
Tánaiste @LeoVaradkar sets out the procedure for applications under draft legislation guaranteeing the right to apply for remote work. Employers will have to give 'a solid reason that stands up' in order to refuse an application | https://t.co/gk4gmxFcGx pic.twitter.com/I3Lh2MD6Ww

— RTÉ News (@rtenews) January 25, 2022
The Tánaiste said: "Up until now, remote and home working has been imposed on a lot of people due to the public health restrictions. Now that they have been lifted, I want it to be a choice.
"I want workers to be able to work from home or remotely or hybrid if they want to. So long as the business gets done and services are provided, employers should facilitate it.
"I know throughout the pandemic, many employers have gone to great lengths to give their employees as much flexibility around where they work as possible. We want this to continue.
"The world of work has changed and I know many would like to retain some amount of remote working once Covid is behind us."
Mr Varadkar said the new law "will give every employee the right to request remote working from their employer.
"Employers will be required to provide reasonable grounds for refusing to facilitate an employee's request. These grounds are set out in the legislation and we will develop Codes of Practice to provide guidance to help employers implement the new law.
"It will give employers and workers legal clarity on remote working, which became the default for many during the pandemic."
The Right to Request Remote Working Bill 2021 will, for the first time, provide a legal framework around which requesting, approving or refusing a request for remote work can be based.
All workplaces must have a written statement which sets out the company's Remote Working Policy, specifying the manner in which remote working requests are managed and the conditions which will apply to remote working generally within the organisation.
We need your consent to load this rte-player contentWe use rte-player to manage extra content that can set cookies on your device and collect data about your activity. Please review their details and accept them to load the content.Manage Preferences
---
As set out in the legislation, an employer can decline a request for remote working under the following conditions:
The nature of the work not allowing for the work to be done remotely
Cannot reorganise work among existing staff
Potential negative impact on quality
Potential negative impact on performance
Planned structural changes
Burden of additional costs, taking into account the financial and other costs entailed and the scale and financial resources of the employer's business
Concerns re the protection of business confidentiality or intellectual property
Concerns re the suitability of the proposed workspace on health and safety grounds
Concerns re the suitability of the proposed workspace on data protection grounds
Concerns re the internet connectivity of the proposed remote working location
Inordinate distance between the proposed remote location and on-site location
if the proposed remote working arrangement conflicts with the provisions of an applicable collective agreement
Ongoing or recently concluded formal disciplinary processes
---
Responding to the expected publication of the right to request remote work Heads of Bill, Irish Congress of Trade Unions general secretary Patricia King said: "It took a pandemic to fully awaken us to the potential for remote working.
"While working from home has been fraught for some workers, for the vast majority it has been a positive experience and there is now a big demand for legislative access to such flexible working arrangements.
"Working from home or remotely from another location close to home, such as a rural hub, has many advantages for workers' quality of life, for businesses, communities, and the environment.
"That is why ICTU was first to call for legislation requiring employers to give justifiable reasons why they cannot concede a worker's request to work remotely, bringing us into line with long-established employment law in European peer countries," Ms King said.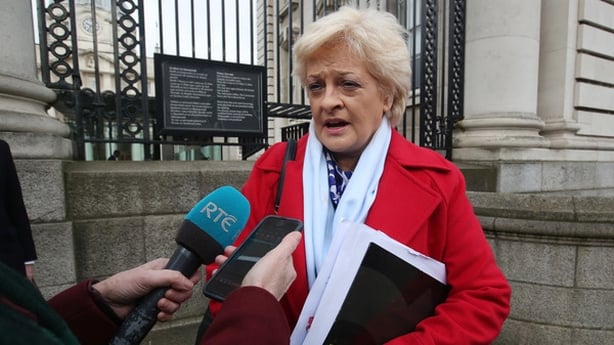 "It is imperative that the legally defined criteria for refusal balances the practical needs of the employer and the needs of the employee, as is the case in existing workers' rights legislation.
"The litmus test for this legislation is whether workers have confidence that it compels employers to be fair, reasonable, and consistent in their considerations.
"The 13 sweeping and subjective criteria published today do not strike a balance between employer and employee needs. They duplicate and extend on the eight business reasons for refusing a request contained in current UK legislation.
"Reasons which have been found to allow employers to retain and use their unfettered ability to turn down requests for remote working and which are now subject to review," added Ms King.
Small Firms Director, Sven Spollen-Behrens said: "The legislation published by Government today is significant in the way workplaces will function in the years ahead, but the right to request remote work must be balanced by the fundamental need of a business to operate effectively."
The Chartered Institute of Personnel and Development (CIPD) said it was "disappointing" that the Bill does not make provisions for flexible working.
---
Read more
Will laws on remote working really make any difference?
Do your managers trust you if they can't see you working?
---
It said that in its current form, the new law would give workers the right to request where they work, but not when and how.
Sinn Féin Spokesperson on Workers' Rights, Louise O'Reilly, said the Tánaiste's 13 "sweeping and subjective reasons to allow an employer deny a remote working request are not proportionate".
She added: "This is exacerbated by the fact the appeal mechanism outlined in the draft heads of Bill is far too weak.
"This appears to be a case of Fine Gael of pulling a fast one, where the Tánaiste wants to appear as if he is providing an additional workers' right but making that right almost impossible for a worker to access."
Labour Spokesperson on Employment Affairs, Senator Marie Sherlock, said the Government was being "extremely timid and short sighted in what they are proposing".
She told RTÉ's Drivetime that the "odds are completely stacked in favour of the employer".
"I am horrified by what I see this evening that there is not even a right to appeal the grounds upon which a request can be refused," Ms Sherlock added.
Social Democrats Enterprise Spokesperson Catherine Murphy said the new Bill was "an employers' charter which only serves to undermine the right to work from home".
She stated: "For instance, a request to work from home can be refused if an employer feels there is a "potential negative impact" on quality of work or performance – not an actual or verified negative impact.
"These refusal grounds are so all encompassing, they make a mockery of the stated purpose of the legislation."
Remote hubs encouraged for employees
Meanwhile, Minister for Social Protection Heather Humphreys has urged employers to consider remote hubs for their employees.
Hubs offer a good solution for people who do not want to work from their kitchen or bedroom, but would prefer to continue remote working, she said.
There are 177 hubs already using the ConnectedHubs.ie platform and said she expects this will increase to 400 by the end of the year, she added.
In the Dáil, the Taoiseach said the Government's proposals to facilitate remote working are a "positive, progressive step forward".
Micheál Martin said: "Finland, Luxembourg and Ireland top the EU table, I think, in terms of working from home."
The Labour Party leader had said that, with the Government's proposals, "the power is still with the bosses".
Alan Kelly also said that remote working had led to an increase in the number of women in full time employment.